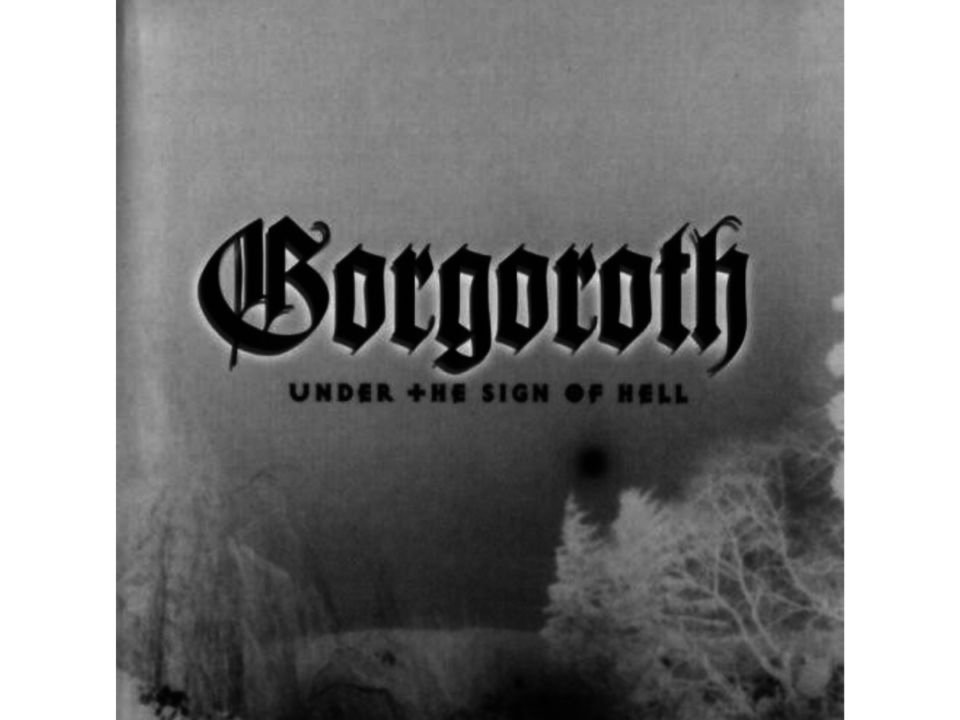 Welcome back to Mid-Month Metal Masterpiece, where I discuss a different classic Thrash, Death, Black or just plain "Heavy" metal album on the 15th of each month. Of course, I'm an old school fellow, so don't expect to see a lot of stuff post-1996 or so. Each installment will be accompanied by several short sound clips illustrating important sections of the album. Anyway, it was either this or a new Daily Metal Reviews section. Consider yourselves lucky I chose the path of moderation.
This month I'll discuss Gorgoroth's 1997 album Under the Sign of Hell.  It's one of the few black metal albums that can be accurately described as "kick-ass".
Formed in 1992 (and releasing their first album in 1994), Gorgoroth was a relative latecomer in the Norwegian black metal scene.  And while they never quite achieved the recognition of the big names (Emperor, Immortal, Mayhem, Burzum) that immediately preceded them, they have always been one of my personal favorites.  Their first three albums are all pretty great, but if I had to pick one I would have to say my  personal favorite is their third album, Under the Sign of Hell.  The "Donald Duck" vocals and occasional draggy parts of their debut album Pentagram knock it down a few notches, while their second album, Antichrist, is more of an ep with a couple awesome songs rather than a fully coherent album.  Under the Sign of Hell on the other hand delivers one uncommonly catchy black metal anthem after another without a single subpar song.
Under the Sign of Hell starts off with a bang:
From that wild opening riff you immediately know Gorgoroth is back in furious form.  This isn't another sissy black metal album full of "symphonic" keyboards and acoustic interludes, Under the Sign of Hell is the real deal.  Yet Gorgoroth was never just about speed, like all black metal, melody was the actual backbone of their music.  Though almost every black metal band constructed their songs out of flowing streams of melody, Gorgoroth always seemed to me to be the most pure example of this:
If you had to pick one thing (along with the shrieking vocals) that defines black metal as a genre, the tremolo picked melody of a passage like that would be it.
And yet, Gorgoroth was also quite "metal", more so than most black metal bands, as their old school "The Rite of Infernal Invocation" proves:
Listening to tracks like that gives a bit of credence to those who claim black metal started with the NWOBHM influenced underground bands of the 80s.
Like I said, there are no keyboards on a Gorgoroth album, their style of pure raw black metal needed only guitars, tortured vocals and the clattering drum assault that you hear in these samples (no true black metal band will have an audible bass player).  This is not to say that they are a one note band, there is a fair amount of variation (for black metal) on Under the Sign of Hell.  Nice slower melodic sections morph into more typical tremolo picked sections like this clip from Funeral Procession:
Gorgoroth also mixes things up with a return to the clean vocals of the standout track, "Gorgoroth", from their previous album (Antichrist) as you can hear here in this clip from "Profetens Åpenbaring":
This is the same clip I used from Mailbag Monday 12 of course, but that hilariously epic opening yell followed by the viking-esque vocals over that awesome rif bears reposting.
While I wouldn't call Gorgoroth's music groundbreaking,  it was undeniably catchy.  Just listen to this clip from "Ødeleggelse og Undergang":
A hundred other black metal bands have probably written songs with similar riffs.  But only Gorgoroth makes me want to bang my head in epic appreciation.  Even when I'm in my car at a stoplight and I think someone might be watching.