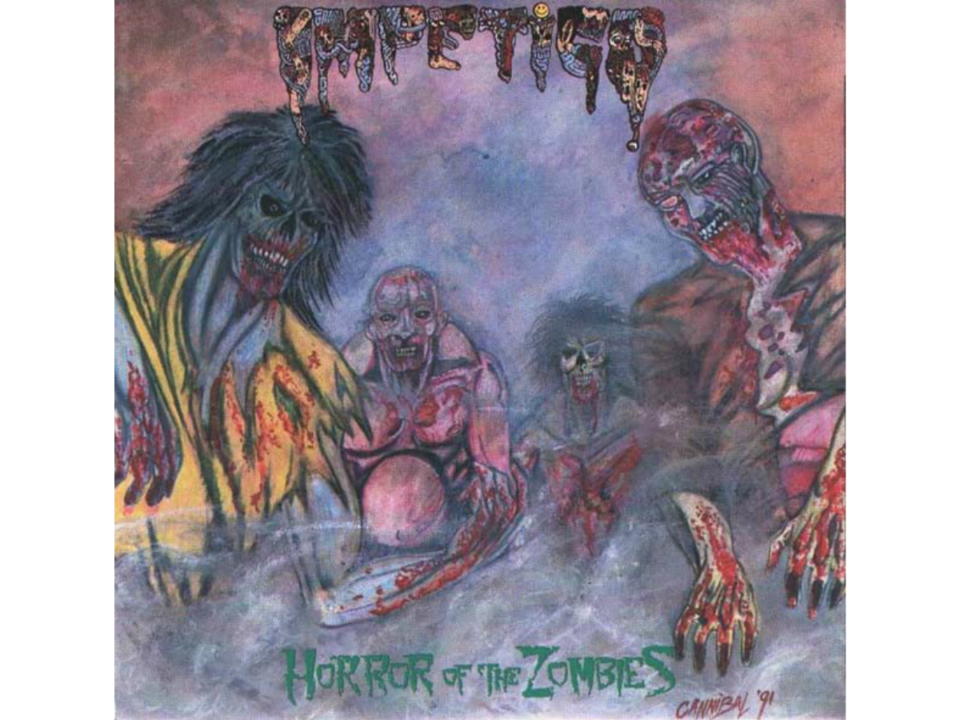 It should come as no surprise to anyone familiar with my taste in black metal that I rather love Impetigo's Horror of the Zombies.  It is a type of death metal that eschews technicality for good old fashioned nastily simple riffs.  It's the kind of simplistic stuff that I used to trash other bands for, but after having been won over by Impetigo, I'm starting to wonder if maybe I should go back and give stuff like Mortician another chance.
This really is bare bones death metal.  Not many bands can get away with writing a song as simple as "Boneyard," but Impetigo makes what is essentially a one riff + brief instrumental "chorus" song one of the highlights of the album:
Impetigo was also one of the first (the first?) death metal bands to open all their songs with clips from old horror movies/serial killer interviews.  Of course, considering that fully 1/3 of the run-time of this album is devoted to the intros to these songs, perhaps Impetigo went a little overboard here.  On the other hand, the clips are pretty amusing like this one from "Cannibal Lust" that transitions into the usual bone crushing riffs:
As a fan of stripping metal down to its most ugly and basic parts, I absolutely love the simplicity of the songwriting on Horror of the Zombies.  Songs like the brilliantly titled "Wizard of Gore," take the simplicity to almost Von like levels, but, importantly, it WORKS:
The solos are similarly basic, I really love this hilariously brief solo (after some nice vocal work–much improved from the previous full length Ultimo Mondo Cannibale) from "I Work for the Streetcleaner" that lasts all of five seconds:
There are other longer solos on the album, but they are all similarly low key and buried in the mix.
This whole album really shines on the strength of its deceptively simple riffs, many of which have a nice "chugging" quality like this clip from "Staph Terrorist":
You can write it off as a bunch of simple riffs mixed in with film clip silliness, but no one can deny that Impetigo really nailed the atmosphere here.  Sure, this kind of gore metal stuff has been done to death, but Horror of the Zombies really stands out as a unique piece of old school grindy death metal that has been often imitated, but not, to my knowledge, equaled.
I'll let Impetigo end this one, with their final film clip from the final song on the album, "Breakfast at the Manchester Morgue":