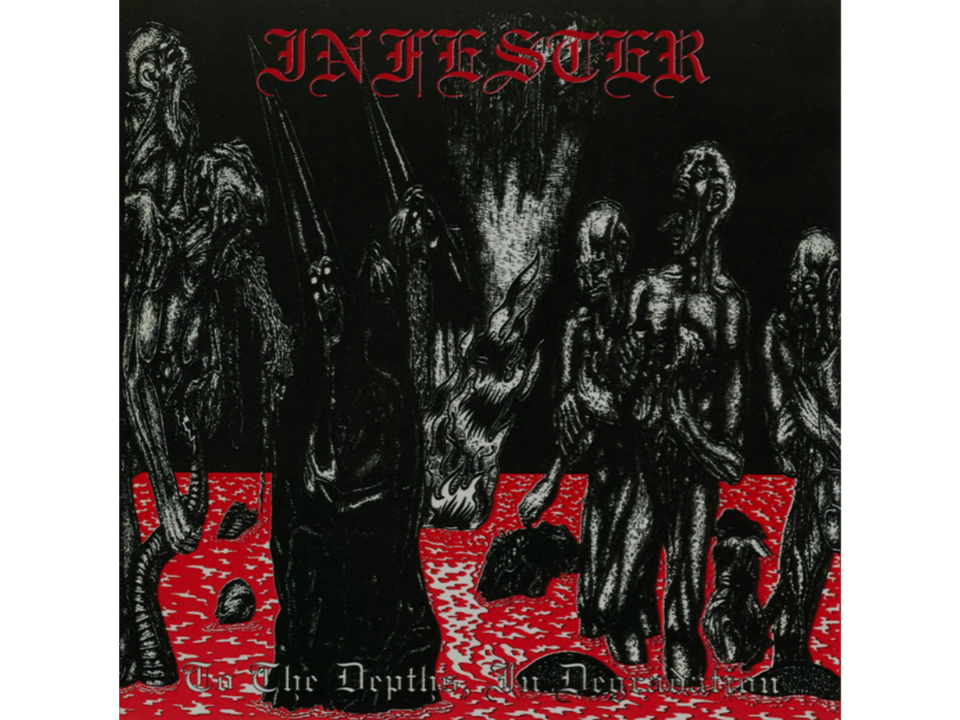 Seattle death metal band Infester only had one release, but damn if it wasn't an instant classic.  1994's To the Depths (In Degradation) (featuring one of my favorite song title naming conventions (that is, of course, parentheses)) kind of plays like a doomier version of Suffocation, which is to say, incredibly brutal, but with slower parts.  However, where it really excels is in the atmosphere department, emitting an aura so disgustingly evil that many black metal bands probably sat up and took notice upon its release.
Infester excelled at effortlessly alternating between uptempo and downtempo riffs while always mixing up the vocal delivery and guitar phrasing.  Listen to how well each element flows into the next in this clip from "A Higher Art of Immutable Beauty":
I know what you are all asking.  Yes Isley, but are they prog? Maybe not, but the melody focused (for brutal death metal) riffs are always interesting like this thoughtful bit from "Chamber of Reunion":
Part of the atmosphere comes from really excellent and subtle use of keyboards like this clip from "A Viscidy Slippery Secretion":
All of the keyboard lines are very dark, as you can see with the brilliant intro to (the brilliantly titled) "Braded into Palsy":
Importantly, Infester never let's the keyboards overwhelm the song (I'm looking at you Nocturnus).  Honestly, the listener may not even notice the keyboards half the time they are used.  Check out this clip from "Mephetic Exhumation" to see how subtle and restrained the keyboard use is:
The vocals, as you can tell from the clips featured so far, are about as sick  as they come.  Vocalist Jason Oliver's range goes from the very low (in this clip from "Clouding of Consciousness"):
To the high shredded lizard vocals just on the death side of black metal in this example from "Epicurean Entrails":
There isn't much solo work to speak of, but what is there is nicely atonal and well incorporated into the songs.  Or, in the case of this clip from the title track, guitar lines that fill the same space as a solo are really more riffs than anything else considering how ell they compliment the songs:
Much of To the Depths (In Degradation) is, admittedly quite typical death metal.  Sections of artificial harmonics transition into chugging breakdowns that Bolt Thrower would have been proud of as seen in this clip from the amusingly titled "Excoriation Killz the Bliss" [sic]:
However, this should take nothing away from the album.  It might not be as polished as the best work from Suffocation or any of the legion of imitators that came later, but in the pure twisted evil atmosphere department, Infester has few peers.