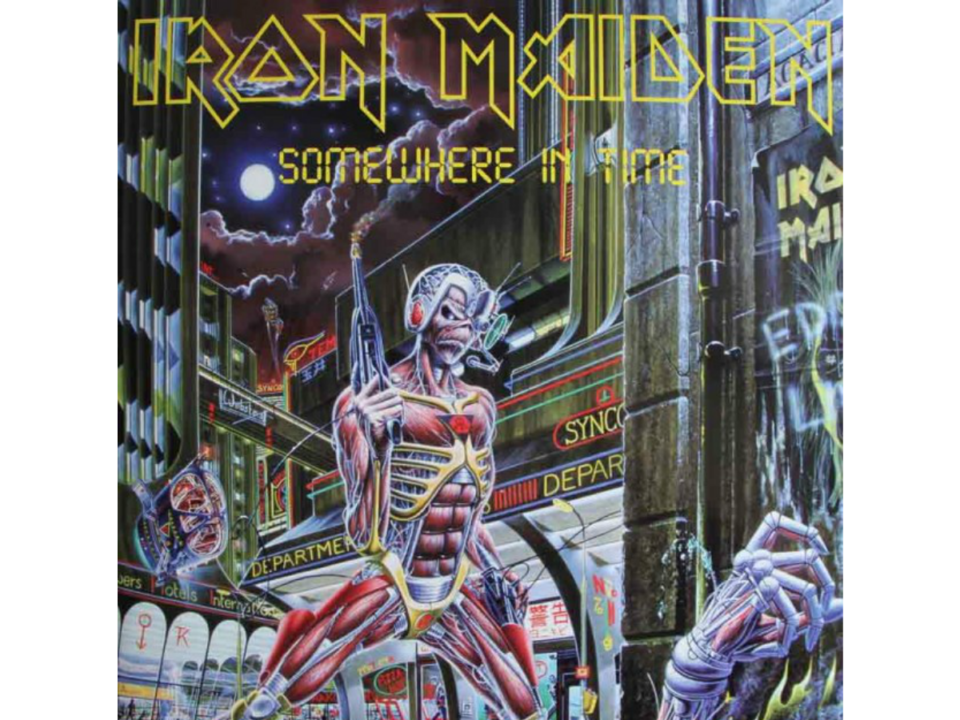 The most common question one asks when it comes to Iron Maiden is not whether or not they are a great band, but rather, whether or not they are the greatest band.  No other band had quite dominated the 1980s with so many brilliant albums as Iron Maiden did.  How great is Iron Maiden?  Well, today's staggeringly brilliant Mid-month Metal Masterpiece could possibly only be their fifth best album!
Somewhere in Time is Iron Maiden's 6th studio album and the 4th with vocalist Bruce "The Voice of a God" Dickinson.  Unfortunately, because it immediately followed their album Powerslave, what is often claimed to be Iron Maiden's high point (something which I would be hard pressed to argue), many fans have looked upon Somewhere in Time as the slightly tarnished masterwork from Maiden's Number of the Beast to Seventh Son series of back to back metal masterpieces.
Yes, there are no famous Maiden standards like "Run to the Hills" or "Trooper" on the album.  And yes, the final epic song is not quite on the same level as "Rime of the Ancient Mariner" (or even "Hallowed be thy Name").  However, as an album, Somewhere in Time holds its own quite well.
Some fans were immediately put off by the use of sythesizers on the opening track "Caught Somewhere in Time":
However, they blend so seamlessly into the song (and other sections of the album where they are used) that I often forget they are even used.  Not that any Maiden fan could argue with the brilliance of the opening track…it might very well be one of my favorite Iron Maiden songs of all time:
Attempting to emulate Dickinson's vocals on that chorus has led to many sessions of tortured wailing of the most embarrassing kind as I futilely attempted to sing along in my car.
Dickinson alternates between a lower growl and his normal more operatic style quite a bit on Somewhere in Time as you can hear in this clip from the almost thrashy "Deja Vu":
Of course, as with the opening track, Dickinson is at is best when he's belting out one fucking epic chorus after another, like this standout section from "Sea of Madness":
Not that Iron Maiden is a Bruce Dickinson show by any means.  Their core is and always has been the dual melodic guitar work, that is just as stellar on this album as it ever was.  I especially love this section from the oddly themed "Loneliness of the Long Distance Runner":
When the guitars come in on the second verse, it is just pure Iron Maiden magic!  Not only that, but the song as a whole is a fairly evocative aural representation of the very metal act of "long distance running" (actually, after wikipediaing the story, I suppose youthful defiance of authority is pretty metal).
It is without question that there is also a ton of outstanding lead guitar work from both Adrian Smith and Dave Murray.  Smith's solo from "Wasted Years" is an excellent example of this; technically impressive and yet thoughtfully composed and played, it is an excellent addition to an excellent song:
Finally, the closing "epic" "Alexander the Great" really deserves a higher place in the canon of classic Maiden songs:
That twin guitar attack after the slow intro really is one of Maiden's best riffs! If the album has a flaw it is perhaps in the unimaginative lyrics (especially in the choruses which tend to just repeat the song titles over and over).  But I'm a black metal fan, what do I care about lyrics?
So yeah, there might not be a "Flight of Icarus" on Somewhere in Time, but damn if I don't tend to reach for Somewhere in Time just as often (if not more so!) than I do Piece of Mind when I have the (quite common) urge to bust out some Maiden!