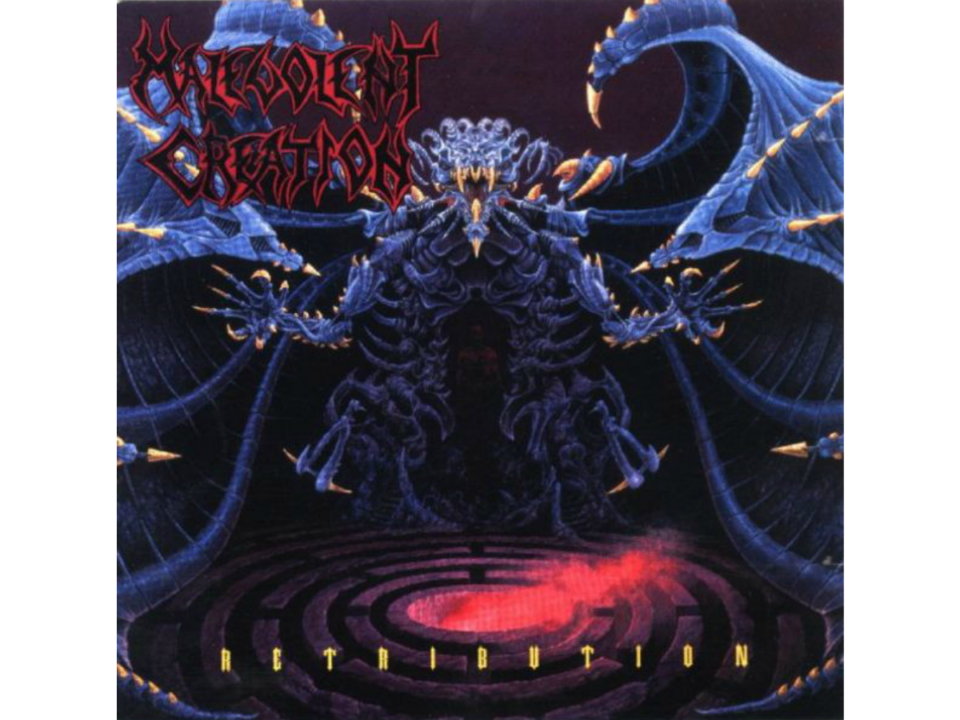 Death metal has progressed a great deal over the years, adding new layers of sophistication to the compositions and performances.  Of course, adding new layers of sophistication to the compositions and performances is a sure-fire way to make me turn up my nose and proclaim such a thing totally neither tr00 nor kvlt.  Luckily there are always albums like Malevolent Creation's 1992 masterpiece Retribution out there to carry the torch of old school no-nonsense death metal.
The album opener (and highlight) "Eve of the Apocalypse" illustrates Retribution's charms quite well:
Excellent, intense vocals, awesome chugging riffs and even a bit of melody. It's death metal made by people without a "tech death" chip on their shoulder.
In fact, Retribution is so refreshingly straightforward as to its intentions that it can even throw in a groove or two without making me want to retch as you can see in this clip from the excellent "Coronation of Our Domain":
Of course, typically the grooves are of a much more acceptable "chugging" variety.  In fact, sometimes the "chugging" can more accurately be described as "strobing" as in this clip from "Slaughter of Innocence":
Which isn't to say the album is completely without melody, many of the songs make excellent used of tremolo picked melodies that are both subtle and sensibly incorporated into the album as a whole.  Here'a  good example from "Monster":
Malevolent Creation even work in a few of the usual death metal style solos as in this clip from "Iced" (followed by some nice riffing):
Retribution might not break any new ground (even considering their early 90s release dates, this one and their debut Ten Commandments were a little late to the party to be truly innovative), but what it does do is provide and unrelenting slab of high energy death metal made at a time when people knew what death metal should be.
Specifically, they knew it should sound exactly like this: