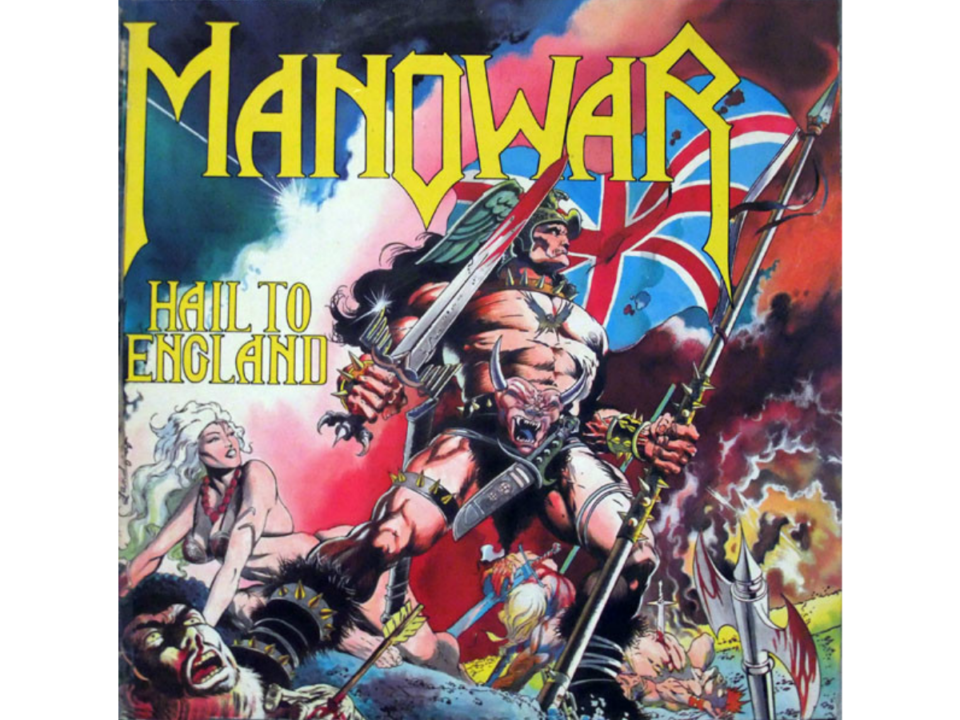 Welcome back to Mid-Month Metal Masterpiece, where I discuss a different classic Thrash, Death, Black or just plain "Heavy" metal album on the 15th of each month. Of course, I'm an old school fellow, so don't expect to see a lot of stuff post-1996 or so. Each installment will be accompanied by several short sound clips illustrating important sections of the album. Anyway, it was either this or a new Daily Metal Reviews section. Consider yourselves lucky I chose the path of moderation.
This month I'll discuss Manowar's totally awesome 1984 power metal classic Hail to England.  What? …you knew this day was coming!
I'll admit, the metalhead Isley of 15 years ago never really thought much of Manowar or even power metal in general.  I mean, first of all, who wants to hear someone actually sing notes when they could scream or growl?  And who wants to hear slow melodic parts to songs? I mean, I grew out of that shit about the same time I realized "Fade to Black" wasn't actually the best song on Ride the Lightning!  Well, I guess I've mellowed in my old age, because I'm here to say that Manowar (and power metal) is pretty much totally badass and/or sweet!
Power metal has elements of thrash, New Wave of British Heavy Metal, and plenty of POWER (of the epic sort).  It is also a vocalist centric type of metal, with a totally over the top operatic vocalist dominating the mix. Well, Manowar pretty much started the genre, and though their music is at times rather simplistic, they are still one of the best power metal bands out there.  They have quite a few great albums, but today's pick, Hail to England is probably my favorite.
Just check out the opener "Blood of my Enemies," one of the all time metal classics:
See what I said? You have a nice Thrash/NWoBHM mashup in sound there.  Pretty sweet stuff right?  So why did I stay away from Manowar for so long?  Well, let's check out the chorus to the same song:
Oh yeah, the POWER!  I suppose I could see how a young Isley might close his "unholy black metal only" ears in the face of clean sung lyrics about strong winds and magic mists.  But I'm here to say that young Isley was a fool; the chorus is the best part of that song!  You can also see the final piece of our power metal puzzle there, the focus on the vocals (including vocalist Eric Adams' awesome high pitched metal shrieks).  He really does do a lot of great vocal work, like this Always Sunny In Cincinnati "Dayman" style section from "Each Dawn I Die":
I'm not sure what "cat skin gloves" are, but Manowar somehow even makes them sound metal!
Hail to England has a lot of variation, the songs range from the fast and furious "Kill with Power":
To the slow and epic "Bridge of Death":
Gotta love the shout out to Lord Sathanas there.  Monster voices, bells, Satan–three essential elements for an epic metal song!
Another thing I love about Hail to England when compared to the rest of Manowar's oeuvre is how it stays away from a more traditional heavy metal sound for the most part.  The closest they come is the song "Army of the Immortals":
But even that is a lot more epic than stuff like the more typical heavy metal "All Men Play on 10" from their follow up album Sign of the Hammer.  Also, "Army of the Immortals" gets points for featuring three of Manowar's most used lyrical catchphrases: "sound the call,"  "true metal" and "Into glory ride!"
Honestly, about the only song on the album I don't much care for is the rather ridiculous piccolo bass solo.  I'll let the song speak for itself:
Yeah, it goes on for about 3 minutes like that.  Bass player Joey Demaio writes all of Manowar's songs, so I guess that means he gets to do a bass solo every few albums.  For what it's worth, "Sting of the Bumblebee" from Kings of Metal is a better bass solo.
Speaking of solos, power metal bands love to solo, and almost a 3rd of every song is devoted to a guitar solo from "Ross the Boss."  Fairly standard stuff for metal, though the guy undoubtedly has some chops (and is pretty good at phrasing his solos) as you can hear on this solo to the always awesome "Blood of my Enemies" (stick around after the solo for a bit more of that awesome chorus!):
I think the title track best sums up Manowar's strange appeal.  Simple, with ridiculous lyrics (ostensibly an apology song for canceling their English tour), and yet a totally catchy metal anthem nonetheless.  I will neither confirm nor deny that I sing along shouting "Hail, hail, to England!" when listening to this song in the privacy of my own home:
Like I said, Manowar: totally badass and/or sweet!
Well, ok, maybe their wardrobe choices could be better:
Just your normal metal band…oiled up and ready to play!  What, should I have marked this post NSFW?