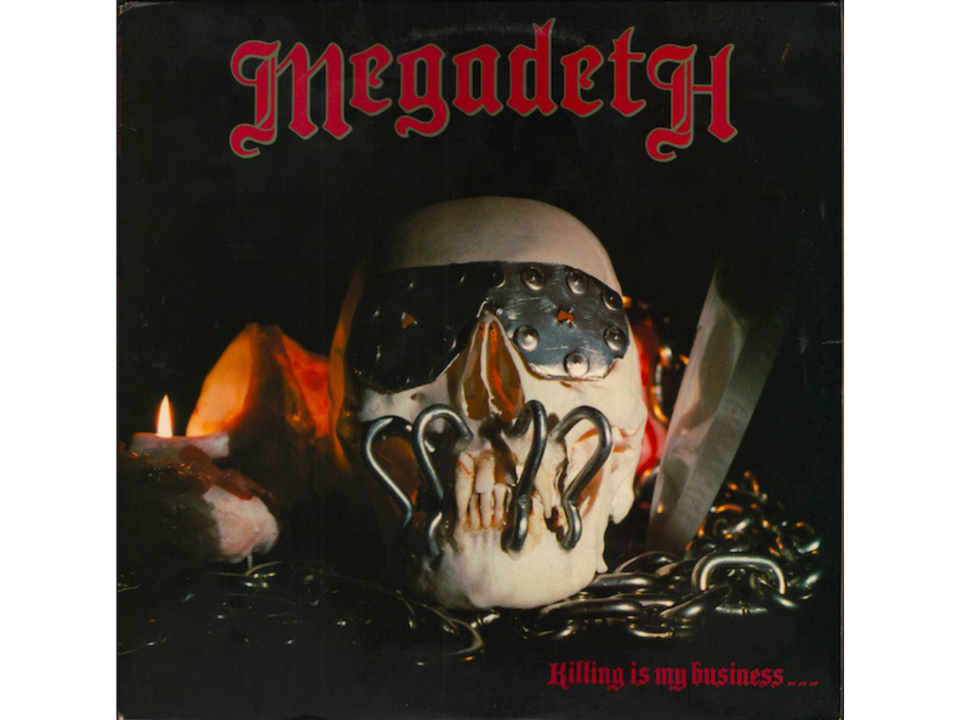 Welcome back to Mid-Month Metal Masterpiece, where I discuss a different classic Thrash, Death, Black or just plain "Heavy" metal album on the 15th of each month. Of course, I'm an old school fellow, so don't expect to see a lot of stuff post-1996 or so. Each installment will be accompanied by several short sound clips illustrating important sections of the album. Anyway, it was either this or a new Daily Metal Reviews section. Consider yourselves lucky I chose the path of moderation.
This month I'll discuss Megadeth's 1985 album Killing Is My Business…and Business Is Good.  It's not my favorite thrash album, or even my favorite Megadeth album, but it's a damn good speed metal classic that deserves more attention than it gets.
Megadeth never seems to get the same respect as Metallica and Slayer amongst the hardcore thrash elite.  It's always "Mustaine sings like a whiney kid" or "Countdown fucking sucks".  But, in their heyday, Megadeth was easily the equal of any thrash band, especially with their brilliant second album Peace Sells…But Who's Buying.  However, today isn't about Peace Sells, instead I wanted to look at their often overlooked first album Killing Is My Business…I'll save my Peace Sells worship for a different MMMM post.
We'll start, as most Megadeth discussions start, with Metallica.  Megadeth frontman Dave Mustaine was kicked out of Metallica in 1983, just before the release of Metallica's first album Kill 'em All.  It is interesting to compare that album with Megadeth's debut 2 years later.  Even though it was 1985, Killing Is My Business actually sounds more like speed metal than the thrashier Kill 'em All.
Listen to Metallica's Kill 'em All highlight (written by Mustaine) "The Four Horsemen":
And then compare it to the hilariously uptempo version of the same song, "Mechanix", from Megadeth's debut:
The Megadeth version might be faster, but the greater focus on the palm muted E string (and the "suck the air away from your ears" lack of mids in the mix) make the Metallica version seem Thrashier to me.
Not that anyone can really tell you the difference between Thrash and Speed Metal.  As near as I can tell, Thrash is a bit less melodic and more focused on a blisteringly speed picked E string between power chords (or a  slightly less blistering downpicked palm muted E string between power chords) while speed metal is more just really fast NWOBHM.  There are obviously tons of similarities between the two genres, and a lot of it probably lies in the production. For example, this clip from "The Skull Beneath the Skin" really is quite thrashy (especially the final part of the clip), but the weak production lessens the "thrash" impact:
Not that it really matters what genre Killing is My Business belongs to, I suppose it is enough to say it just isn't quite as thrashy as Peace Sells.  It also has a ton of variation (making it a far more interesting album than the somewhat one-note Kill 'em All from Metallica).  Check out this section from the opener "Loved You to Deth":
That is far more technical and musically daring than most speed/thrash metal.  Of course, I prefer the more straight ahead (and energetic) style of something like Metallica's "Fight Fire with Fire", but there is a  lot of interesting stuff on "Killing Is My Business".  There is no denying Mustaine really pushed the boundaries of thrash musicianship for his first album.
My only other real complaint is that some of the album isn't all that dark.  The title was already getting unwieldy or I would have called this monthly feature "Mid-month Minor Key Fucking Epic Metal Masterpiece" after all.  Songs like the title track or "Chosen Ones" (to say nothing of the stupid "These Boots Are Made For Walking" cover) aren't quite as dark as I like, but are otherwise pretty nice bits of metal as this clip of "Chosen Ones" shows:
However, songs like "Rattlehead" are much more down my alley:
I really miss the time when it was socially acceptable for a metal band to non-ironically write lyrics like "A dose of metal you need/To bang your head till it bleeds".
Finally, no discussion of Killing Is My Business would be complete without taking a look at the album highlight, "Looking Down the Cross".  From a beginning that is almost funky:
The song builds:
And builds:
And kicks your ass:
And then kicks it some more:
While it might have a thin production and whiney vocals, there is still a lot to like about Megadeth's first album.  And no, I'm not afraid to say it's a better album than Metallica's first one either (just wait till the MMMM where I claim Peace Sells is better than Master of Puppets…then the shit will realy hit the fan!)