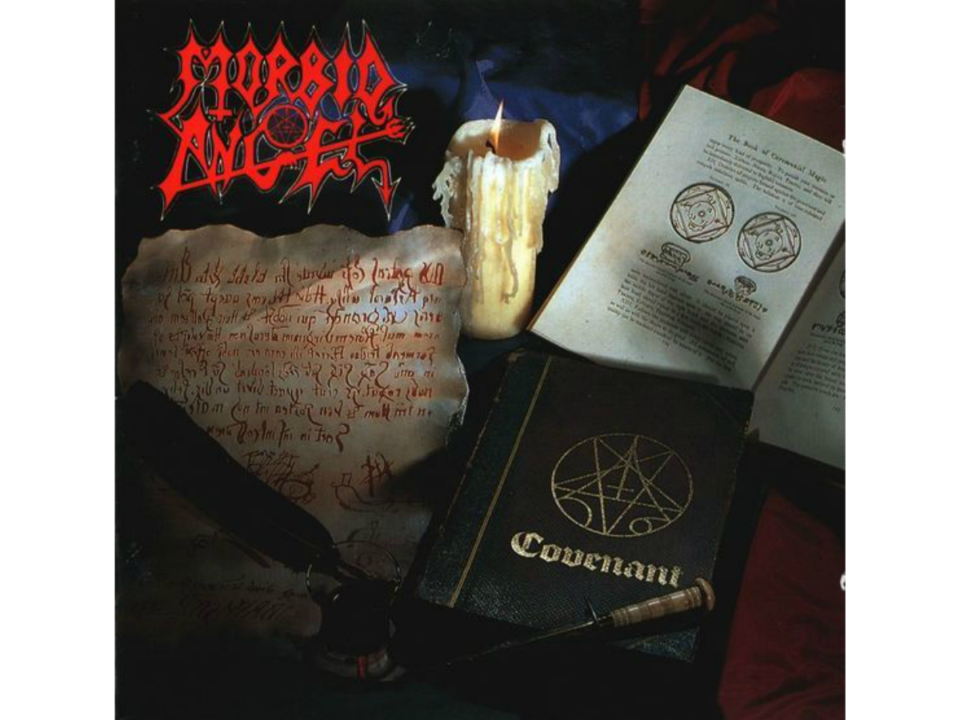 Here we are with yet another new www.isleyunruh.com feature!  This time I will be discussing a different classic Thrash, Death, Black or just plain "Heavy" metal album on the 15th of each month.  Of course, I'm an old school fellow, so don't expect to see a lot of stuff post-1996 or so.  Each installment will be accompanied by several short sound clips illustrating important sections of the album.  Anyway, it was either this or a new Daily Metal Reviews section.  Consider yourselves lucky I chose the path of moderation.
This month we discuss one of the all time great Death Metal releases: Morbid Angel's third album, Covenant, released in 1993.
Ask any Death Metal fan worth their salt what the greatest Death Metal band of all time (and "the best show you'll ever see") is and they will tell you Morbid Angel.  Trying to determine what Morbid Angel's greatest album is is a tougher question.  For a long time I wavered between the raw hate of Altars of Madness and the laid back blasphemy of Blessed are the Sick, but I have finally decided to quit selling their third album short.  Covenant might not be their clear best, but it's definitely one of their best.
The most immediately apparent example of Covenant's excellence is the production.  Flemming Rasmussen of Master of Puppets fame came in and created a production that was neither muddy like Altars of Madness, nor thin like Blessed are the Sick.  As you can tell from this, the intro to the album, the production was nothing less than thunderous (the following clip should be listened to at high volume for maximum effect:
Only Bolt Thrower can approach the freight train intensity that Pete "Commando"/"The Man With 8 Arms" Sandoval's drumming lends to this album  (as is evidenced by the scrotum smashing impact of the drums kicking in in the previous clip).  Every Death Metal drummer can do a mean double bass, but damn if it wasn't utilized to its fullest potential in Covenant.  Just check out this section from The Lion's Den (one of my personal favorites…a simple but awesome song):
Badass lyrics like "Whips crack" and "Christians standing breathless" break my general rule of "I could give a shit about lyrics.  On Covenant the blasphemy is perfectly pitched between intelligent radical atheism and over the top Satan worship.  There are no song titles like "Bleed for the Devil" on this album, but the mixture of Cthulu mythos, Satanic Imagery, Anti-Christian sentiment, and dark rituals manages to walk that thin line between clever and stupid much more adeptly than most Death Metal lyrics:
Vengeance Is Mine
Naught within this circle
All but emptiness expelled
I am deep in wicked
And whore to demons works
Master – I call thee
Master – Surround me
With evil in our hearts
This night we take revenge
Mote it be
Satan's sword I have become
No son shall escape
No word left unburned
The power is in me
Hellspawn in aeturnum
I burn with hate
To rid the world of
The Nazarene
This night of splendor
The beast arise in me
This is my destiny
My sword shall take life
Ok, still kind of silly…but also BRUTAL! Death metal lyrics don't have to be great poetry anyway since you can usually only make out every other word.
Of course, what would the lyrics be without David Vincent to deliver them.  I can understand people who roll their eyes at the Death Metal "monster voice", because really: is it necessary for Cookie Monster to provide vocals for every Death Metal song ever?  Still, if there was some kind of awards ceremony for best Death Metal vocals, David Vincent (along with that guy from Immolation) would be a front runner.  Check out the guttural power as he spits out the lyrics to World of Shit (The Promised Land)
World of Shit is a great example of the variation that can be found on Covenant.  Altars of Madness can at times seem a bit one note (Blessed are the Sick definitely doesn't have that problem), but Covenant follows furious songs like Pain Divine with churning (at times almost "Prog-ish") mid tempo pieces like World of Shit.
I could talk on end about the incredibly intricate (but never masturbatory) riffing of any Morbid Angel album, but it is enough to say that guitarist Trey Azagthoth is one bad motherfucker.  Just check out a selection of his soloing from the old school Angel of Disease:
Or that badass tapped solo/riff from Sworn to the Black:
I saw him play that live and I swear he used all ten fingers to tap it.
And then there is the final track, God of Emptiness.  Dabbling in genres of Prog, Doom, Sludge, and plain old Death Metal it (along with the lead-in ambient keyboard piece Nar Matarru) is an impressive departure from the rest of the album.  I mean, who hasn't sung along with these operatic vocals:
I'll go ahead and stop there.  There are tons of great Death Metal albums out there, and I can't think of a better starting place than Covenant if you want to check the genre out.  Why did I resist adding it to my list of favorite Morbid Angel albums for so long?  Because it's so damn good that everyone likes it (according to wikipedia it is the best-selling death metal album in the United States of all time with sales over 127,000), and if you know me at all…I can't have that!
One final note.  If you still aren't convinced how frikin badass and/or sweet Covenant is, just check out this clip from a family vacation back in 2004 when we happened to be listening to it as we drove by a table of missionaries in Colorado.  Many a missionary knew what it was to be roasted in the depths of a Cthulu demon that day I tell you!:
Also, I suppose it is only fair to point out that my mom was mortified by the rest of the family's behavior during this clip.