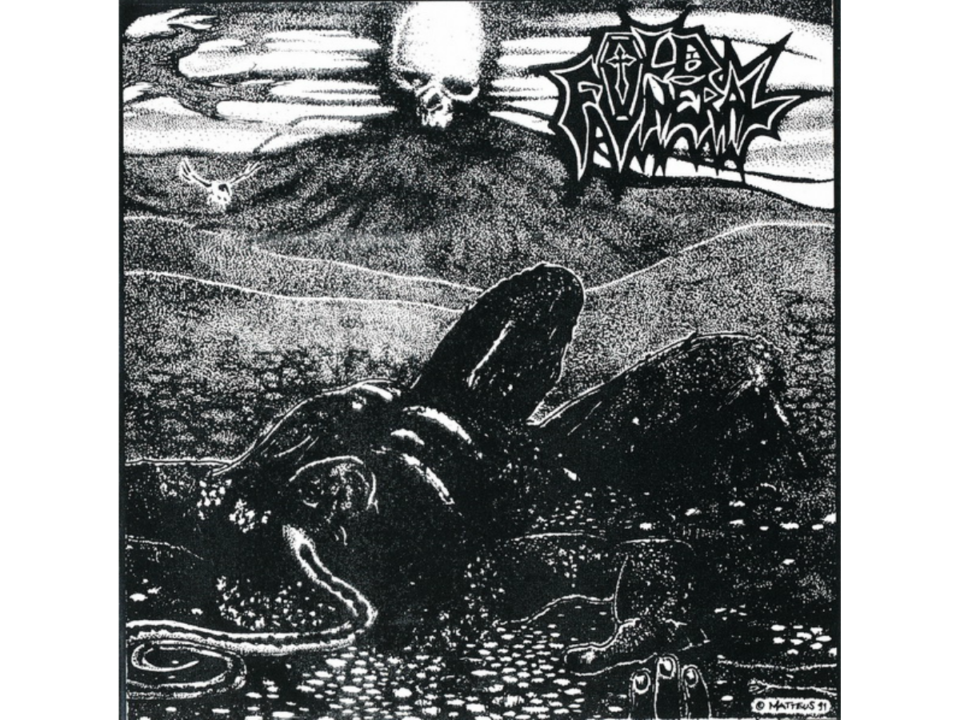 If there is one thing I thought I knew about black metal bands, it was that they couldn't write death metal for shit (thankfully most of the Norwegian guys must have realized this and quickly switched to black metal in the early 90s).  Darkthrone's Soulside Journey is ok, but I challenge anyone to get through the whole album without checking their watch.  And Thou Shalt Suffer (early Emperor) is even worse.  So you can imagine my surprise when I recently tentatively decided to check out Old Funeral (famous for having Varg Vikernes from Burzum, Abbath from Immortal and Jorn from Hades in the band) and discovered that they were actually rather awesome old school crushing death metal.  Of course, of the three previously mentioned black metal musicians, only Varg played on today's 1991 EP–and I don't think he wrote any of the songs, so maybe that explains how awesome it is.
Upon first listening to the opening track, "Haunted," I was a little skeptical.  It seemed like this might be more protoblack death metal riff wankery.  Then the song kicked in proper with the vocals and I had to admit that Old Funeral was the real deal:
The song picks up even more before returning to the main riff for the crushing finale:
Up next is the more downtempo "Incantation" (that was possibly influenced by the actual Incantation).  Of course, what would a slower trudging death metal song be without the transition to uptempo sections?
The final track, "Devoured Carcass," is the real gem of the EP.  A three and a half minute bit of blasting mayhem, it really comes roaring out of the gate:
Vocalist Padden might not have a lot of variation, but his low register tone is really quite good.  And on this section from the same song he really sounds quite demonic:
Maybe the solo was a little out of place, but hell, not like it was the worst death metal solo I've ever heard.
Granted, Devoured Carcass doesn't break much new ground (not even for 1991), but what it does do is provide a solid 3 songs of charmingly lo-fi old school death metal.  Am I giving them too much credit because of my previous thoughts on pre black metal band death metal?  Maybe, but as eps go, I'd happily listen to this one any time!