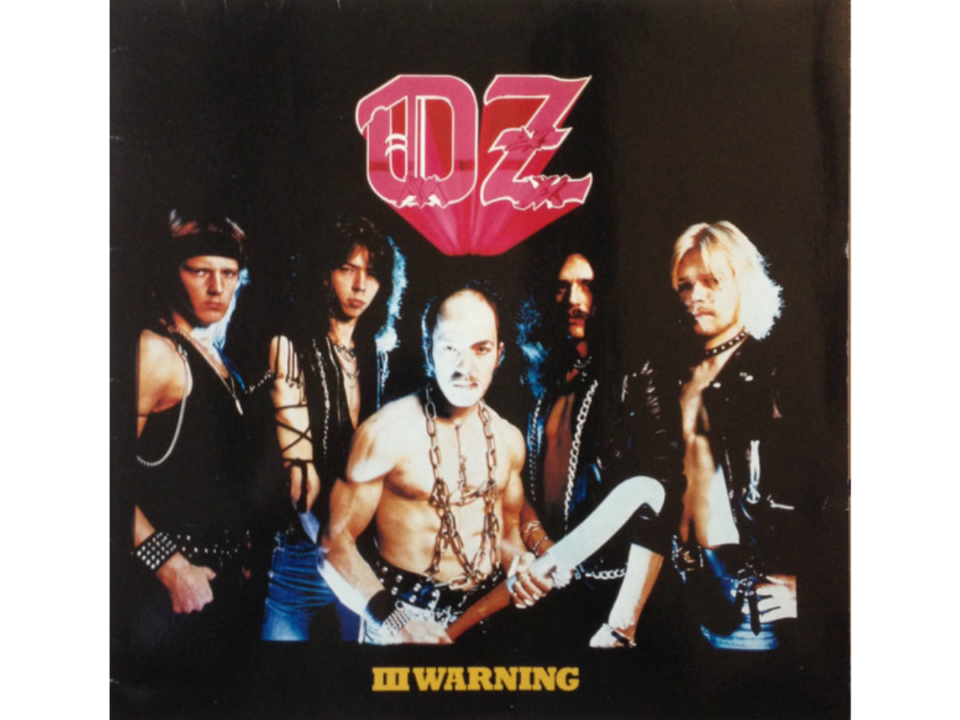 Back in the day, when even a hint of clean singing in my metal was enough for me to roll my eyes and cry "not kvlt," I probably would have hated New Wave of Finnish HeavyMetaler's Oz.  Cut to 10 years later, when I've discovered a boundless appreciation for a much wider array of old school metal, and I've realized that the Finnish band Oz is pretty fantastic really.  Today I'll take a look at III Warning, their 1984 follow up to their classic Fire in the Brain in an attempt to show just how awesome this band is (Also, I'm on vacation and short on time, so I'll keep this one pretty clip heavy).
The opening title track is a good example of just what makes Oz so charming, primarily their choruses that are nothing more than the name of the song repeated and yet are insidiously catchy anyway:
The next track, "Crucified," is even better.  It's clean thrash inflected main riff transistions into yet another catchy chorus:
It is simple and to the point metal, and yet it leaves room for nice additions to the central elements of the song like this clip of a return to the opening riff:
Even in my current enlightened state, some of the songs are a bit too traditional metal for me, especially stuff like this clip from "Rock 'n Roll Widow":
Though I will admit that that first guitar part was pretty cool.  Hell, even the second part basically rocks your dick off.
"Samurai" is another proto-thrash highlight, I especially like the squirrely additions to the riff after the vocal section here:
And, surprise, "Samurai" has another great Oz chorus before some badass shredding melts your face off:
However, as strong as the songs on III Warning are, the reason I picked it over the previous year's Fire in the Brain (an even catchier–though more simplistic–album) is because of the bonus track "Turn the Cross Upside Down."   This was the first Oz song I ever heard and it's still their best.
You know you are in for something sweet from the opening notes:
Then, as the song slowly builds to the main riff and incomprehensibly epic chorus, you realize "goddamn if this isn't the best Finnish heavy metal band of the mid 80s of all time!":
I challenge anyone to listen to the whole song of "Turn the Cross Upside Down" and not have it stuck in their head for days after.  That's either a sign that Oz really is as good as I say they are, or that they would, at the very least, have been very competent jingle writers.