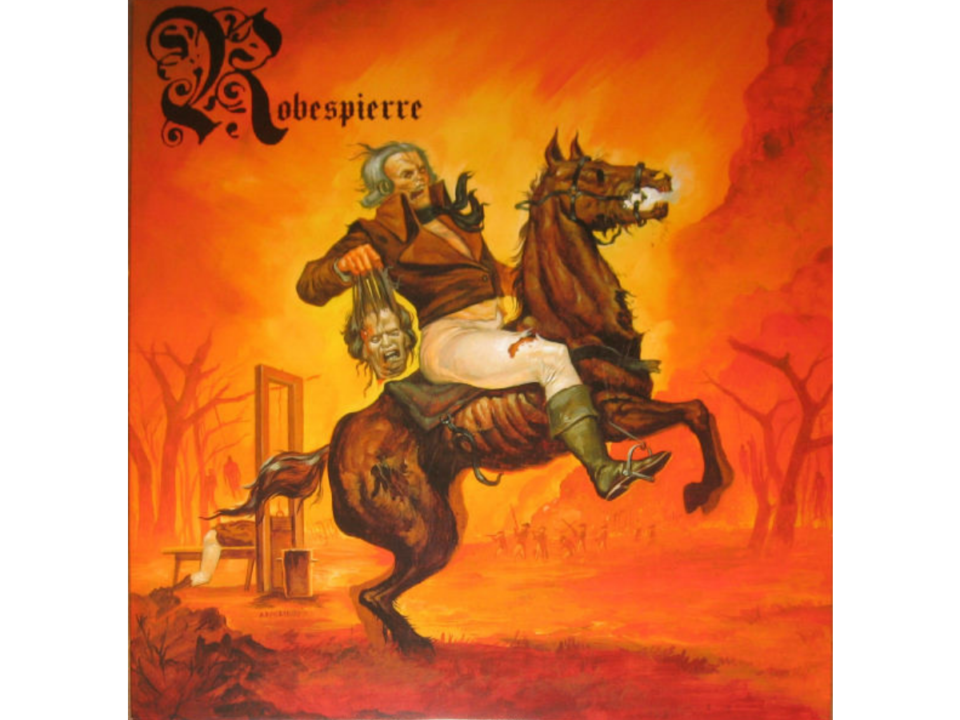 Certain metalheads, myself included, consider the quest to find tr00ly KVLT metal to be one the most important tasks a member of the metal underground can undertake.  KVLT (pronounced: "cult") is a general term for anything that is incredibly obscure, possesses uncommonly poor production values, and, if you can convince yourself to buy into it enough, is also quite brilliant in its own way.  Well, metalheads like myself LIVE to discover stuff like today's MMMM, the most KVLT of all NWOBHM bands: Robespierre.  Or, at least they were the most KVLT until those arbiters of metal taste over at the NWN boards discovered them and made theme way too popular to be tr00ly KVLT.
As the legend goes, Robespierre formed in 1983, recorded one demo which they then made two copies of for friends.  Then, via an incredible string of tape trading, the demo somehow found its way into a re-release in 2011 (along with a second, never released, demo).  However the story really goes, I love bands like this.  They wandered into the scene, and in a flash of offhand genius, they released two demos that were swallowed up with the passing years just as quickly as the band faded back into obscurity.
Robespierre is strange NWOBHM, heavily punk influenced with some very unique vocals as the opening track of their first demo, "Backs to the Wall," makes clear:
In addition to the punk influences, there was also a strong Sabbath/doom sound to many of their songs, like this slow and heavy "Die You Heathen, Die," also off their first demo:
The fast songs are the ones that really stand out for me on their first demo, especially the insanely catchy "I am a Cannibal":
The second demo seems to slant towards the doomier songs like "Die You Heathen, Die" with sludgy numbers like "Medusa" dominating the track list:
Not that it is a one note demo, oddities like "Maelstrom" (with a proggy riff that leads straight into the chorus that, true to the title, most excellently mimics a Maelstrom):
The fast numbers are there too, like the great closer "Battle of the Ninth Thermidor":
This is simple stuff to be sure, but the earnestness with which it was constructed really adds a whole new layer of charm to what is already a creative and thoughtful collection of songs. Who knows why they never made another demo, but no matter what the circumstances, their two demos are a legacy that any band could rightly be proud of.  Just listen to their "title" song "Robespierre" if you still aren't convinced how great this stuff is:
Enter to the realm of…Robespierre!