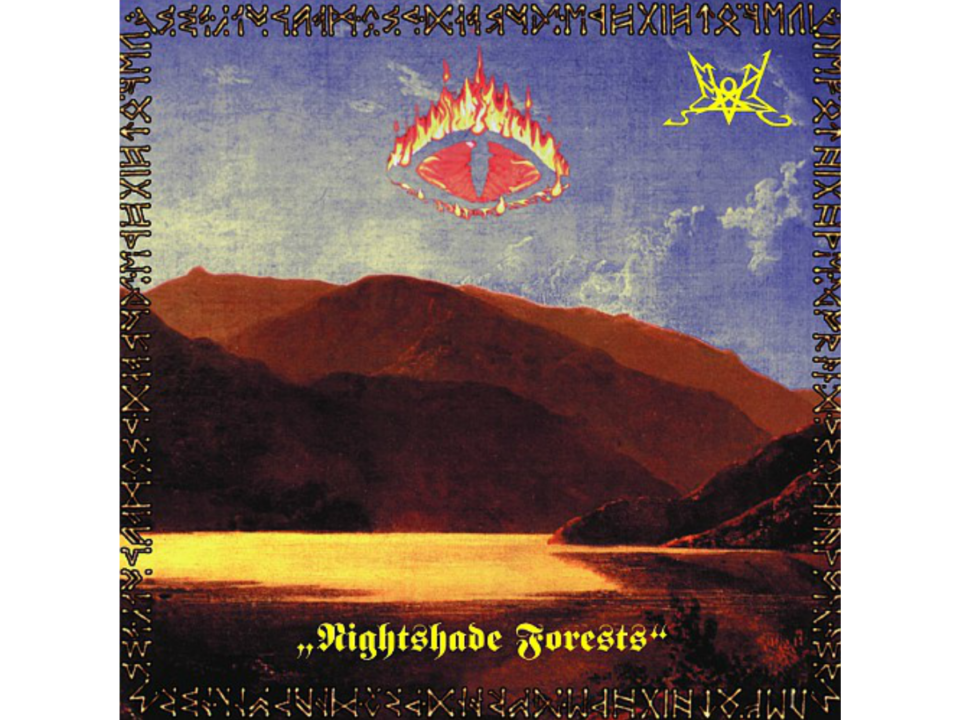 Summoning is a band both loved and ridiculed in black metal circles.  While it is a fact that 98% of all black metal bands have taken their names from The Lord of the Rings, Summoning takes the Tolkien worship to the next level.  Every single one of their songs is about one of Tolkien's creations, and the vast majority of their lyrics are straight up poems written by Tolkien himself.  However, this level of Middle-earth fandom is not what earns Summoning the occasional snicker.  Rather, it is the fact that most of the time you will be hard pressed to pick the guitars out of the wall of synths and programmed drums.  Not the most necro band in the world, but they've long been one of my favorites, and not just because of the obvious subject matter affinity.
Nightshade Forests is technically an EP, though its four songs clock in at a full length timed 33 minutes.  Supposedly this EP was made up of material "left over" from the Dol Guldur album of the same year, though, if anything, the material here is even stronger than that brilliant full length album.
Songs like "Flesh and Blood" follow the typical Summoning pattern: lots of synths, lots of epicness, guitars buried in the mix somewhere just beneath the sounds of battle and clanging swords:
If that melody sounds familiar, you probably recognize it from Summoning's next four albums, as some variation of it features heavily in most modern Summoning songs.  This, unfortunately, is the problem with Summoning.  They blew their Oliphant-sized load in the Dol Guldur sessions, and have pretty much been repeating themselves ever since.  Nightshade Forests is, to me, Summoning's high water mark before they slowly slipped into long years of repeating the same tired melodies (though, I must admit, their newest one actually sounds pretty good based on cursory listens).
Many argue that Summoning isn't actually black metal at all aside from the vocals, however (and aside from the fact that second wave black metal really has very little to do with "metal"), there are definitely black metal touches, such as this clip from the opener, "Mirkwood":
Though, there are just as many long synth-heavy interludes on this EP, such as this clip from the end of "Habbanan Beneath the Stars":
I do love spoken word sections in black metal songs, especially if they are reciting J.R.R. Tolkien's poetry (I always wondered if Summoning took the time to get permission from the Tolkien estate): "If I am dead and gone, would you remain….remain…remain…"
Nightshade Forests doesn't do anything that the later albums donn't do in a more complex and polished manner.  However, Nightshade Forests (and Dol Guldur, the first part of what is basically a double album) was the album where Summoning initially perfected this formula, and thus it carries with it that certain je ne sais quois that can only come from getting there first.
Just listen to this final clip of  "Kotirion Among the Trees":
That squirrelly little synth line that weaves in and out of the melody is better than the next four albums worth of Summoning material combined.