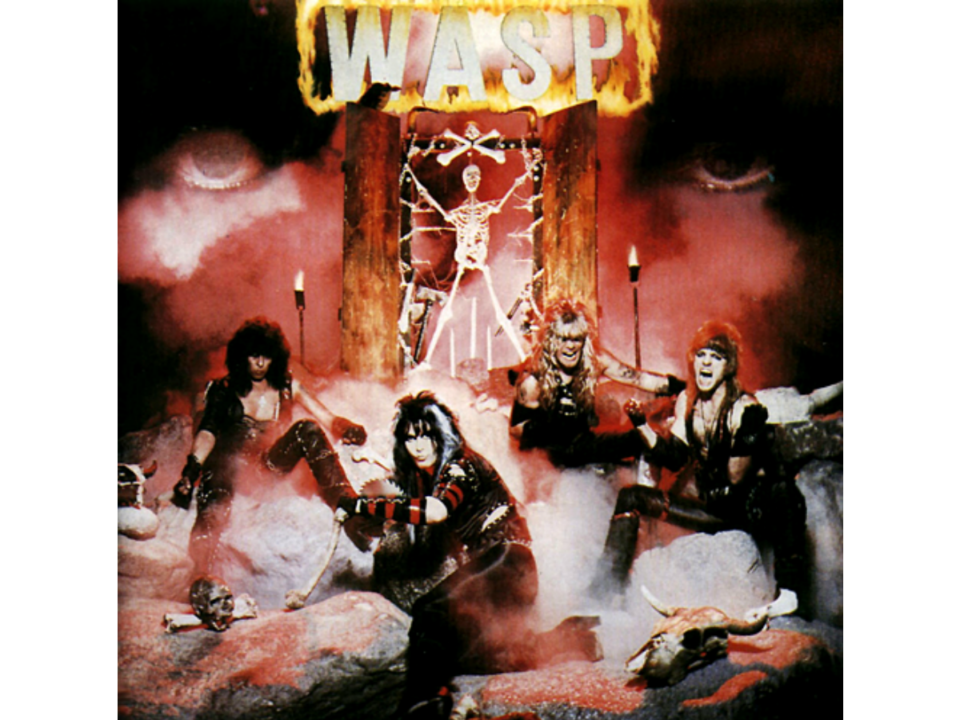 Any metalhead worth their salt will tell you that Glam music is SO NOT METAL. However, no metalhead worth their salt would ever suggest that W.A.S.P. should "leave the hall," despite W.A.S.P.'s sketchy generic classification which usually lists them as a "hard rock" influenced metal band–at best. Still, no amount of make-up and album cover duckfacing is going to keep me from appreciating one of the greatest bands of all time, not matter what the purity of their metal may or may not be.
W.A.S.P. honestly doesn't make many bad albums, but the one I have come back to the most is not their much lauded sophomore album The Last Command, nor is it their "pay attention to us we make real music!" album The Headless Children. Instead it is their powder keg of a debut, W.A.S.P.
Just listen to this album opener (or, at least, what was supposed to have been the album opener before Tipper Gore got an eyefull of Blackie's buzzsaw codpiece and threw a fit) "Animal (Fuck Like a Beast)" (one of TWO parenthetical song titles on this album!):
There is so much intense energy crammed into that song that it's all one can do to keep from shouting out those reprehensibly silly lyrics right along with Blackie's amazing buzz-saw vocal roar.  This energy is what really makes this album stand out from the rest for me.  The songs are simple, but damn if they don't positively crackle with electricity.
This album is full of one brilliant rager after another, many pretty blistering fast like the rager "Hellion" (as you will find from these clips, W.A.S.P. writes the best choruses):
And when when the speed is dialed back, the riffs are just as crushing, like this section from "Tormentor":
No one could listen to that songs like these and accuse W.A.S.P. of being a glam band.
Of course, one might listen to "The Flame" and possibly accuse W.A.S.P. of just that:
Though, I think my distaste for "The Flame" has more to do with its major key than it does with its possible generic classification.  Because, after all, "Love Machine" could also be called "glam" (or, at least "hard rock") and that song kicks ass:
Even the ballad "Sleeping (In the Fire)" positively NAILS it without once sounding cheesy:
But, enough of these digressions about W.A.S.P. dabbling in other genres.  Obviously  they are a metal band at heart, and anyone that tells you differently is wrong–and needs to listen to songs like "The Torture Never Stops" again:
The fact that W.A.S.P. could fill a debut album like this with so many brilliant riffs, bring so much intensity to the performances and production, and still manage to come up with a chorus for each song that was catchier than VD in a whorehouse…is, well, pretty staggering really.
But, as I always say when I end these posts, don't take my word for it, let the classic anthem "I Want to Be Somebody" show you just how brilliant this album really is:
Seriously, just try to drive down the street listening to that without shouting right along with that chorus.