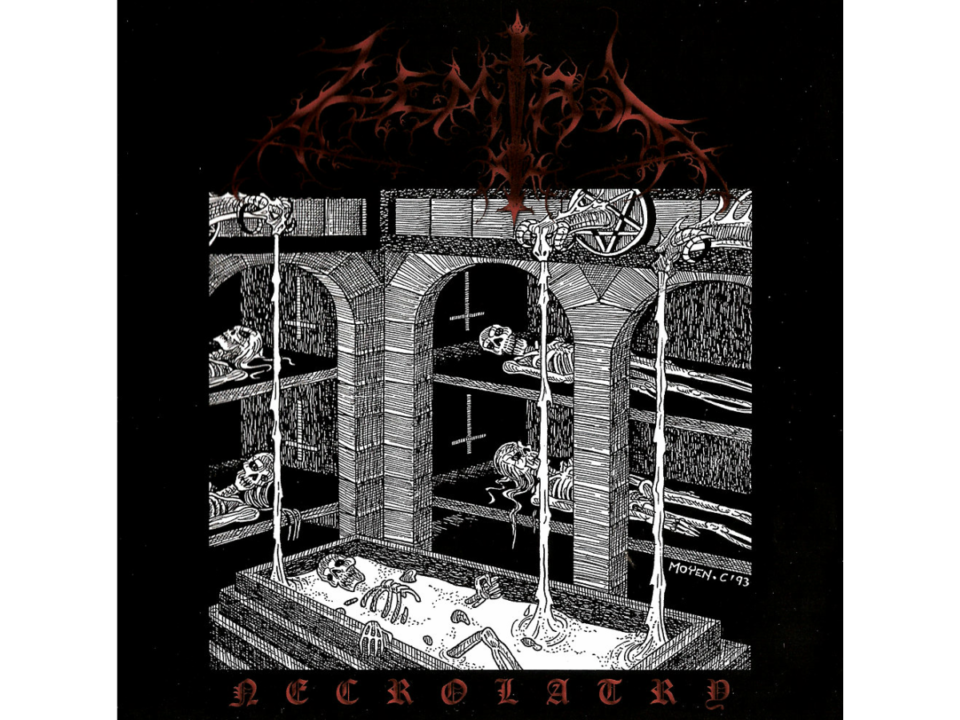 Everyone knows the Greek black metal big 3 (Varathron, Rotting Christ and Necromantia), but for some reason Zemial never seems to get their name dropped quite enough when casual fans discuss the Hellenic scene.  Rather than use their excellent debut full length (the awesomely titled For the Glory of Ur) as evidence that Zemial deserves their place next to the "big 3," I thought I'd instead discuss their dirty-as-an-Augean-stable follow-up 1997 "demo," Necrolatry.
Like their contemporaries, Zemial's sound was rooted more in traditional "metal" rather than straight up Norwegian influenced black metal. With this demo, recorded on a four track with nary a keyboard in sight, the metal elements really come out.  Hell, on "Breath of the Pestilence" there is almost even a solo as the guitar sneaks out of the mix:
Not that we should get get too carried away with thinking this is an accessible album.  Necrolatry is a withering assault of dirty old school metal.  Just check out the fast and furious "Nocturnal Witch," a giant F.O.A.D. to all those black metal bands that can't seem to write a song shorter than 8 minutes to save their lives:
Just 2 minutes of old school (with heavy first wave influences) black metal insanity with some impressive super fast vocals.
Of course, there are plenty of the mid-paced sections the Greek scene is known for, but, as you can hear in this clip from "Eclipse," just because the tempo slows a bit it doesn't mean the riffs are any less intense:
There is something almost hypnotic about this demo, something that at times touches on the same kind of brilliant atmosphere you can find in Burzum's Hvis Lyset Tar Oss.  Just check out what happens when this strobing, minimal riff from "Dragon's Touch (The Eyes of Fire)" (I do love a good parenthetical song title!) gives way to a nice epic part:
Zemial proves the black metal maxim that no one needs tech-complexity wankery or anything more than the barest of productions to create interesting music.  Their decision to bust out this quick demo (that never saw a "real" release until 2006) proved to be a ballsy gesture of offhand genius.  There is some real black magic in the hypnotic and dirty riffage of songs like "Possessed by Twilight":
Really epic stuff, with nice use of bass as well.
Is this album better than For the Glory of Ur?  I can't say for sure, but it's damn close, and if you are looking for a blast of unfiltered Hellenic black metal that is so filthy that it sounds like it could have been recorded in South America, you really can't go wrong with Necrolatry.