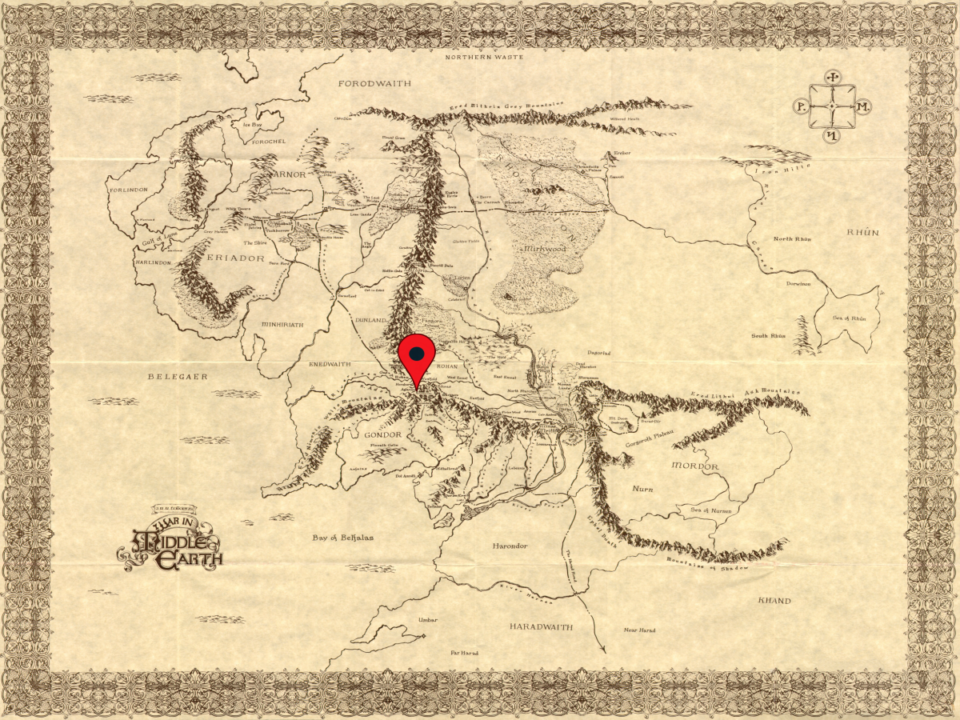 Welcome back to everyone's favorite www.isleyunruh.com Monday feature! Middle-earth being the land of enchantment and wonder that it is, each month I will use my love of fictional cartography to transport you to another time and place. So, why not take a moment to fill your head full of knowledge that will have no bearing at all on the real world?
This month I discuss the most spectacularly beautiful cave system in Middle-earth:
'No, you do not understand,' said Gimli. 'No dwarf could be unmoved by such loveliness. None of Durin's race would mine those caves for stones or ore, not if diamonds and gold could be got there. Do you cut down groves of blossoming trees in the spring-time for firewood? We would tend these glades of flowering stone, not quarry them. With cautious skill, tap by tap – a small chip of rock and no more, perhaps, in a whole anxious day – so we could work, and as the years went by, we should open up new ways, and display far chambers that are still dark, glimpsed only as a void beyond fissures in the rock. And lights, Legolas! We should make lights, such lamps as once shone in Khazad-dûm; and when we wished we would drive away the night that has lain there since the hills were made; and when we desired rest, we would let the night return.'
The mountains of Middle-earth held many secrets beneath their craggy slopes.  Caverns deep and dungeons old wound their way deep into the hearts of the mountains to where fell creatures slumbered.  However, not all the caves of Middle-earth were dark goblin-warrens, many shone with astonishing beauty, and none shone so brightly as the Glittering Caves of Aglarond.
Built long ago by the men of Numenor along with such other wonders as the Argonath and Agrenost (which was called Orthanc by men), Aglarond (later called "the Hornburg") was a fortress nestled deep within a comb of the White Mountains which came to be known as Helm's Deep.  While its construction was of the typical Numenorean excellence, the caverns that lay beyond its walls were even more impressive.
With their main entrance at Aglarond, the Glittering Caves spread out beneath the three-peaked Thrihyrne burrowing deep into the very heart of the mountains. Reckoned by man, dwarf and elf alike as one of the most beautiful sights in Middle-earth, The Glittering Caves jewel encrusted walls glittered more deeply than a dragon hoard in the sunlight.  Eternally bubbling underground streams cascaded down the jeweled walls into deep glittering pools that filled the caves with the soft, merry sound of falling water.
The marbled walls of the cave system rippled into columns, translucent windows, and multicolored curtains of stone, each cavern room stranger and more beautiful than the last.  Even by the time of the War of the Ring, the Glittering Caves had been but inadequately explored with ever deeper and more beautiful rooms, glimpsed as glittering mirages through the phosphorescent darkness, waiting to be discovered.
And, in the aftermath of the War of the Ring, Gimli, son of Gloin, returned to the Glittering Caves with a host of Dwarf-folk from Erebor.  There, he returned Aglarond to its former glory and wrought great works of dwarven smithing for Gondor and Rohan.  But the Glittering Caves, of which he was named Lord and ruler, were ever the closest to his heart.  And there, true to his word, he tended the glades of living stone as only a descendant of Durin might.