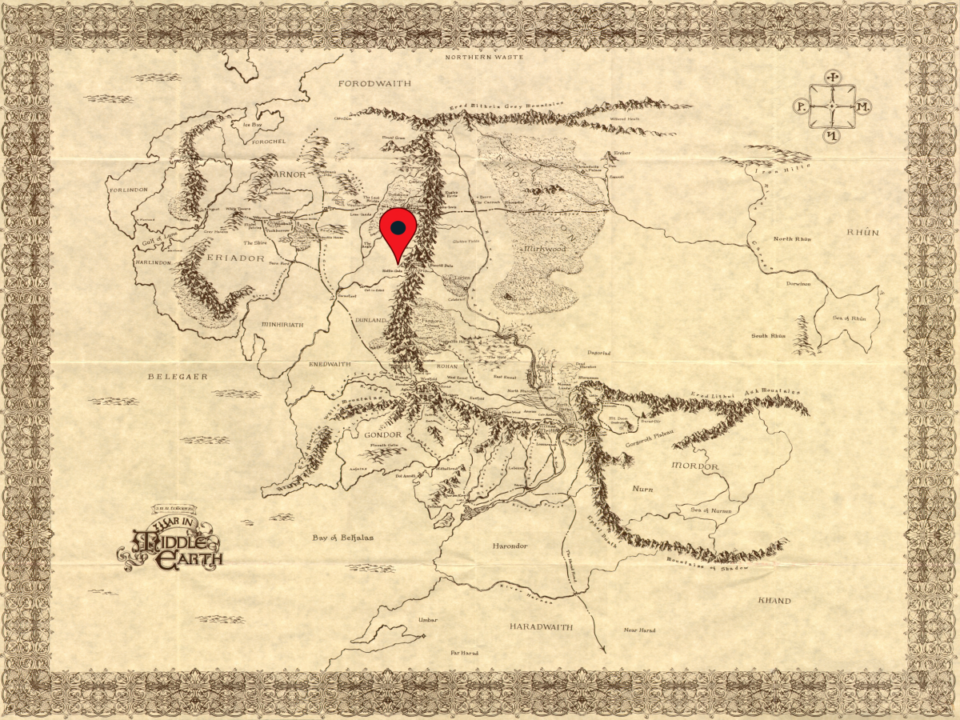 Welcome back to everyone's favorite www.isleyunruh.com Monday feature! Middle-earth being the land of enchantment and wonder that it is, each month I will use my love of fictional cartography to transport you to another time and place. So, why not take a moment to fill your head full of knowledge that will have no bearing at all on the real world?
This month I discuss a low ridge upon the western slopes of the Misty Mountains.
They had been a fortnight on the way when the weather changed. The wind suddenly fell and then veered round to the south. The swift-flowing clouds lifted and melted away, and the sun came out, pale and bright. There came a cold clear dawn at the end of a long stumbling night-march. The travelers reached a low ridge crowned with ancient holly-trees whose grey-green trunks seemed to have been built out of the very stone of the hills. Their dark leaves shone and their berries glowed red in the light of the rising sun.

Away in the south Frodo could see the dim shapes of lofty mountains that seemed now to stand across the path that the Company was taking. At the left of this high range rose three peaks; the tallest and nearest stood up like a tooth tipped with snow; its great, bare, northern precipice was still largely in the shadow, but where the sunlight slanted upon it, it glowed red.
The Misty Mountains, for much of their southern reach, were a clustered range of mountains with few outlying peaks before they sloped into the gentle hills on either side.  In fact, the only major outcropping of any real note in their entire southern half was the Hollin Ridge.  Reaching out over 30 leagues  into the west, the Hollin Ridge rose up from the surrounding lands like a low holly covered finger of crumbling stone.
The ridge was low enough it did not offer any real hindrance to travelers–though it did afford a long view to the north and south for those of keen eyesight.  The holly trees upon its slopes were some of the oldest on Middle-earth, possessed of life so far beyond their kind that they seemed to be a part of the rock itself.  The ridge was most well known as the northern boundary of the old elf kingdom of Eregion.  And, while its importance may have faded with the ruin of Eregion, it did play an important role in the War of the Ring.  As the Fellowship made its way south, they were fortunate indeed to be withing the rocky hollows and crags of the Hollin Ridge when the flocks of Crebain passed overhead.  Were they in the open lands to the north or south, they might surely have been spotted by the spies of Saruman.