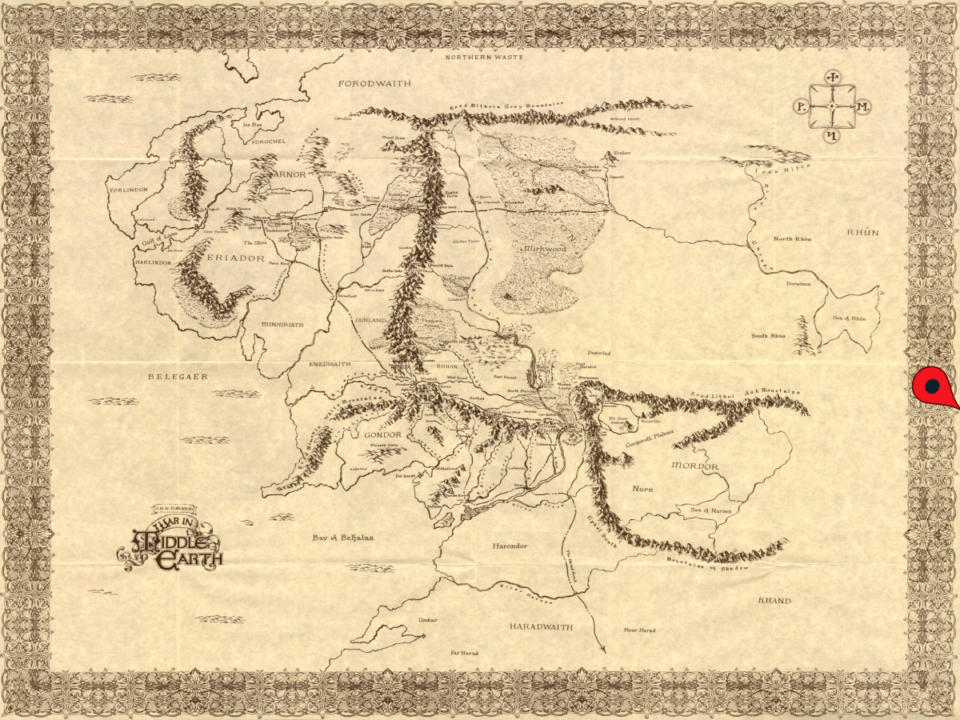 Welcome back to everyone's favorite www.isleyunruh.com Monday feature! Middle-earth being the land of enchantment and wonder that it is, each month I will use my love of fictional cartography to transport you to another time and place. So, why not take a moment to fill your head full of knowledge that will have no bearing at all on the real world?
This month I discuss the land beyond which no other lands lie:
Then calling loudly that Manwe and Varda and all their folk come forth he held before their eyes his thong of gold, and they knew not his purpose; but Orome bid them cast their eyes on that Hill that is called Kalorme standing hugely in the lands most distant from Valinor, and is held most lofty save Taniquetil, yet seemeth therefrom a dim thing fading afar off. Even as they watched Orome stepped back, and putting all his cunning and his strength thereto he made a mighty cast, and that golden cord sped in a curve through the sky until its noose caught Kalorme's topmost pinnacle.

Then by the magic of its making and the cunning of Orome's hand it stayed a bright golden curve and neither drooped nor sagged; but Orome fastened its hither end to a pillar in Manwe's courts, and turning to those who gazed upon him said: "Who then listeth to wander in the Great Lands, let him follow me," and thereat he set foot upon the thong and sped like the wind out over the gulf even to Kalorme, while all upon Taniquetil were silent in amaze. Now did Orome loosen the thong from Kalorme's peak and run as swiftly back, ravelling it as he came, until once more he stood before Manwe. Then said he: "Lo, O Sulimo Lord of the Airs, a way I have devised whereby any of the Valar of good heart may fare whithersoever they list in the Great Lands; for whither they wish I will cast my slender bridge, and its hither end wilt thou securely guard.
Of the land that lay farthest to the east of the rising sun in Middle-earth, little is known.  Called by some "Oronto," and others "Romenor," it was the land where all travels found their end.  The Numenoreans sailed as far as its dark shores, but even they did not settle in such a place where cold endless waters broke so forbiddingly against a wall at the end of the world.  This wall, a great cliff face that stretched so far to the north and south of the Girdle of Arda that it lay beyond the sailcraft of even Cirdan the shipwright, was known as the Walls of the Sun.
Rising up into wispy clouds of primordial aether was the mighty peak Kalormë, greatest mountain in Arda, a peak that made Thangorodrim seem a mere outlying hill, a towering pinnacle of rock that almost rivaled the height of Taniquetil, the Holy Mountain, seat of Manwë.  And, as Arda was reshaped and wrought anew throughout the millenia, Kalormë stood silent, watching over the lonely waters that broke darkly upon its foothills.  And, when Aman was sundered from the land of the mortals and the world was made whole and reshaped for the coming age of man, Kalormë and the lands about it stood still, alone in the nameless waters that now lay beyond the east and newly west of the lands of Middle-earth with which we are all so familiar.