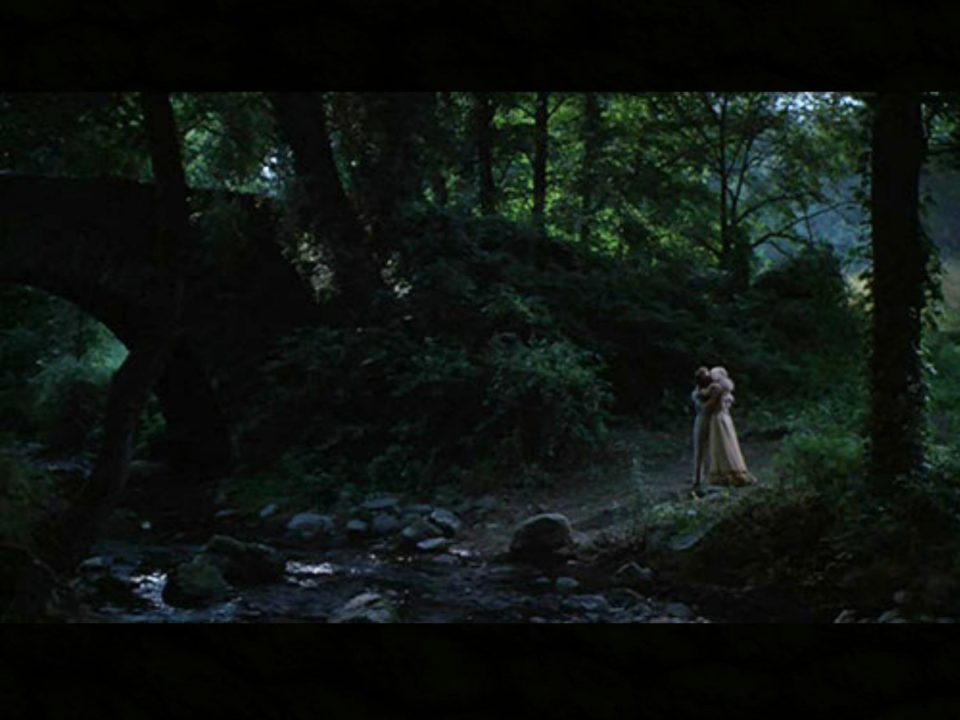 1982's A Midsummer Night's Sex Comedy marked the beginning of a remarkable 30 year unbroken streak of yearly film production for Woody Allen.  As with any filmmaker that prolific, there are bound to be some stinkers in there, but I'm here today to let the internet know that the reports of A Midsummer Night's Sex Comedy's awfulness have been greatly exaggerated.  In fact, today's film happens to be one of Woody's most perfectly realized films, an homage worthy of the masters (Bergman, Renoir) it seeks to emulate.
Yes, A Midsummer Night's Sex Comedy is the one where Woody is the wacky inventor who keeps crashing his flying bicycle powered helicopter.  But it is also an excellent example of that oft discussed favorite cinematic genre of mine: "Couples prancing around in the country."  A good country prancing film focuses on the romantic entanglements of a group of people that leave the city to spend their weekend [prancing around] in the country.
Cities are a fine setting for a film, and plenty romantic in their own right (especially if they are situated in [western] Europe), but a country prancing movie exists to play complex human interactions off of the simple majesty and grandeur of the natural world.  Love and lust blend in to a city, in the country they stand out  in all their flawed human glory against the gently swaying willow trees.
This is also why these films so often take place in olden times.  It doesn't have to be pre-indoor plumbing times (nothing romantic about pit toilets and plague), just something a bit more quaint than our current modernized world.  Again, these films are all about the natural world, how it is still out there, how we can still interact with it, and the strange effect it has on humans conditioned to the modern world.  Thus, by turning back the industrialization clock, this aspect of the films is brought into clearer focus.  Nothing ruins a perfectly good naturalistic setting like a constantly ringing iphone.
Ingmar Berman's Smiles of a Summer Night is perhaps the quintessential example of this genre, and it also introduces the brilliant idea of setting the weekend outing during the middle of the summer in the far north.  The sun never sets, instead it casts an endless, almost supernatural, golden hour glow over the entire weekend, pulling every last ounce of repressed naturalistic passion out of the country prancers.
Woody Allen absolutely nails this stuff in A Midsummer Night's Sex Comedy.  His three couples (each with their own relationship issues) pair off in various configurations while prancing about (literally! with butterfly nets even!) under a golden hour sun in some not quite modern day countryside paradise.  The film seems to be set in the northern United States (a place without a true Swedish style midsummer night), but the golden hour haze still dominates the entire film, even in the "night" scenes.
Like last month's film, A Midsummer Night's Sex Comedy is a triumph of atmosphere.  However, unlike last month's film, A Midsummer Night's Sex Comedy is actually quite insightful about the relationships that it analyzes.  It is, surprisingly, not an indulgent mess of sentimental nostalgia that you see in his more indulgent (key word here: indulgent) work like Radio Days.  Rather it's a biting look at a group of people slouching towards their own conceptions of romantic happiness.  A lesser director might attempt to let Woody find happiness when he reconnects with Mia Farrow for a moonlit liason that he let himself miss so many years in the past.  However, rather than romance he only finds reality (albiet, witty, Woody Allen one-liner shaped reality):
"Was it a completely horrible experience Ariel?"
"…at least we bowled our way through."
Like the work from such experts on the intricacies of human interaction like Eric Rohmer, Woody Allen walks that fine line between sentimentalism and cynicism in the relationships he depicts.  He might show humanity at its self-deceiving, selfish worst, but rather than condemn it, he embraces it.  There is a kind of purity that works its way into even the most base of human impulses in a good country prancing film, and that is exactly what goes on in A Midsummer Night's Sex Comedy.  You just have to look past the flying bicycle-copter to see it.