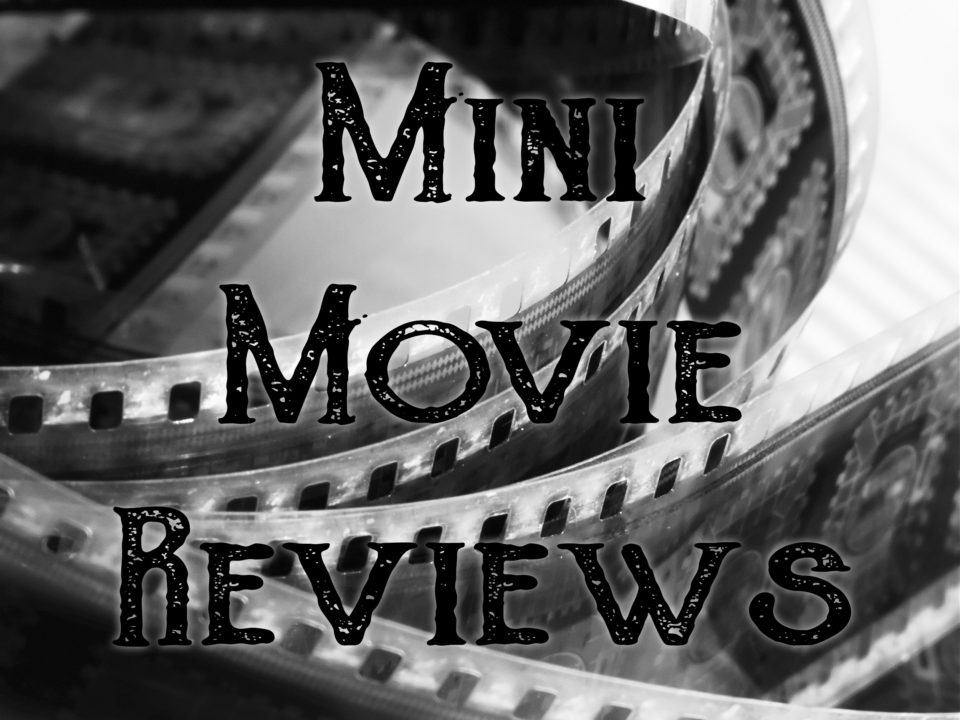 Welcome back to my Mini Movie Review feature, where I write a short review of every movie I've seen for the first time (or have yet to review!)
You can see the full list of mini movie reviews HERE
And you can see my constantly updated "in progress" list of the most recent reviews HERE
With the links out of the way, let's take a look at some of the new stuff I've watched last month:
sex, lies, and videotape (1989) – The inner workings of the script might show in a few places as characters are meticulously shuffled around in this story of, well, sex, lies and videotape, but overall this is a smashing debut for Soderberg.  There is even some real insight to be found in this talky, but never boring, film.
Withnail and I (1987) – This is the story of two imbeciles that spend the weekend in the country with disastrous results.  Not as hilarious as it is touted to be, and the leads are dislikable to the point of it becoming a liability for the film, but the bizarre spectacle keeps you hooked to the end anyway.
The Red Balloon (1956) – Exquisitely shot story of a little boy and a magical balloon that follows him around a city.  Walks a delicate line that thankfully never quite crosses over to sentimental mawkishness–all in all, it probably is the children's film masterpiece everyone says it is.
Dog Day Afternoon (1975) – Pacino can surely act in this character study of a high strung man that goes a bit too far on a very bad day.  Well made, but ultimately getting to know an unlikable character who is in way over his head isn't my idea of a cinematic good time.
Back to Bataan (1945) – This quickie war film is cut to move, and John Wayne does his capable best, but it still gets bogged down in cheap propaganda for the majority of its run time.  And, as long as we're listing grievances, this could really stand to tone down the child torture.
The Eclipse: Courtship of the Sun and Moon (1907) – The usual Méliès collection of wizard scientists and planetary personification that is loosely built around a scientist explaining a solar eclipse.  Normally nothing to write home about, were it not for the ridiculously homoerotic eclipse scene itself as the sun gets down with some serious ass-play on the very receptive man in the moon.
Django (1966) – Ridiculous, and ridiculously entertaining Italian western featuring a gunslinger superman who drags around a fucking coffin as he wanders through the desolate wasteland. It's silly stuff, but filmed with such impeccable style and conviction that the over the top insanity becomes one of its biggest merits, indebtedness to Leone aside.
Carmen Jones (1954) – Dandridge really carries this modern adaptation of the opera Carmen, outshining the wooden Belafonte in every scene.  Unfortunately, the story's descent into darkness and obsession isn't nearly as fun as the light beginning full of snappy dialog and Dandridge's vamping.
7 Women (1966) – John Ford sacs up and cuts out the sentimentality in this bizarre frontier film set in Mongolia.  Anne Bancroft's atheist is great, the Christians are all painted in a delightfully negative light, and, aside from a ridiculous performance from Mazurki as the Mongol leader, the film is largely successful, if uncharacteristically bleak.
The Outlaw Josey Wales (1976) – Eastwood's epic revenge-ish western mostly holds up well, though I'm not sure the tone shifts and wandering narrative are entirely successful (in other words, it tries to copy all the worst parts of The Searchers).  And, like The Searchers, it is an excellent western nonetheless–and all the tobacco spitting is a hoot.
The Turin Horse (2011) – Ostensibly this is just a 150 minutes of some old dude getting undressed and eating potatoes, but if you give it a chance it reveals itself to be far more than that.  Just exactly what this has to say about the absurd meaninglessness of our human existence is unclear, but that is part (along with the excellent camera-work) of what makes it so goddamn good in the first place.
Mrs. Peregrine's Home for Peculiar Children (2016) – Nothing offensive to be found in this story of kids with super powers hiding out in a WW2 time loop, but nothing at all that makes it stand out either.  The chief problem is that it feels like someone took a whole bunch of unrelated fantasy story elements and threw them in a blender to come up with the central story-line.
The Little Hours (2017) – The direction and atmosphere of this brilliant "horny nun" film masterfully conjure up some kind of magical combination of midsummer sex romp and fey period piece. The acting and script aren't quite up to the task, but they aren't enough to detract from the exquisite medieval/realist atmosphere that is so successful it is almost Rohmeresque.
Terminator Genisys (2015) – This starts out like a C level reboot of a reboot, utterly worthless and redundant.  Then the actual story kicks and and you realize it's actually got a few ideas in its vacuous head–still ultimately worthless, but it at least jarred me out of the "hate-watch" mentality.
Chappie (2015) – Like in District 9, Blomkamp proves to be an adept hand at delivering crowd-pleasing action in this movie that somehow avoids each of the numerous sentimental pitfalls it could easily have fallen into.  One could say all the flagrant Die Antwoord product placement is a bit much, but Yolandi and Ninja actually make for compelling enough screen presences that they manage to justify it, amateur acting chops aside.
Jason Bourne (2016) – In theory the Bourne movies feature a "thinking man's Bond," and in theory, that's true for a film or two.  But here we are 4 movies in and I'm about tired of watching old dudes in a room full of computers screaming about not losing him and asking how far out the asset is–that kind of stuff doesn't hold up nearly as well as the "dumb" Bond formula.
Joe Dirt (2001) – David Spade plays a white trash loser hero in this bizarre and ill-advised outing in absurdist comedy.  There is very little to laugh at here, and the mean spirited smirking attitude behind the script doesn't help lighten things up.
Pitch Perfect 2 (2015) – On the surface, this type of wink wink style humor is not my thing, but they play everything so straight that the comedic style of these movies ends up feeling quite unique and successful.  The actual singing scenes are cool enough (especially the German team), even if they pale in comparison to the Step-Up franchise–but the in between parts are actually worth watching, unlike the Step-Up franchise.
Baywatch (2017) – One COULD say the self-aware humor and cheap dick-jokes relegate this one to the "never should have been made" bin–but they would be wrong.  Much of the charm here is due to the Rock and Effron's charisma, but, the legitimately amusing script helps by actually finding its comedic targets more than half the time too.