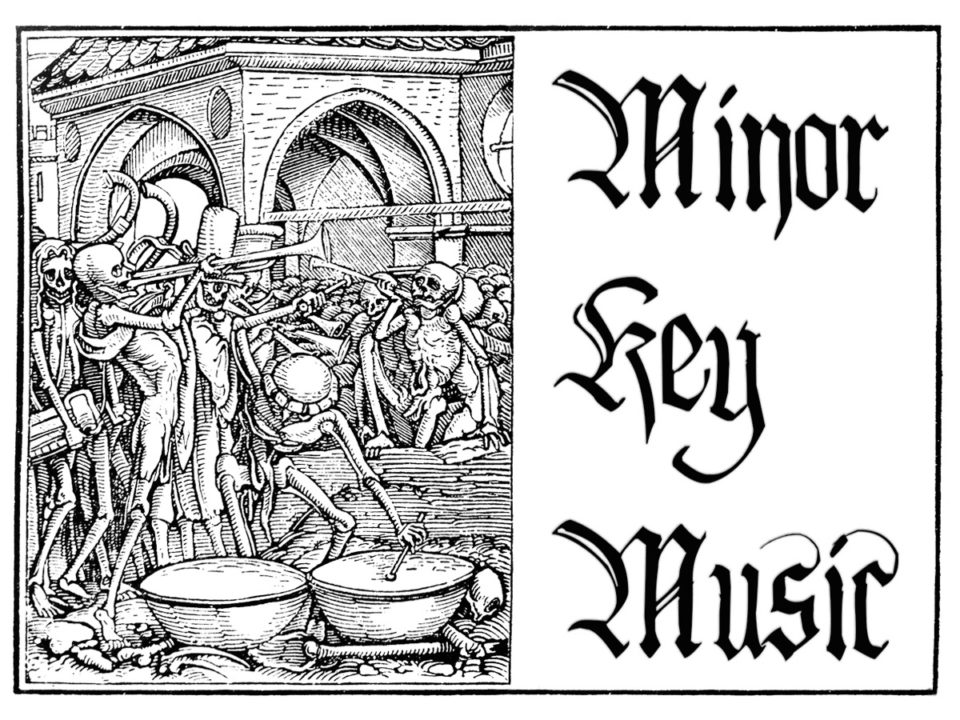 I always have to stop myself when I say I like "all kinds of music".  Because, honestly, that just isn't true, there is really only one kind of music I like.  No, not [just] Black Metal, I'm talking about music in a minor key.  I mean, I'm a pretty happy guy, but there is something about sad, sad songs that just does it for me.  I don't dislike Vivaldi's "Spring" and "Fall", but I far prefer "Summer" and "Winter" (guess which seasons he writes in a minor key).  "Satisfaction" is a fine song, but I'd rather listen to "Paint it Black" any day…you get the idea.  Basically, it don't mean a thing if it ain't got that sting [of soul crushing sorrow and sadness]
This month on Minor Key Monday I talk about a composer who has been my all time favorite since about the age of five:
I generally don't like to listen to music when I read (or study–or do anything that requires my attention).  However, when I was a kid I did make one exception to this rule, and that was with the music of Astor Piazzolla.  Somehow, "accordion" focused South American tango music ended up being the perfect compliment to my favorite book of all time (if you have to ask what book that is, you are reading the wrong website) (The Lord of the Rings) (It's The Lord of the Rings).
I appreciate more traditional tango music, but even at a young age, the music of Astor Piazzolla was something special.  His style of tango is called "tango nuevo"  and it basically incorporated elements of baroque classical and jazz into traditional tango forms.  It is also, at least to my ears, dark as shit.  It might seem odd for me to associate tango nuevo with The Lord of the Rings, but I have really heard few other styles of music that so completely encapsulate the melancholy grey longing for what once was that is the essence of The Lord of the Rings.
Today's song (translated as "Light and Shadow") is a very early piece from Astor Piazzolla.  It comes from a time in his career where he had traveled to Paris to study composition with the famous composer Nadia Boulanger.  During the time he really cemented the fundamentals of the tango nuevo style.  Wikipedia has an interesting quote from his memoir where he discusses how he had not allowed himself to embrace his roots before Paris:
When I met her, I showed her my kilos of symphonies and sonatas. She started to read them and suddenly came out with a horrible sentence: "It's very well written." And stopped, with a big period, round like a soccer ball. After a long while, she said: "Here you are like Stravinsky, like Bartók, like Ravel, but you know what's wrong? I can't find Piazzolla in this." And she began to investigate my private life: what I did, what I did and did not play, if I was single, married, or living with someone, she was like an FBI agent! And I was very ashamed to tell her that I was a tango musician. Finally I said, "I play in a night club." I didn't want to say cabaret. And she answered, "Night club, mais oui, but that is a cabaret, isn't it?" "Yes", I answered, and thought, "I'll hit this woman in the head with a radio…." It wasn't easy to lie to her. She kept asking: "You say that you are not pianist. What instrument do you play, then?" And I didn't want to tell her that I was a bandoneón player, because I thought, "Then she will throw me from the fourth floor." Finally, I confessed and she asked me to play some bars of a tango of my own. She suddenly opened her eyes, took my hand and told me: "You idiot, that's Piazzolla!" And I took all the music I composed, ten years of my life, and sent it to hell in two seconds.
"Luz y Sombra" was a song written soon after he sent ten years of classical music to hell.  It is not as sophisticated as his later work, but is quintessential tango nuevo nonetheless.  I joked about the primary instrument being the accordion earlier, but the tango accordion (called a bandoneón) somehow manages to sound pretty soul-wrenchingly badass (especially when played by a virtuoso like Piazzolla).  Piazzolla's music sounds like some kind of exotically dark tango sequence from a Bond film–if it were filmed under the perpetually grey skies of an autumnal Middle Earth.  I've been listening to Piazzolla for almost 30 years now.  And I expect to still be doing so in another 30.  After all, there is no composer whose music I like better–and that includes both Bach and Burzum.