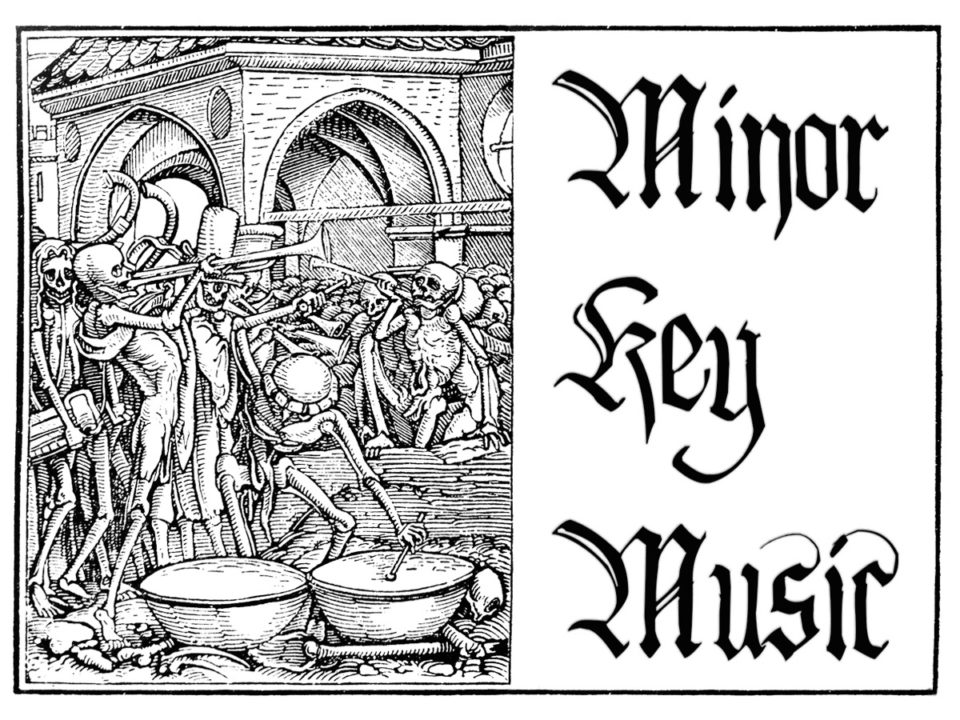 I always have to stop myself when I say I like "all kinds of music".  Because, honestly, that just isn't true, there is really only one kind of music I like.  No, not [just] Black Metal, I'm talking about music in a minor key.  I mean, I'm a pretty happy guy, but there is something about sad, sad songs that just does it for me.  I don't dislike Vivaldi's "Spring" and "Fall", but I far prefer "Summer" and "Winter" (guess which seasons he writes in a minor key).  "Satisfaction" is a fine song, but I'd rather listen to "Paint it Black" any day…you get the idea.  Basically, it don't mean a thing if it ain't got that sting [of soul crushing sorrow and sadness]
This month on Minor Key Monday I talk about what, astoundingly, might just be the most embarrassing song featured on MKM yet:
Being a bit of minor key maniac means that my taste in music often veers into the dark seas of ridiculous cheese.  See, it doesn't really matter how obviously silly a song is, if it has that epic, mournful quality that immediately sends me into a giggling fit of melancholy ecstasy, then, that song is a song for me.
I still haven't sunk so far as to come right out and profess my love for something as ridiculous as VNV Nation (though I'm pretty sure every time I bring that up here, it totally counts as coming right out and professing my love for something as ridiculous as VNV Nation), but today's song is pretty close.
Deine Lakaien is a German Darkwave/pop band formed by two guys, neither of which is named Deine Lakaien.  One, Alexander Veljanov, does the vocals and has totally sweet Gary Oldman Dracula hair, while the other, Ernst Horn, writes all the music and plays all the instruments and has normal hair:
And yes, if you haven't listened to the song yet, it does indeed sound exactly like what you would expect a song sung by someone with hair like that would sound like.  See, I'm actually pretty new to the whole Deine Lakaien thing, I only heard one of their early famous songs "Love Me to the End" (most likely after some typing in some kind of "I want to listen to a darkwave eurotrashy song about like love or like sorrrow or something" search on youtube) a couple months ago.  It was pretty great, but not quite enough to make the hallowed halls of Minor Key Monday.
Thus, I was pleasantly surprised to find that, after downloading their most recent album, 2010's Indicator, I liked the opening track even better!  It was less euro-dancey, but it made up for it with some really sweet high pitched synths!  Also some badass acoustic guitars just on the right side of new age elevator music!  Plus the lyrics were all about autumn leaves and like dreams of love and stuff, how badass and/or sweet is that??:
Times I recall
In fleeting colours
In missing hours
On days that fall
Like leaves in autumn
And blown around
And left unspoken

Times I recall
That made me restless
And anxious wandering
And words that fall
Into the deepness
Of my yearning
And left unsaid

One night one night
I had a dream
A wave came floating
Like a gleam
One day one day
All I've seen will come true
'cause night and day
I'm in love with you
Now, I realize that some of you might be saying: "but Isley, none of those things, especially not that dude's hair, should be on anyone's list of badass and/or sweet things, not even at the very bottom!"  Well to that I say "Poppycock!" If liking Diene Lakaien is wrong, than I don't want to be right.
Though, that being said, I could see a strong argument against broadcasting one's love of Diene Lakaien to the internets, but we'll just chalk that one up to poor impulse control.