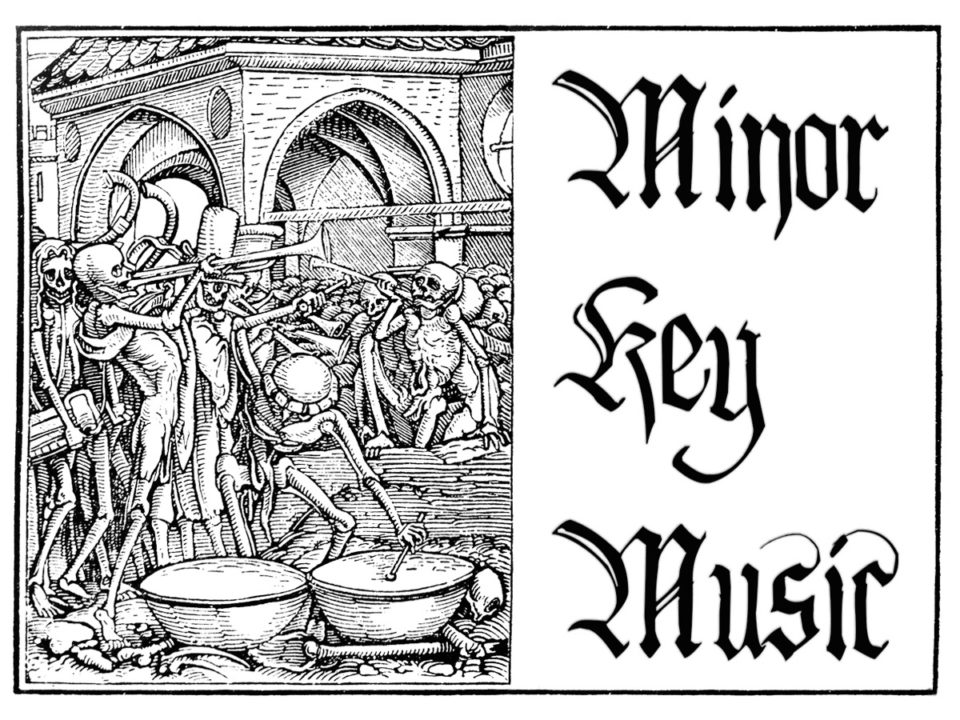 I always have to stop myself when I say I like "all kinds of music".  Because, honestly, that just isn't true, there is really only one kind of music I like.  No, not [just] Black Metal, I'm talking about music in a minor key.  I mean, I'm a pretty happy guy, but there is something about sad, sad songs that just does it for me.  I don't dislike Vivaldi's "Spring" and "Fall", but I far prefer "Summer" and "Winter" (guess which seasons he writes in a minor key).  "Satisfaction" is a fine song, but I'd rather listen to "Paint it Black" any day…you get the idea.  Basically, it don't mean a thing if it ain't got that sting [of soul crushing sorrow and sadness]
This month on Minor Key Monday I talk about what is either the best, or, at the very least, the second best, song from Madonna's 2005 album Confessions on a Dance Floor:
Before I discuss today's song, I should probably explain a bit about my torrid history with Madonna.  Like most 30 year old pop music, I only discovered her a couple years ago.  In Madonna's case, I was driving in Kansas City and listening to one of the public radio stations (you know, the ones on the low end of the FM numbers).  It was some kind of world music show that was playing some interesting stuff, so I "kept it locked."  Then this totally great and eurotrashy song came on.  I was blown away, and by the end of it I was pumping my head like those Haddaway guys on SNL and shouting along with the chorus.  I couldn't wait to find out who was responsible for this strange new underground pop music that I had discovered (yes, this story is also part of the inspiration for Snob Blog 2).  You can imagine my horror when the host of the show came on and was like "That was Madonna with her newest single off of Hard Candy!"
Despite the shocking news about to what I had just enjoyed, I quickly moved from denial and anger to acceptance.  Shena burned me a Hard Candy cd (which Lase subsequently discovered cranked up to 11 in my car when she borrowed it the next day) and all was well in the world again.  I tried checking out some other Madonna stuff and it just wasn't as eurotrashy as Hard Candy. So I remained pretty unimpressed.
Unimpressed, that is, until last Friday night when some of the guys from the weightroom put her Confessions on a Dance Floor album on while we were playing board games.  And yes, in case anyone was wondering exactly what I mean when I say "sounds like my Friday night," well, you're welcome for that image!
Two songs especially grabbed me, the opener "Hung Up" and the third track "Sorry."  As I write this I'm still wavering between which one I like better, but I figure I'll go with "Hung Up" as it provides a nice little music theory lesson.
The song itself uses a great ABBA riff laid over a totally throbbing bass line that gets rather "fucking epic" in parts.  And the song is obviously in a minor key, I mean just listen to it–no one would describe it as "happy and carefree" over "epic an sorrowful."  Thus, when I read on wikipedia that Hung Up was in the key of F Major, my smug little minor key music train came to a crashing halt!
My worst nightmare had finally come true:
Or had it? It was time to dust off the old guitar and see what was going on here! (Anyone that doesn't want to read a bunch of stuff about notes and shit can stop here.  Don't worry, there aren't any more stories about jocks blasting Madonna…)
The melodic backbone of the song goes D, up to F, up to A, back to D.  Every melody naturally wants to resolve on a certain note, and in the case of "Hung Up" that note is D.  Thus, the song is in the key of D.  And in the key of D, A is the perfect fifth (which is shared by both the major and the minor scales).  However, F is the minor third in relation to D, which actually makes this song in the key of D minor (which, as we all know, is the saddest of all the keys).
So why does wikipedia claim it is in F major?  Well, their source, www.musicnotes.com probably looked at the key signature (which, is just all the little flat and sharp signs next to the treble clef on the left) and saw that it had one B♭ in it and automatically categorized it as being in F-major (which is a scale that has one B♭ in it).  However, every major scale also has a relative minor scale that will have the same key signature.  And, you guessed it, the relative minor key to F major is D minor.
To help understand this I think it is easiest to look at the scale of C major.  Western music is made up of 12 "tones" each of which has a half step (or "semitone") between them.  Of course, there are only 7 "notes" in Western music, so the other 5 tones are the sharp/flat versions of some of the other notes.  Now, if you take these 12 tones, you will get a major scale if you group them together in the following way: whole step, whole step, half step, whole step, whole step, whole step, half step (which, if you add them up you will get 12 "half steps"/"tones").
If you start at C and follow that pattern you will get: C, D, E, F, G, A, B, C (which are all the notes in the scale of C major).  Which tells us that there is only a half step between E and F, and B and C.  Now, if you take any major scale and start on its sixth note and make a scale out of that you will get the pattern: whole, half, whole, whole, half, whole, whole (which is also called the Aeolian mode).  This is the pattern a "natural" minor scale uses (and, you will notice that if you take the sixth note of the C major, your new "A minor" scale will also contain no sharps or flats: A, B, C, D, E, F, G, A).  Thus, F major (F, G, A, B♭, C, D, E F) can easily be confused with D minor (D, E F, G, A, B♭, C, D) if you only look at the key signature and don't pay attention to the note it naturally wants to end up on (the "root", or "tonic").
So there you have it.  If there are three semitones between the first and third notes of your scale, your song will be that much more "fucking epic" than if there are four.  It's as simple as that.  Not that you need to know any of that to realize that wikipedia could not be more wrong about what key "Hung Up" is in.  I mean, just listen to it!
Finally, and I know this is probably cheating, but if push comes to shove, I might even think "Sorry" is a better song than "Hung Up" (except for that lame foreign language stuff):
(unofficial poll WiBiL readers…which is better a better song, "Hung Up" or "Sorry"?)