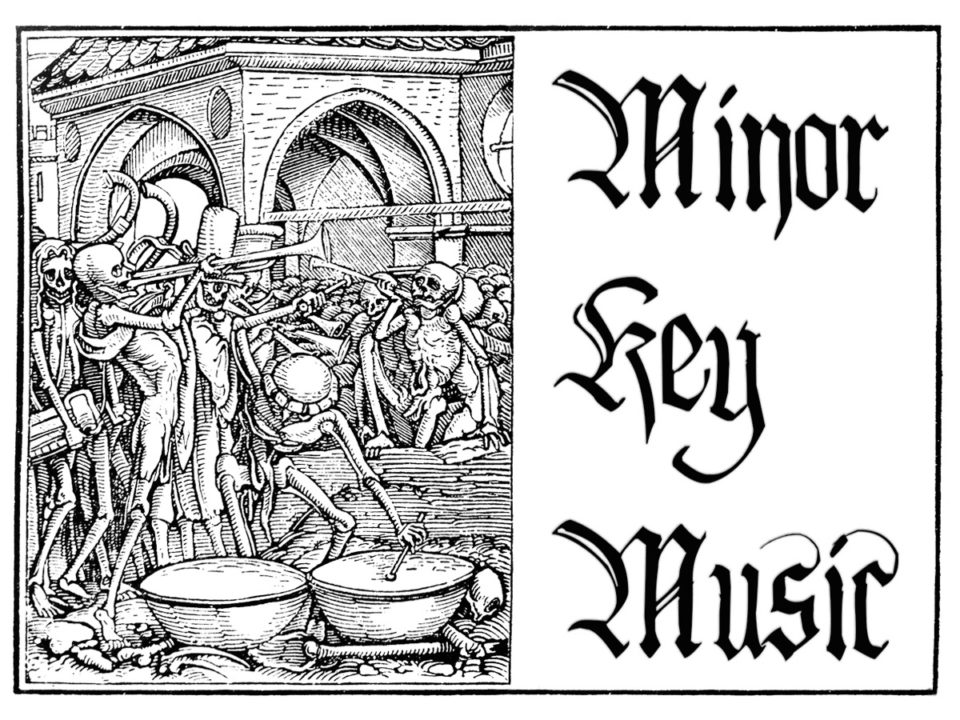 I always have to stop myself when I say I like "all kinds of music".  Because, honestly, that just isn't true, there is really only one kind of music I like.  No, not [just] Black Metal, I'm talking about music in a minor key.  I mean, I'm a pretty happy guy, but there is something about sad, sad songs that just does it for me.  I don't dislike Vivaldi's "Spring" and "Fall", but I far prefer "Summer" and "Winter" (guess which seasons he writes in a minor key).  "Satisfaction" is a fine song, but I'd rather listen to "Paint it Black" any day…you get the idea.  Basically, it don't mean a thing if it ain't got that sting [of soul crushing sorrow and sadness]
This month on Minor Key Monday I talk about what might just be the greatest ritualistic medieval ambient martial neofolk band of all time:
The Moon Lay Hidden Beneath a Cloud is an Austrian neofolk band that I was only introduced to this month (thanks Cate!), and yet they have already shot straight to the top of my short list of bands that make exactly the kind of music that I (as a lover of all things minor key, medieval, and sorrowful) would want to make myself.
Neofolk can be an easy genre to overlook.  Many bands, barring numerous exceptions like Death in June, eschew traditional song structures for a more ambient, atmospheric approach.  This tends to bring with it an unfortunate comparison to that oft maligned group of songs: black metal intros.  However, thankfully, with today's band, we aren't talking about your typical bit of synth wankery that opens up every Graveland album ever (and Rob Darken is even one of the better ones!)
Today's song, the confusingly titled "untitled" (confusing because they use that title for every song in their extensive catalog), is from what may be The Moon Lay Hidden Beneath a Cloud's masterpiece Amara Tanta Tiry (though I can't yet claim to be versed enough in their music to back up that claim).  If you must think of it in terms of traditional song structures, it is a simple verse chorus blueprint constructed out of sparse elements and a singsong chant.  But with this kind of music, it really is all about the atmosphere.
As soon as that bassoon sounding synth line comes in, it sinisters up the atmosphere real nice.  The vocals are perfect, a foreboding witches chant that is brilliantly complimented by some type of reeded synth instrument.  If this were a more traditional band like Satyricon I might complain about the synth line simply copying the vocals, but when neofolk works this well, digging into such minutia really serves no purpose.  This album is full of soundscapes that are simply not of our time.  It perfectly captures the atmosphere it sets out to achieve, and as such is a success that outshines other far more complex works from lesser bands.
Of course, my love of this band really should not come as a surprise to anyone.  Just imagine if I had stumbled across the following Wikipedia entry before I had been introduced to The Moon Lay Hidden Beneath the Cloud:
"…Austrian musical duo composed of Albin Julius and Alzbeth. Their music reflected their deep fascination with myriad aspects of European medievalism including ritual, clerical chants and the daily experience of the peasantry.

Their music combined modern electronics, tape loops and samplers with medieval instruments such as the shawm, hurdy gurdy, and Hexenscheit. Alzbeth was the primary vocalist for the group and often sang traditional songs in numerous archaic languages including Middle High German, Latin and Old French. Julius provided distorted and backup vocals.

When performing live, the band often played in old churches, fortresses, medieval prisons and theatres that provided an appropriate atmosphere for their static, militaristic performances."
After reading that, how could I not immediately pop like a thousand boners and decide that The Moon Lay Hidden Beneath a Cloud was the best band of all time, amirite??