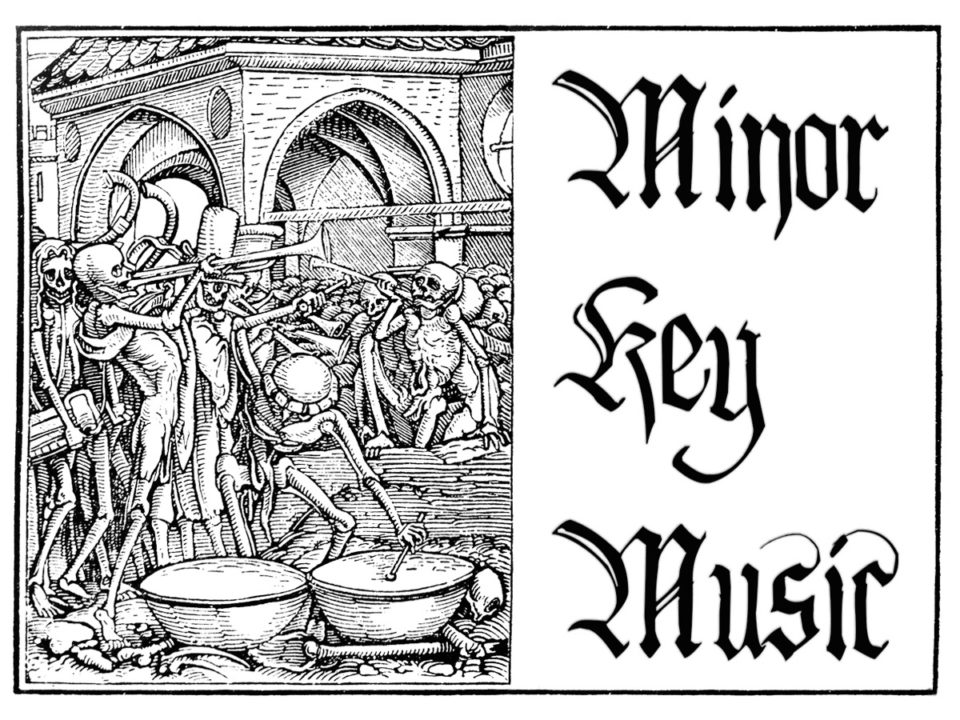 I always have to stop myself when I say I like "all kinds of music".  Because, honestly, that just isn't true, there is really only one kind of music I like.  No, not [just] Black Metal, I'm talking about music in a minor key.  I mean, I'm a pretty happy guy, but there is something about sad, sad songs that just does it for me.  I don't dislike Vivaldi's "Spring" and "Fall", but I far prefer "Summer" and "Winter" (guess which seasons he writes in a minor key).  "Satisfaction" is a fine song, but I'd rather listen to "Paint it Black" any day…you get the idea.  Basically, it don't mean a thing if it ain't got that sting [of soul crushing sorrow and sadness]
This month on Minor Key Monday I talk about another one of my favorite Medieval Christmas carols:
I was recently made aware that there has been a nasty rumor going around that I don't actually like Christmas. That I'm just being hipster ironic about the whole thing. That my black pentagram stocking is just for show.  That I don't actually like Jesus.  Well, I'm here to tell you that almost all of that is not true.  And to prove it I'm bringing you yet another holiday edition of Minor Key Monday.  Once again, I've picked out one of my favorite Christmas Carols, and once again, it's super religious and super old.  Maybe I really DO like this Jesus guy after all!
Today's song is an anonymous 14th-15th century English carol sung in Latin and Middle English.  Unfortunately, the version I've included here (from the excellent cd Christus Natus Est – An Early English Christmas) doesn't use the cool middle English pronunciation (something like "nowell sang way booth all and soom"), but it's still probably the best version of this one that I've heard.
Obviously, considering how much I have raved about something like the soundtrack to Monty Python and the Holy Grail, I was bound to love today's song on first listen. Stuff like this makes me want to bust out my recorder and play along.  More importantly, stuff like this makes me wish I owned a hurdy gurdy.  So you can imagine my excitement when I found a guy on youtube who did in fact go ahead and record this song with his recorder and hurdy gurdy.  It's actually pretty badass:
Hell, the lyrics aren't even that bad for some christian bullshit:
Refrain:
Nowell sing we, both all and some
Now Rex pacificus is come.

Exortum est in love and lysse.
Now Christ His grace He gan us gysse,
And with His body us bought to bliss,
Both all and some.
Refrain.

De fructu ventris of Mary bright,
Both God and man in her alight,
Out of disease He did us dight,
Both all and some.
Refrain.

Puer natus to us was sent,
To bliss us bought, fro bale us blent,
And else to woe we had ywent,
Both all and some.
Refrain.

Lux fulgebit with love and light,
In Mary mild His pennon pight,
In her took kind with manly might,
Both all and some.
Refrain.

Gloria tibi ay and bliss,
God unto His grace He us wysse,
The rent of heaven that we not miss,
Both all and some.
Refrain.
I mean, after all, that has the two things I look for in song lyrics that I expect to put me in the Christmas spirit: 1.) they are partially in Latin, and, 2.) they are almost completely nonsensical and sound epic as shit.  I'm not kidding either, this applies to everything; like, writing about that Necros Christos demo Black Mass Desecration on Saturday actually made me feel a bit of Holiday cheer.  But I digress, bottom line, the lyrics to this song sound pretty cool.  Though, does that "In Mary mild His pennon pight, In her took kind with manly might" part mean what I think it means? Hell, why not, if they can write songs about your mom fucking Santa Claus, I suppose God planting a flag up in Mary with manly might gets a pass too.  So Merry Christmas What is Best in Life readers, may you never learn the disappointment of finding out what your Latin Christmas and/or black metal lyrics actually mean!