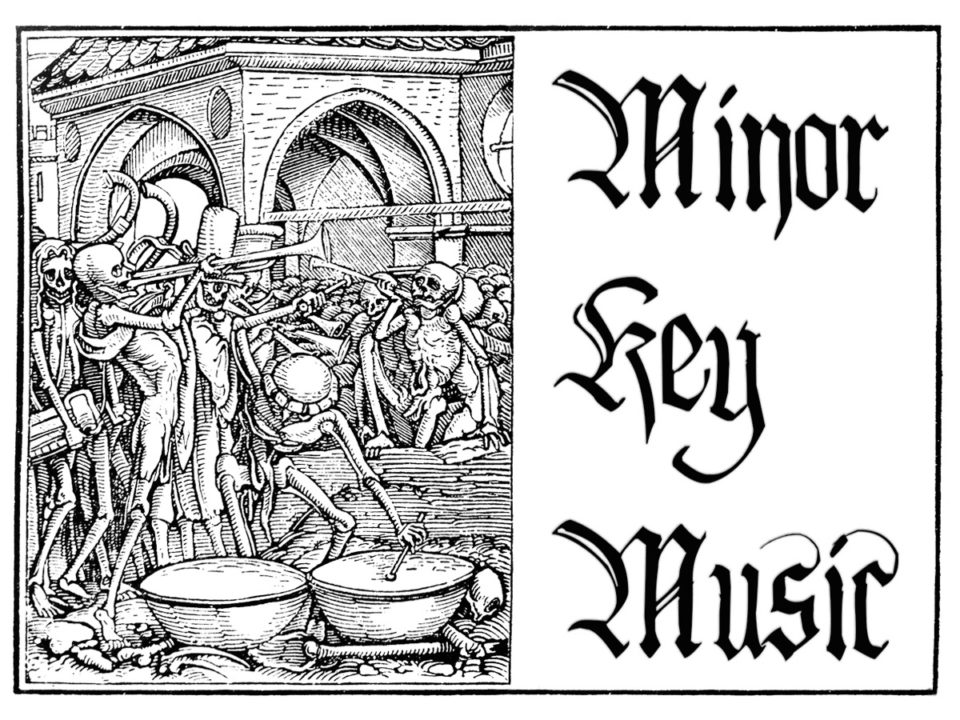 I always have to stop myself when I say I like "all kinds of music".  Because, honestly, that just isn't true, there is really only one kind of music I like.  No, not [just] Black Metal, I'm talking about music in a minor key.  I mean, I'm a pretty happy guy, but there is something about sad, sad songs that just does it for me.  I don't dislike Vivaldi's "Spring" and "Fall", but I far prefer "Summer" and "Winter" (guess which seasons he writes in a minor key).  "Satisfaction" is a fine song, but I'd rather listen to "Paint it Black" any day…you get the idea.  Basically, it don't mean a thing if it ain't got that sting [of soul crushing sorrow and sadness]
This month on Minor Key Monday I talk about a rather depressing neofolk love song:
Sol Invictus is one of the "big three" of the neofolk genre (along with Death in June and Current 93).  As I discussed in my Death in June MKM, neofolk is kind of like folk music except it makes Leonard Cohen sound like Peter Paul and Mary when it comes to downbeat, supremely melancholy music.
Today's song, like most neofolk (and regular, non-new folk for that matter), is a simple affair, but damn does it fill my soul with, well, emptiness (in the most meaningful sense of the word).  I'm not a lyric man, but somehow, even when I don't know what the hell they are talking about, I always take note of the neofolk lyrics I hear.  Not that today's song has any kind of ambiguity in its grand declaration of war against love:
I put my back against an oak
Thinking it was some trusty tree
But first it bent and then it broke
And so did my false love, to me
I put my hand into a bush
Thinking some sweetest flower to find
I pricked my finger to the bone
Leaving the sweetest flower behind
Oh, meeting is a pleasure
And parting is a grief
But an unconstant lover is worse than any thief
A thief would all but rob you
And take all that you had saved
But an unconstant lover will bring you to the grave
The grave it will decay you
And turn you into dust
There's not one in a thousand that you can trust
They'll kiss you and they'll court you
And tell to you more lies
As the hairs upon your head laugh
Or the stars in the skies
Come all you young lovers
A warning take by me
Don't place your affection on a green willow tree
For the leaves, they will wither
The branches will decay
And all your poor love will soon fall away

We hung upon a hook, cut me to the bone
Froze me with a kiss, laid upon your throne
In the abattoirs of love
In the abattoirs of love
You're in the serpent's jaws, love chains you to the floor
Like fools you climbed so high, it's further then to fall
In the abattoirs of love
Love's a game for fools, for fools
Love's a game for fools…
Sure, maybe that's just the rantings of some dude who is taking a breakup too hard, but at least they are the rantings of some dude who is taking a breakup too hard who also happens to have a bit of poetry in him.  I mean, in a song like "Abattoirs of Love," problematic founder Tony Wakeford is taking a sophisticated view of love…by putting it in a slaughterhouse.
Of course, simply having downbeat nihilistic lyrics don't a MKM make, the real reason this song is here is because of how relentlessly bleak the music is.  With a few simple minor key melodies backing up the music, each lyric is like a knee straight to the balls of love.  The atmosphere is so oppressively downbeat it is almost hard to breathe while listening to this song.  And that, right there, is why I knew this was going on MKM as soon as I heard that first suffocatingly sorrowful chord change.