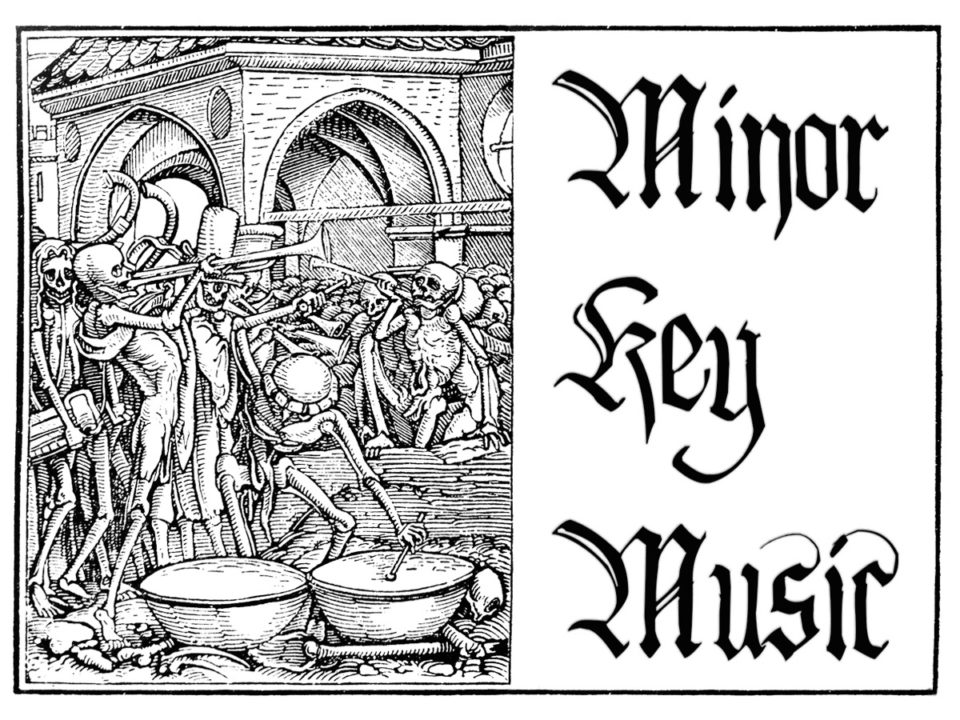 I always have to stop myself when I say I like "all kinds of music".  Because, honestly, that just isn't true, there is really only one kind of music I like.  No, not [just] Black Metal, I'm talking about music in a minor key.  I mean, I'm a pretty happy guy, but there is something about sad, sad songs that just does it for me.  I don't dislike Vivaldi's "Spring" and "Fall", but I far prefer "Summer" and "Winter" (guess which seasons he writes in a minor key).  "Satisfaction" is a fine song, but I'd rather listen to "Paint it Black" any day…you get the idea.  Basically, it don't mean a thing if it ain't got that sting [of soul crushing sorrow and sadness].
This month on Minor Key Monday I'll take a look at a random mournful song I heard on a random industrial compilation:
I've heard a lot of random "industrial" bands I thought were pretty great (Skinny Puppy, Einstürzende Neubauten, Laibach) over the years.  Honestly, the best stuff is dark enough that I'm sure at least some of it will be featured in future Minor Key Mondays.  But I haven't really delved into the genre like I've always wanted to (like any good nerd, I refuse to embrace any new interest without first completely immersing myself and learning everything there is to know about it).  Thus, I'll save my discussion of clanging metal and factory sounds for another day.  Besides, today's song, SPK's "In Flagrante Delicto", doesn't actually sound all that industrial anyway.
SPK was always an industrial band, but by the mid 80s they had begun to move away from the nihilistic violent sound of their early years to pursue a more symphonic and atmospheric direction.  I would have never heard of them had I not randomly acquired an n industrial compilation cd called The Tyranny of the Beat.  "In Flagrante Delicto" was the opening track and was easily the best thing on the cd (the song was taken from 1986's In Flagrante Delicto 12″; though a longer version exists on their Zamia Lehmanni: Songs of Byzantine Flowers full length from the same year).  Information was sketchy on the song's creation, but apparently Graeme Revell (the sole band member in 1986, who went on to be a major Hollywood composer scoring everything from The Crow to Miss Congeniality 2) had traveled the world recording and collecting samples for his albums.  I assume the female vocals were one such sample in this song.  It is a fairly minimal song, but still manages to generate an interesting and quite effectively melancholic atmosphere.
For those who like world music, ambient minimalism and dark things, this song is pretty much a perfect storm of sad.  And I happen to like all those things, thus it seemed like a perfect choice for inclusion into the annals of Minor Key Monday!