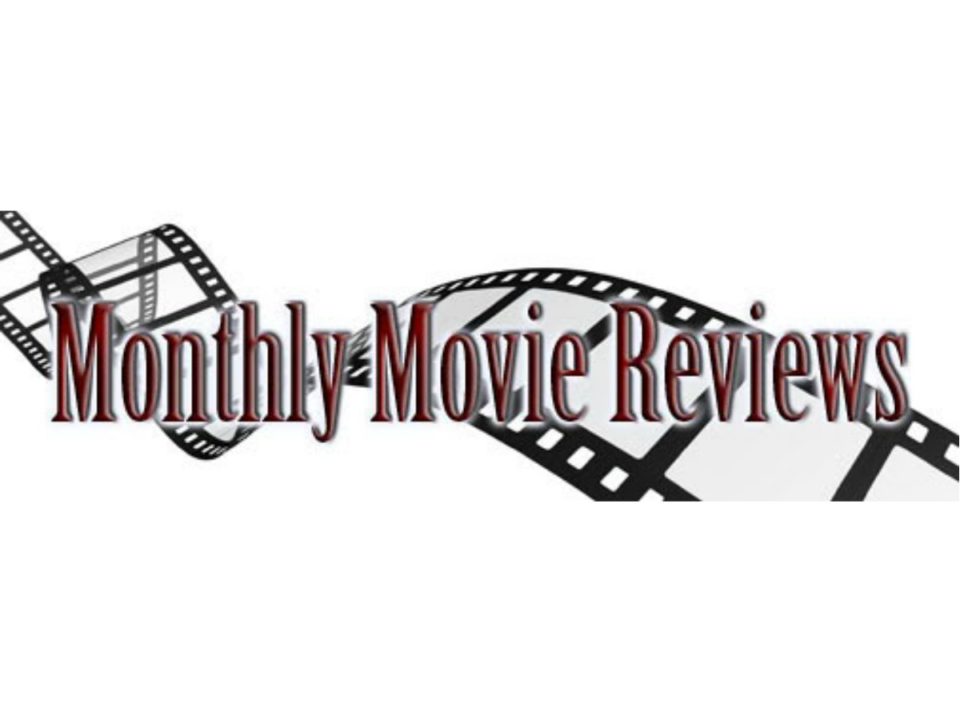 Here are some two sentence reviews of the movies I watched in August.
Stats
August 31
Just Like Heaven (2005) – Ruffalo and Witherspoon are great as always, and the film's sly sense of dark humor helps keep it consistently strong from beginning to end.  Also, thankfully, the movie has nothing at all to do with Heaven!
August 30
13 Going on 30: Fun and Flirty Edition (2004) – Jennifer Garner's undeniable charisma makes this far more entertaining that it probably should be.  Which is not to say it is a weak film otherwise, there are plenty of fun and flirty moments rather deftly incorporated throughout!
August 29
Stranger on the Third Floor (1940) – Strange expressionist film about a man who looks deep within himself and finds his mind is a dark place.  Peter Lorre is great as always, unfortunately none of the other actors are quite up to par.
August 28
Valentine's Day (2010) – A bullshit manufactured attempt at making a rom com Shortcuts.  Whenever a rom com tries to elevate itself out of its genre and into respectability like this it only serves to show how vapid and mindless the genre is in the first place–though the complete lack of a soul doesn't help things in Valentine's Day's case.
August 27
30 Minutes or Less (2011) – The premise is decent, but unfortunately the scriptwriters have no idea how to work with it while also maintaining the slightest modicum of plausibility.  Still worth watching to some degree for the scattered amusing bits.
Rise of the Planet of the Apes (2011) – Surprisingly strong for a movie about CGI apes, I guess thanks goes to the (mostly) very impressive special effects.  It gets silly every now and then, but the central ape story is fairly compelling.
The Switch (2010) – Nothing really wrong with the film except for the fact that no one could possibly root for the leads to end up together (there were actually shouts of "noo…why would you kiss!" at the end of my screening).  However, I totally wanted Bateman and the little kid to end up together, so I guess at least it nails the father-mance part of the script.
August 25
Waitress (2007) – This is a little too precious and indie for my taste, but that is mostly just me.  The feminist ending is refreshing at least–though I don't come to these movies to see refreshing, I come to see true love conquer all and trying to turn a rom com into a semi "real" movie is just never as satisfying as its creators hope it will be.
August 24
The Wedding Date (2005) – That Will and Grace chick is pretty strong though the guy is pretty bland (and looks like he'd be better suited as the kind of asshole boyfriend that needs to get dumped by the end of these kind of films).  As a film it has all the requisite story elements that one would expect from "the female Pretty Woman" so I consider it a success overall.
August 22
Double Indemnity (1944) –  This flawless noir film is just further proof that no one anywhere in the world before or since could match the Hollywood output during its peak years.  If I have to find a flaw it would be that that Fred Macmurray fellow always rubs me the wrong way….that and Stanwyck looks horrible as a blond.
August 21
Conan: The Barbarian (2011) – The near fetus decapitation from the beginning and the following 20 minutes or so is really pretty chortlingly entertaining, unfortunately, the last 90 minutes of nonstop sword fights quickly grows tiresome to watch. Momoa is decent as Conan, but the director Nispel needs to learn how to make a movie that actually has a story instead of an endless sequence of unconnected action scenes.
August 20
Rollerball (1975) – I guess some of the Rollerball scenes are all right, but most of the in-between exposition is pretty forced.  Not the worst movie I've ever seen, but probably doesn't deserve its cult status either.
The Wizards (1977) – Really bizarre combination of trippy hippy messages, futuristic dystopias, rotoscoping, wizards, fairies and other such shit.  I wouldn't call it good, but I suppose I wouldn't call it bad either.
August 18
Paul (2011) –  British nerds meet Seth Rogan's voice in an alien's body and the hilarity and hijinx ensue.  There are a few moments that are a bit too precious, but overall this is pretty funny from beginning to end.
August 17
Superbad (2007) – I think it would be fair to say this is the best comedy of the last decade.  It is the usual Apatow style bromance, but it uses the "one wild night" routine perfectly while nailing just about every joke in the film.
Blind Date (1987) –  The premise is fairly problematic: guy basically roofies girl, guy gets pissed that roofied girl is acting crazy, guy roofies himself to "show her", girl feels bad so becomes a lawyer's sex slave to help out guy, girl leaves lawyer and marries guy.  Add in one of Blake Edwards' signature hide and seek chase scenes and you have a movie that I probably won't be watching again any time soon.
August 16
Rain Fall (2009) – I know Oldman has done good work before, but here his delivery is 90% over the top shouting.  And, unfortunately, his minor character from the book dominates half the film (based on his star power I assume)…not that it really matters since the guy that plays John Rain is so unfortunately bland.
August 15
The Whole Nine Yards (2000) – It is very rare to find a modern comedy that does pratfalls and slapstick well, but I have to admit this one does.  The snappy script keeps things moving right along despite the almost too cute turn from Bruce Willis as a sociopath you hate to love.
August 13
The Tree of Life (2011) – The childhood scenes (and, to a lesser extent, the cosmic stuff) are some of the most brilliant bits of cinema I've ever seen.  The mopey Sean Penn stuff and (especially) the bullshit afterlife ending, however, are most decidedly not the most brilliant bits of cinema I've ever seen.
August 12
Hackers (1995) – Sure some of the dialog is pretty lame, and sure the hacking is utterly unrealistic, but damn if this one doesn't have style in spades.  Only Blade Runner rivals it for pure cyberpunk atmosphere.
August 11
Colorado Territory (1949) – Walsh does an almost scene for scene remake of his High Sierra as a western and achieves almost equally brilliant results.  Really, the only flaw is that Joel McCrea doesn't quite have the inner menace that Bogart could so convincingly bring to a role when necessary.
August 8
Watchmen (Fan edit)(2009) – This is a fan edit that, like the comic, breaks the film up into chapters with in between backstory segments.  They work well enough, but, like the comic, I think I would prefer to just skip to the next chapter (The film itself is the same old 3+ hour bloated opus of cool scenes resting tenuously upon a rather slim murder mystery).
August 7
Sadie Thompson (1928) – Really fantastic silent film with Swanson and (especially) Barrymore in top form as they square off inside a claustrophobic south seas hovel.  The final real is sadly lost, but what is left of the film is a brilliant piece of nasty business.
August 6
Monty Python and the Holy Grail (1975) – It really is just a scattered collection of skits and nonsensical jokes.  However, the production design, and genuinely medieval atmosphere unites the film into a completely coherent whole that turns it into almost as brilliant a piece of film making as it is funny.
A Day in the Country (1936) – A laid back Sunday day trip of a movie centered around one of Renoir's beloved rivers.  That the bittersweet ending is as affecting as it is is a testament to the power of this unassuming masterpiece.
August 5
Cowboys & Aliens (2011) – While this is a poorly plotted mess, it isn't quite as bad as everyone said it is.  Some of the western elements are kind of cool, but, they are, of course, not enough to save this film from being completely forgotten by this time next year.
Captain America: The First Avenger (2011) – As expected, the second watch through was a bit of a chore.  There are still good bits (mostly the skinny Steve Rogers stuff), but my end impression this time was of a film that is a bit collection of loud fights involving guys in silly costumes.
August 4
Take Me Home Tonight (2011) – All the elements are there: "one wild night," "hijinx," "Anna Faris," but sadly this is just plain dull.  It doesn't help that the Belushi wannabe comic relief best friend is quite spectacularly annoying either.
August 2
Tin Cup (1996) – If you've seen one sports romantic comedy, you've probably seen them all, but this one is of high enough quality it should at least moderately stand out from the pack.  I can't say Costner's character is exactly likable, but the film is pleasant enough anyway.
People on Sunday (1930) – Really fantastic documentary/"improvisational city symphony"/"countryside frolic" film that is shockingly light on its toes to have come out of Germany.  The story is rather poorly fleshed out, but that isn't really the point in a film that will consistently surprise you with the brilliant moments it captures.