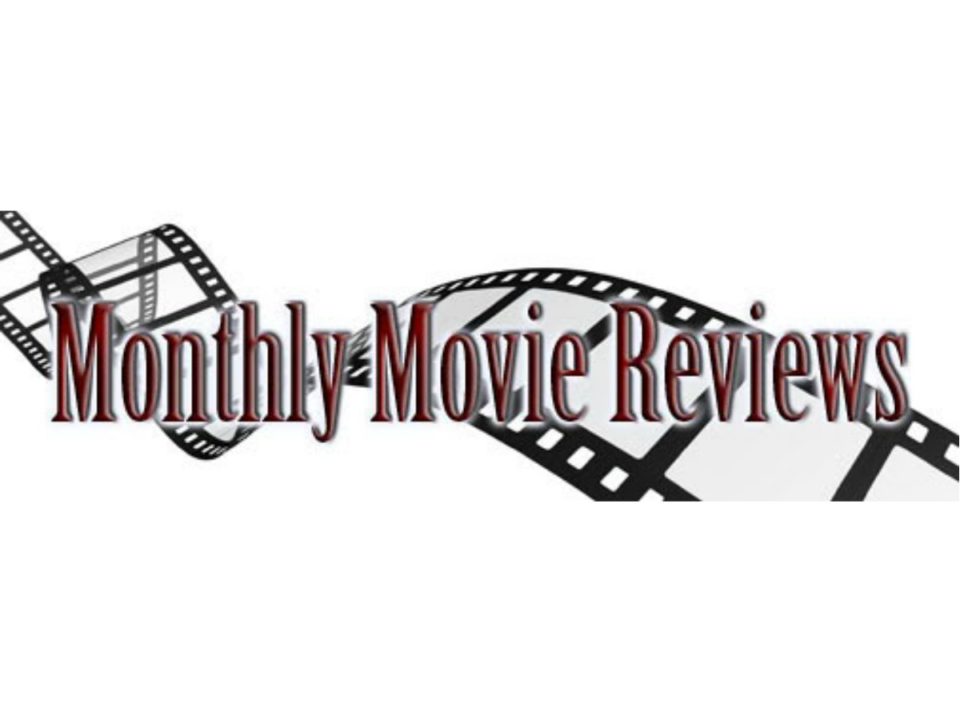 Here are some two sentence reviews of the movies I watched in July.
Stats
July 31
Celebrity

 (1998) – As a pastiche of loosely connected scenes riffing on the same concept (in this case,"celebrity") this works better for me than Radio Days.  The only real flaw for me is that, while I find Woody Allen's screen persona oddly loveable, I don't enjoy seeing other people adopt all of his inflections and mannerisms.
The Unforgiven (1960) – Nice John Huston western that deals with some heavy issues from The Searchers playbook.  It is all quite well done but the ending leaves way too many of the questions that are raised unaddressed (I'm sure Huston knows what he's doing, it made me wonder if he really made the right choice this time).
July 30
Brute Force

(1947) – Basically spectacular prison escape movie only slightly marred by the unnecessary flashbacks and occasionally heavy handed attempts at social commentary.  But damn if that escape set piece isn't one of the most exciting action sequences I've ever seen (also, Cronyn was great as the "bad guy")!
July 28
Radio Days

(1987) – And interesting jumble of mostly harmless stories centered around Woody's nostalgic memories of his radio dominated childhood.  The device of linking each memory to the radio comes off as a bit forced at times and the stories occasionally cross over into "too cute" territory, but overall it is pretty enjoyable.
July 26
Mister Lonely

(2007) – Harmony Korine has always walked a thin line between brilliant and shite, and am afraid he may have fallen over into the brown side with this one.  Herzog's scenes feel gratuitous, the story holds little interest, the good scenes are outweighed by far too many scenes that are trying way too hard: in short, Korine's attempt at a more straight ahead narrative is pretty much a pretentious mess.
July 23
Adam's Rib

(1949) – I haven't seen them all, but I think it's probably a safe bet that this might be the best of the Hepburn/Tracy matchups.  Cukor is one of the old Hollywood masters, and while the film isn't quite full of nonstop hilarity, it's nonetheless very well done.
July 20
The Wages of Fear

(1953) – The first hour is a brilliant portrait of misanthropic poverty, but it still comes off lacking when compared to the final 90 minutes which consist of one genius white knuckle set piece after another.  Thus, no matter how good the film is I always question whether it needs to have such a long intro before they "go ahead and put the guys in the trucks full of nitroglycerin already."
July 19
Rebecca

(1940) – Hitchcock's first Hollywood film, and it is an absolutely fantastic one.  The twists and turns of the plot are natural (and genuinely surprising), the performances and cinematography brilliant, and Hitchcock's twisted view on male/female relationships is just as articulated here as it is in his later work.
July 18
My Best Friend's Wedding

(1997) – The leading man is totally bland, Julia Roberts is pretty unlikeable, and the whole thing is a bit too mean spirited to really be much fun.  I suppose Cameron Diaz should get some props for being such a likeable screen presence that she makes you root for her even though I don't think that is the filmmaker's intention.
July 17
Two Weeks Notice

(2002) – Kind of silly, but also quite funny and really one of the better rom coms out there.  I've also never seen a romantic comedy that featured a scene where the male lead had to find a bathroom for the female lead who had a case of the shits.

Say Anything

(1989) – Insightful teen comedy that thankfully treats its leads like real people.  I wasn't surprised to find out it was written by the guy who wrote Fast Times at Ridgemont High.
July 16
About a Boy

(2002) – Reminded me of Notting Hill in that it was pretty slick…almost too slick.  But, the script was a cut above the usual kind of stuff like this–which made the calculated and sentimental elements of the plot much more tolerable.

New in Town

(2009) – As formulaic fluff films go this is lazy enough that it just barely eeks its way into "still entertaining" territory.  Also (and I still think she's pretty hot), what is wrong with Renee Zellweger's face?
July 15
28 Days

(2000) – "Comedy Dramas" are my least favorite type of "comedies" and "dramas" and this one was nowhere nearly competent enough to put across the heavy subject matter.  Bullock is always interesting to watch, but overall I can't say this movie is an enjoyable experience.
July 14
Paris Texas

(1984) – An insightful film that is not so much concerned with the end result but rather what you learn about the characters and human relationships on the way there.  One of the greatest films of the 1980s, with some magnificent cinematography to boot.

Maid in Manhattan

(2002) – Entirely fluff, but I suppose it is moderately enjoyable fluff.  Lopez is always an appealing lead, and while nothing super funny happens (not to mention the morally dubious ending), I must admit it was at least likeable.

Definitely, Maybe

(2008) – It walks a dangerous line with the whole "telling a story to my daughter" setup, but manages to avoid being excessively sappy.  It's not as deep as it probably wants to be but is still a compelling story with an above average script.
July 13
It Happened One Night

(1934) – There are plenty of earlier examples, but this probably has had the most influence on the blueprint of the "romantic comedy" (guy and girl thrown together, don't like each other, realize they like each other, split up because of a mix-up, get back together at the end).  And to this day they still haven't made a better one.
July 12
Brüno

(2009) – Almost exactly like Borat, which is to say, filthy lowbrow humor done very intelligently (and hilariously).  There are pangs of guilt at laughing at the humiliation of people who might not be all that bad, but thus are the perils of signing a waiver in an attempt to get on TV I guess.
July 10
Within Our Gates

(1920) – Though it looks a bit primitive (about five years behind the times), the structure is actually quite ahead of its time.  Still, with all the cutting back and forth (in time and place) it is more of a mess than not, with the final lynching segment was the only part that has any real power to it for me.
July 9
The Wedding Planner

(2001) – Nothing entirely clever in the script but nothing dislikeable either.  At least it plays things fairly straight which is more my type of comedy than the more overly silly/implausible romantic comedies.

State of the Union

(1948) – A Capra film in the vein of Meet John Doe and You Can't Take it With You, which is to say: overly didactic, sentimental and politically simple to the point of insulting the viewer's intelligence.  Knowing where a movie is going is fine with me as long as I have fun getting there, and that was not the case with this one.
July 8
While You Were Sleeping

(1995) – Bullock gives an affecting "nice girl" performance and the movie is quite likeable, though a bit sappy for me.  Still, I guess as far as sappy light comedies go this one doesn't put many feet wrong.

Love Potion #9

(1992) – The lazy screenplay is unfortunately also pretty light on real laughs as well.  Though the main character does date rape an entire sorority house, so maybe it isn't supposed to be a comedy?
July 7
The Stars are Beautiful

(1974) – I am no expert (and have my reservations about) experimental art films, but I honestly thought this one tries too hard to attach meaning to the images (and the cutesy creation stories about the stars are only sporadically "not lame").  Something like Herzog's Fata Morgana works better for what this is trying to do, and overall prefer Brakhage's more abstract stuff to this film.
July 6
The Assassination of Jesse James by the Coward Robert Ford

(2007) – This may be a bit inflated with pretensions of making an art film, but is entirely successful as a psychological character study if nothing else.  Pitt gives a fine performance as Jesse James, but the film is all about Casey Afflek's portrayal of Robert Ford, who he manages to turn into a very complex, deep, and interesting character.
July 5
The Proposal

(2009) – Bullock could maybe tone down the makeup, but otherwise is pretty great and has real chemistry with Reynolds in a movie that is really quite funny.  Of course, maybe I'm just a sucker for this kind of mismatched couple farce stuff.
July 4
The Hangover

(2009) – The jokes seem more hit and miss the second time around, but this is still a pretty great comedy of men behaving badly.  The director might be an ex fratboy, but I suppose frat boys and scholarship hallers share a common primordial ancestor which would explain my enthusiasm for his movies.

Teacher's Pet

(1958) – Sure, Gable is way too old and Doris' butch ducktail haircut is a travesty, but they are both quite good here.  Honestly, aside from those two drawbacks, this is one of the better Doris Day vehicles.
July 3
Shanghai Express

(1932) – I'm not sure which is more luminous, the cinematography or Dietrich in this Sternberg masterpiece.  Only Hitchcock could match Sternberg's twisted portrayal of love and power, and no one has since matched his mastery of Mise-en-scene.
July 1
Henry

 V

(1944) – I have mixed feelings about performed Shakespeare (maybe because I hate feeling stupid when I can't keep up with the dialog) but this is an undeniable classic.  I really like how Olivier takes some chances with how he tells the story, moving with ease between an actual performance of the play, to a stylized fantastic version with painted backdrops, to actual location shooting for the battle.