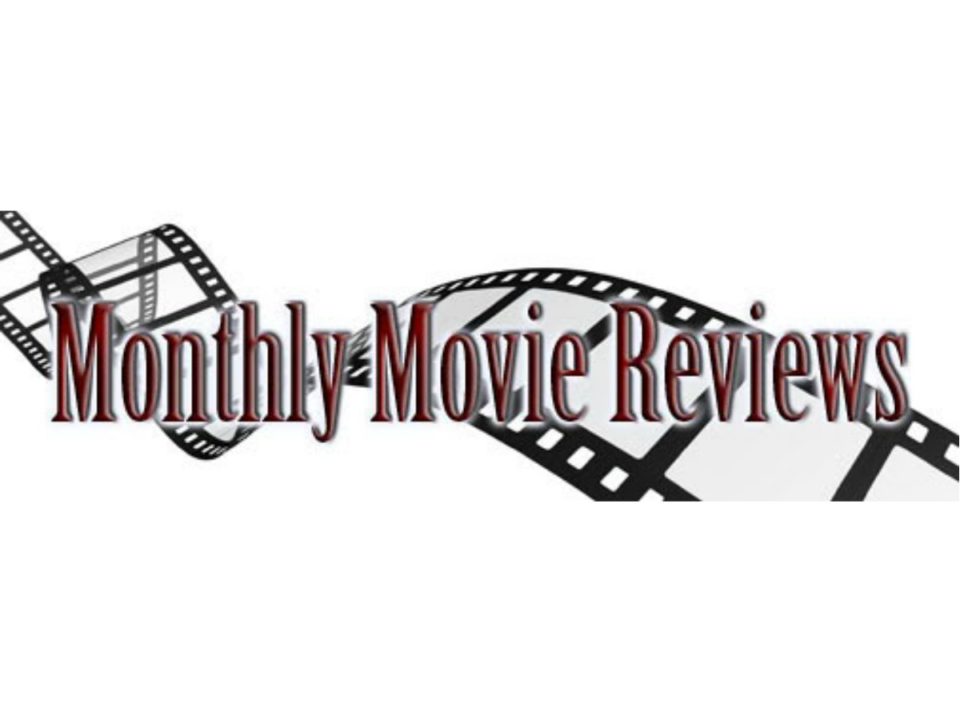 Here are some two sentence reviews of the movies I watched in June.
Stats
June 30
Legion (2010) – This movie about Paul Bettany as a gun toting martial artist Archangel who fights a horde demonic angels sent by God to destroy humanity is just as bad-ass and fucking stupid as it sounds.  After being assaulted by unending nighttime gunfights, implausible exposition, dudes crying, angel fights, and Bettany's undeniable charisma I was unsure to what extent I had just wasted 90 minutes of my life…and that is probably as high as my praise for this film can go.
The Lion King (1994) – This still has songs you will want to fast forward through (or maybe it was just me) and a few too many juvenile comedic asides, but overall I really can't find anything to complain about.  The beautiful animation, strong story, and particularly well done villain all help things immensely.
He Loves Me, He Loves Me Not (2002) – This starts out slow, but the second half at least offers a bit more to chew on in a "so that's what is going on" sense.  Still, aside from answering its own questions there isn't much there for me to really recommend (though I'll admit Tautou's bracing "cuteness" actually works quite well within the context of her character here).
June 29
Easy Rider (1969) – If not quite a masterpiece, this is at least one of the great inadvertent triumphs of independent film making.  The "let's film ourselves on the road and turn the footage into a movie" idea has never been done so well.
People Will Talk (1951) – Grant plays (quite well I might add) the kind of noble paragon of humanity that would have been a great protagonist for Capra on his worst day.  The movie is quite well done, but is sadly unable to rise above the righteous stink the pervades the whole affair.
June 27
Topper (1937) – With this cast and director, this film should have been much better.  I suppose the problem is with the script, which really just exists to show off a bunch of nice trick photography–and to give Grant a chance to mug.
Peyton Place (1957) – Despite some dodgy acting from a few key players, this is really great melodramatic stuff.  The drama (complete with overblown musical cues) is more in your face than a Sirk movie, and yet it never feels sentimental or cheap–which is quite a feat to pull off for a movie this overblown.
June 24
Philadelphia Story (1940) – This could be Cukor's best film; sparkling doesn't even begin to describe the dialog, direction and acting.  This is one of those films that just gets better the more times you see it.
Song of the South (1946) – This isn't nearly as racist as you might have heard: there are Uncle Tomish moments to be sure, but for a movie about the reconstruction era made in the 40's it is positively forward thinking (though obviously over idealized).  As a film, the live action stuff is just ok, but the animated Brer Rabbit bits are really pretty great.
June 22
Working Girl (1988) – This is a very well done (and well acted) 80s romantic comedy (with the romance pushed to the background).  Joan Cusack, as always, is pretty great too.
June 21
Wise Blood (1979) –  I wouldn't have thought that Huston could have made a weirder movie than Reflections in a Golden Eye, but this just might be it.  Really fantastic (and unsettling) filmmaking with a great central performance by Douriff…and don't let the comedy descriptors fool you…you won't be laughing that much.
June 20
Hamlet (2000) – This isn't quite the impressive spectacle that Luhrmann's Romeo + Juliet is, but as modern updates of Shakespeare go, this is still a success.  Plenty of nice touches (without ever seeming gimicky), with a lot of strong performances as well (Ethan Hawke is especially good as Hamlet).
June 18
The Big Sky (1952) – A nice, laid back, rambling "Lewis and Clark" style Western, this one really is a lot of fun.  Not quite in the top tier of Hawks movies, but I'm still looking forward to revisiting this one many times in the coming years now that I've found a copy.
Harry Potter and the Sorcerer's Stone (2001) – Agreeable enough as these things go, though the child acting and cgi seem a bit dodgy in places.  Still, it really only suffers when compared to the improved quality of the later movies in the series (except The Goblet of Fire of course).
June 17
Mathew Hopkins: Witchfinder General (1968) – Low budget, though the director is so talented you really can't tell (great score too). It's just too bad all the cinematic brilliance went into such a vicious, unpleasant movie (a precursor to the current torture porn movement of modern  horror).
RocknRolla (2008) – Sure, these Guy Ritchie caper movies might be a little to self-consciously stylish for their own good.  But as testosterone injected guy movies go, there really aren't many better options these days–may as well quit bitching and sit back and enjoy the ride with this one.
June 16
Enchanted (2007) – Pretty cute "family" movie that admirably spoofs all the typical Disney conventions to pretty amusing effect.  Amy Adams plays Giselle with just the right amount of ridiculousness and James Marsden is pretty great as the doofus prince as well.
The Princess Diaries (2001) – This one feels too slick and manufactured to really work for me…but I guess "slick and manufactured" is what you should expect from "the guy who brought you Pretty Woman".  Anne Hatheway might win you over, but the movie will not.
Six Days, Seven Nights (1998) – Grizzled Harrison Ford and the strikingly pretty Anne Heche get themselves stuck in his desert island fantasy to amusing effect.  A pretty light piece of fluff–not that that is a bad thing.
June 15
Beneath the Valley of the Ultravixens (1979) – This is the usual softcore nonsense of male need/fear of nymphos, but the ridonkulously over the top script by Roger Ebert makes this probably the best of the Vixen trilogy.  It's just too bad Meyers cast that one chick with the fake boobs…I always figured he wasn't down with that.
The Prince and Me (2004) – There are really two parts to this movie: a well done (though implausible) romantic comedy, and an overlong pretty princess final third.  Still, the leads are great (not that Stiles needs any more praise here), and the message is thankfully a bit more forward thinking than usual.
June 14
The Little Prince (1974) – I want to give this more credit for trying to pull off such a daring production, but I don't think any of it actually "works".  Sadly, after finally getting all the way through it, I'm pretty sure that in the years to come I'll only remember this one as a long interminable mess with shitty songs.
June 13
Save the Last Dance (2001) – Aside from occasional lapses into too obvious drama territory (I was a little worried about what I had gotten myself into during the opening sequence) this really is a pretty great teen romance movie, helped immensely by intelligent, believable characters and fine performances (from Stiles especially).  I was also very impressed how the film used race for plot conflict and insightful commentary but never devolves into simplistic "can't we all just get along" moralizing.
June 11
The Thing from Another World (1951) – Apparently who actually directed this is unknown, but I'll call it an honorary Hawks film anyway since all my favorite Hawks touches are in full effect in this great (and suspenseful) "Rio Bravo with an Alien" film.  The usual focus on group dynamics is even more complex this time around as there are two competing groups (one of "professionals" and one of "experts") who are forced to confront both the monster and the failings of their outlooks (one guess which group Hawks puts on top by the end though).
June 10
Point Blank (1967) – I know this is very highly thought of, but I honestly felt like it tries a little too hard with the artsy fartsy stuff.  There are still a lot of good scenes (like that fight in the club), but it doesn't do a lot for me in a genre (crime) that I'm normally a pretty big fan of.
June 9
Night of the Demon (1957) – One of those A list B movies, full of atmosphere and a nice pervading sense of demonic dread.  I know it was against the director's wishes (for good reason) but the demon effects are even pretty good (until it gets too close of course).
June 5
The Westerner (1940) – As usual with Wyler, great camerawork, but the script is so conflicted the movie can't be called anything but a disaster.  No one can seem to decide what movie they are in and you are left with having to settle for watching Walter Brennan trying to make a sociopathic murder into a loveable old coot.
Dazed and Confused (1993) – Timeless, completely realistic movie about every small town high school ever.  What is perhaps most impressive (in movie full of impressive things) is the way the film manages to portray high school just as it really was: an awful, glorious, unendurable, wonderful place that you remember fondly and would never want to repeat again.
June 4
Mulan (1998) – For a "big Disney movie", this seems especially juvenile and lazy with some fairly unimpressive animation. Also, I really doubt anyone appreciates it when they go into those song and dance numbers.
June 3
Magnificent Obsession (1954) – Really a bit too silly to be in the top tier of Sirk's movies despite some excellent filmcraft.  Still, definitely worth a few viewings for the bravura display of cheesetastic melodrama.