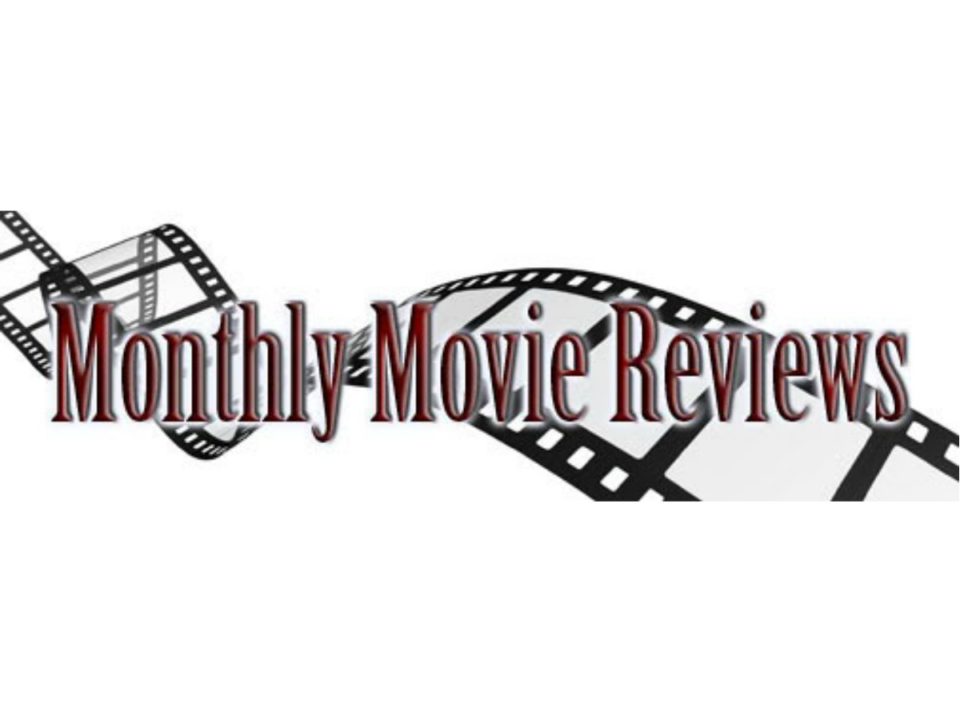 Here are some two sentence reviews of the movies I watched in March.
Stats
March 30
Careful (1992) – Guy Maddin never seems to be able to sustain interest on his full length films, but this one probably comes as close as he ever has to doing just that.  A bizzare dream of repression and time warped imagery, he definitely gets full points for atmosphere.
March 28
Murder, My Sweet (1944) – Straight arrow Powell roughened up just enough since his song and dance days to play a pretty convincing Marlow in this very creative and well done private eye movie.  It's not just one of the good private eye films; it's one of the great private eye films.
Out of the Past (1947) – I've never seen such a serpentine script executed so effortlessly as every part of this film's production brings their "A" game for this one.  It's not just one of the great noirs; it's the greatest noir.
March 27
My Darling Clementine (1946) – Perhaps the purest and most poetic expression of what the mythological American West was all about.  This may well be John Ford's best Western, which is superlative praise to say the least.
The Ghost and Mrs. Muir (1947) – At times it seems almost too fluffy, but it really isn't (even though, by all rights, it should have be).  It really is pretty adorable, with some nice camerawork to boot.
Every Thing You Always Wanted to Know About Sex (1972) – 7 short films about sex that are, for the most part, pretty clever and well done (especially the ones that Woody shows up in–mostly because he's Woody).  Not that it doesn't have its fair share of lame jokes and stuff that just doesn't work, but I'd say this is one of Woody's best "early funny ones".
March 25
Greystroke: The Legend of Tarzan, Lord of the Apes (1984) – Sure the second half drags, and it is tough to watch Lambert's monkey impressions with a straight face (especially during the sex scene), but this is actually a pretty strong film.  The ape costumes are very well done, there is a lot of great photography and choosing to "play it straight" honestly works better than I ever expected it would.
March 23
National Treasure 2: Book of Secrets (2007) – This film is a complete retread of the first one, with all the same leaps in logic and implausibilities.  Still, I was half hoping for a retread anyway–and, shared deficiencies with the first aside, this still provides enough of a quick Indiana Jones fix that I wouldn't even mind hearing they were making a National Treasure 3 (who am I kidding, I'd love that news!)
March 21
Cape Fear (1962) – There is a lot of good stuff about this film, but it feels a little too slick and exposition-heavy to really have the impact it desperately wants to have.  Still, nice performances (Mitchum especially) and plenty of chilling (and anachronistically brutal) scenes make it worth watching anyway.
March 20
Humoresque (1946) – It's the old "art or romance?" story with some magnificent camerawork, strong performances and a sharp script (not to mention a lot of great violin music).  It isn't as good as The Red Shoes, but then again, not much else is.
Scoop (2006) – I suppose this film really isn't that great, but I was still glad to see Woody back in front of the camera for one last movie.  Scarlett continues her string of underwhelming performances, so it is up Woody's familiar nebbish to keep the film's head above the water, which he (barely) manages to do.
March 19
Dames (1934) – Kind of a strange setup, and not in the same league as Berkely's strongest films, but the final dance numbers are some of his all time best.  Thoroughly enjoyable until the final twenty minutes where it switches to "jaw-droppingly awesome".
March 18
Another Thin Man (1939) – The Thin Man series manages to only slip a few notches for this, its third outing.  It might all be getting a bit rote (and slightly silly), but there are still enough of the moments you come to one of these movies for to keep it pretty highly recommended.
March 16
The Tarnished Angels (1958) – Fantastic Sirk film with the Written on the Wind cast that loses nothing with the change to black and white.  Pretty heavy stuff, with some great aerial footage–easily one of Sirk's best.
March 14
The Jerk (1979) – Some (most) of the jokes are so stupid that I felt ashamed for laughing at them, and Steve Martin's bizarre earnestness really shouldn't work either, but it does and I found myself laughing more often than not.  I can't say all the jokes work, but the film is unique enough that it would almost be acceptable to call it avante garde.
March 13
Alice in Wonderland (2010) – I'm not super familiar with Alice in Wonderland, but I'd guess the surreal imagery of the source material is where what little strength this film has comes from.  Nice imagery aside, I'd guess this film will be remembered about as well as Burton's Willy Wonka Movie in about five years–which is to say, not remembered much at all and for good reason.
The Money Pit (1986) – The premise is pretty obvious (and none too clever) but it handles the destruction with an adept touch making the whole thing pretty damn enjoyable despite my best efforts to roll my eyes.  There are also some nice bizarre touches with the supporting cast to further distinguish this film from the 1980s comedy chaff.
March 11
National Treasure (2004) – Sure it is a ridiculous premise and the story is full of eye rolling plot holes, but this film is also a whole heck of a lot of fun.  Maybe I'm just a sucker for Indiana Jones ripoffs (see: Sahara), but hell, I'm even kind of hyped to watch National Treasure 2 now.
March 9
Overboard (1987) – The premise seems a bit problematic skirting kidnapping, rape and enslavement, which makes the sweetness of the movie all the more surprising.  It all plays out exactly as you would suspect, but the appealing leads and a clever script really make it shine.
Between the Folds (2008) – Nice documentary on origami that really seems to capture the main movements in the "art".  Some of the subjects are playing to the camera a bit much, but I suppose it is to be forgiven as this is their chance at a bit of recognition for devoting their lives to such a seemingly pointless hobby.
March 8
Le Samourai (1967) – A truly unique film, this pushes Melville's obsession with the rituals of gangsters to an almost abstract level.  Every action and routine is recorded in minute, almost wordless, detail to create a true masterpiece of methodical professionalism (both from the main character and the director himself).
March 6
Our Hospitality (1923) –  Unquestionably one of Keaton's gems, if not his finest hour.  More endlessly amusing than uproarious, it is one long stream of brilliant gags effortlessly incorporated into the "family feud" storyline.
March 5
An Education (2009) – The lead actress really is as amazing as all the reviews say.  To bad this kind of "indie" coming of age story just isn't my thing, especially once the drama sets in in the second half.
March 4
The Naked Prey (1966) – Fantastic, almost wordless film that will almost make you feel the exhaustion of its protagonist.  The landscape and animal photography, excellent soundtrack, and physicality of the leads all add up to create a quite brilliant suspense film.
March 3
Up (2009) – Pretty entertaining, though I must qualify any further praise with "for a children's movie".  Still, the bittersweet love story really is quite affecting…and the dogs have some funny bits.
March 2
Precious (2009) – Not as bad as I thought, but maybe that is just when compared to The Blind Side.  Either way, good performances taken down a few notches by over the top characterizations and an excess of thoroughly unpleasant horrors for the heroine to go through.
Rambo: First Blood (1982) – I'm a sucker for a good "one man army" action movie, and this is a good one.  Sure it has its problems–mostly the heavy handed message (ham-handedly driven home by Stallone in his hilarious closing speech) and implausibilities of the plot, but the action is good and Stallone holds it all together nicely with his screen presence.
March 1
Gigi (1958) – Excellent Minelli musical with great performances and a rather adult storyline. It is really quite charming, even during the parts when old man Chevalier is singing about loving little girls.