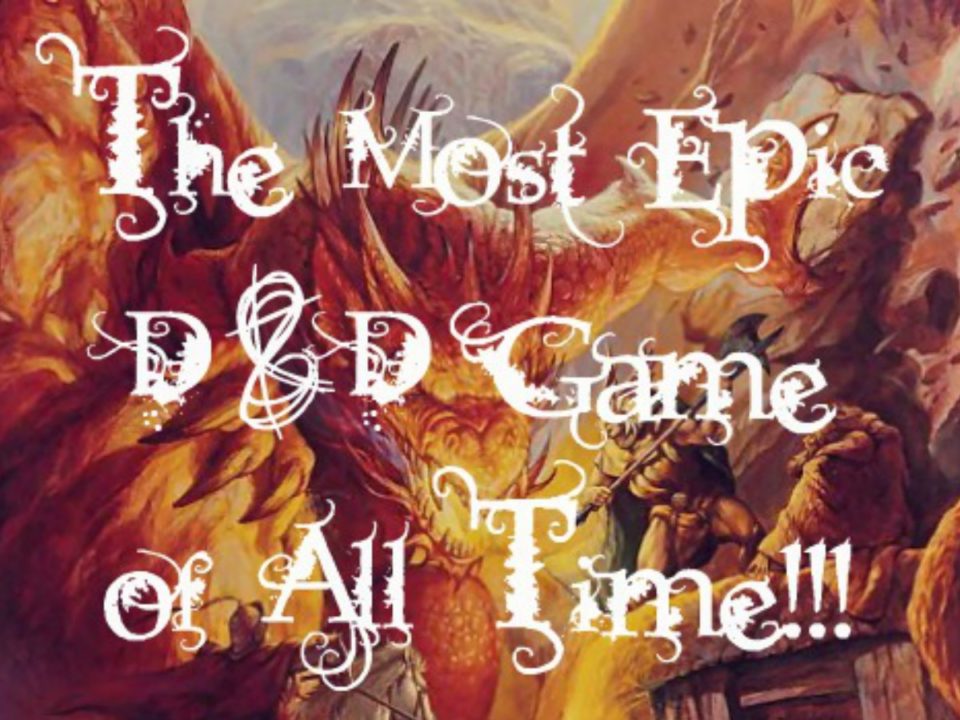 Hey everyone, Isley here.  No, not one of the many alter egos I adopt on this site (shout out to Chet, Khaine and the rest of them from Center Valley High–also shout out to my nerd open letter writing alter ego Eugene Pendergrass whom you will hear a lot more from later today), this time it's just me.  I'm writing to you from Washington DC, where I am about to take part in one of the most significant Dungeons & Dragons experiences of my life.
As I explained in Mailbag Monday this week, starting tomorrow I will play in a 3 day straight Dungeons & Dragons game.  My buddy Beau and I's old Dungeon Master Mark managed to make it out too, so we really did basically get the old team back together for one last job.  Mark has designed TEN separate dungeons, and will also be djing/performing the atmospheric music live as we play.  There will be 6 of us all together going through Mark's dungeons and due to the epic awesomeness of the event I've decided to bow to overwhelming popular demand and document the whole thing via a 24/7 live webcam.  You can tune in to the live feed here starting this afternoon through Sunday:
www.justin.tv/isleyunruh
The only time the feed will go down is when (or if) we take a time out to sleep during the next 60 hours.  Again, the actual show won't start until around 6 pm Eastern time today (give or take).
Not that anyone should be under any illusions that watching a D&D game is nearly as exciting as one might think, but for those of you anxious to see what a bunch of grown men mumbling around a table full of toys looks like, by all means tune in for a bit!
ADDITIONALLY,
I will be live blogging the entire ordeal "in character" as my character from this website who writes me angry open letters.  His name is Eugene Pendergrass and you might remember him from such open letters as: "An Open Letter to the New York Times RE: Your woeful lack of fictional fact checking," "An Open Letter to www.isleyunruh.com RE: Your "reevaluation" of The Lord of the Rings," "An open letter to www.isleyunruh.com RE: The "Make it Rain" parody video," "An open letter to Wizards of the Coast RE: D&D 4.0 rules changes," and "An open letter to Wizards of the Coast RE: Magic 2010 Rules Changes."
This time he (I) will be conducting a 4 day live blog of the proceedings of our D&D game.  I plan on keeping the comments mostly related to the actual events of the game, though anyone who has read one of "Eugene's" famous open letters will undoubtedly guess that he may be rather unhappy with both the game and his fellow gamers by the time this is all over.
I prefer to use his character to troll myself, but I figured his unique take on role playing games (as his open letter about the D&D 4.0 rules changes made clear) would provide a unique perspective on the most epic D&D game of all time this weekend.  Of course, like all my alter egos, everything "Eugene" says is kind of true for myself, so maybe I just wanted a persona to hide behind and let my deepest darkest feelings about role playing games creep to the surface.
Either way, in about 6 hours we will all find out!  See everyone in the live feed chat (chat is to the left of the live feed window) at 6:00 Eastern Standard Time!  And don't forget to check this website for the live blog of Eugene's location reporting on the event.
Coverage starts: HERE