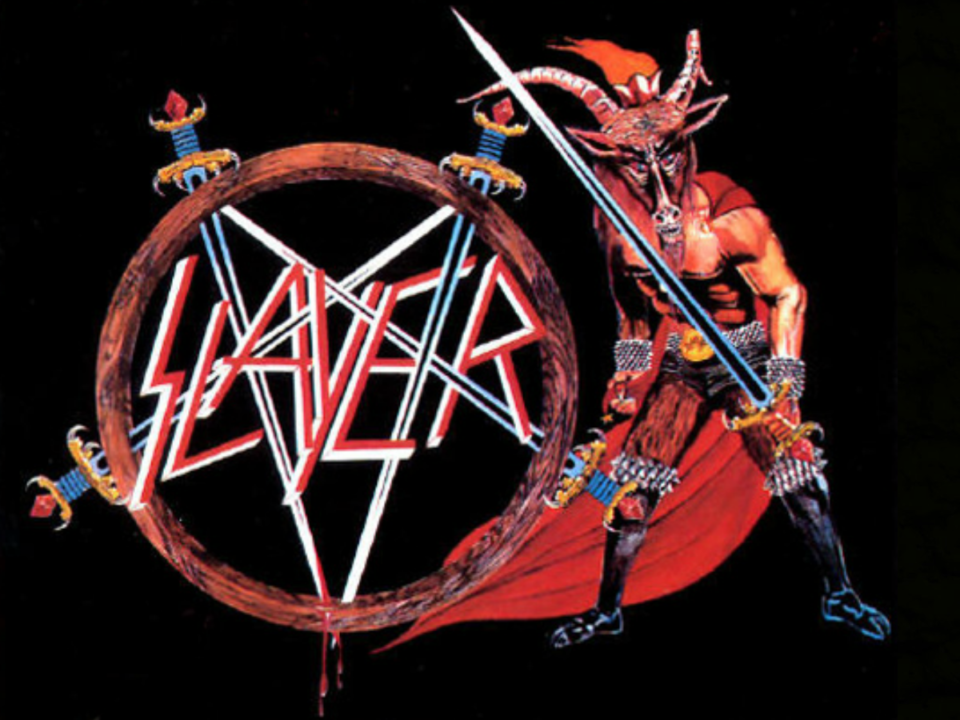 Being a rambunctious sort, my past is full of tales of derring-do and mischievous insubordination. In this series I will examine specific instances of orneriness from my past so that you, the reader, might understand Isley's special relationship with authority just a little bit better.
In today's rousing tale I discuss my very first graphic design job ever.  Due to my attempted stealth Satanism, it also happened to be my last.
Once upon a time, long ago, I landed the best job ever.  No, not the job where I was a taste tester at the candy factory (which would be a future rousing tale, but no one wants to see the photocopies I made there), I'm talking about the job where no one knew just what it was I did.
It was some grant funded company that was headquartered at KU, I'm not sure what they actually did, I just know that the head of the company decided she needed a personal assistant and I landed the job.  Well, come to find out she was out of the office 27 days of the month every month.  And I guess she just assumed that the other people working in the area would give me work to do.  Which they might have were they not all sure that I was constantly busy with work for the head of the company, a misunderstanding that I was not quick to correct.
I started playing online text based Multi User Domain (MUD) games (yes, I'm that old) from the command line and I guess they all thought I was busy programming or something.  Anyway, between that, my music, a chat program, and the unusually high pay, life was good.
Then, one day, after about 3 months, one of the workers was so swamped that she asked me if I could try my hand at a graphic design job for her.  I guess one of the company's clients was the State Educational Technology Director's Association (SETDA for short), and she needed someone to design their logo.  Well, she only wanted one logo, and it sounded kind of fun, so I left my character Aramis the thief in the online realm of Dragon Gate to spend his time with a training script and told her I'd be happy to help.
She gave me two files to work with, this one:
and this one:
I'm not sure why the quality was so crappy, I mean I don't think that the web looked that bad ten years ago.  Anyway, after seeing what I had to work with, I had a flash of inspiration based on the Slayer album cover that is pictured at the top of this post.  I'd never really used photoshop before, but the top of the line iMac they gave me to do all my work on had the whole adobe lineup and I picked it up pretty fast.  Anyway, I played around with it for a little bit and came up with the following logo:
I could barely contain my excitement as I imagined SETDA using that logo all over their website and stationary, unknowingly having incorporated The Dark Lord's taint into their branding.  Well, unfortunately, it didn't get past the office manager.  I came in the next morning and she asked me to step into the hallway with her.  We had the following conversation:
Her: "So, I don't know how to say this, but we can't use your logo."
Me: "Oh? Why not?"
Her: "Well, the team really liked it, and you did a good job, it's just that, well, I guess you should learn this sometime anyway.  See, if you have an upside down five pointed star, that is the symbol for… [whispers] satan."
Me: [shocked] Oh! I'm sorry, I…
Her: "Oh, I know you didn't know.  Anyway, we have some other logo ideas, so I guess you can get back to your work now.  Thanks anyway!"
So thus ended my brief foray into a career as a graphic designer.  And a month later my career as a person who got paid to do nothing ended as well.  Our company lost their grant and had to lay off half of the workers.  So they had efficiency experts come by and evaluate each position.  When they got to me, after a five minute interview of bullshit, I shit you not, they asked me "So just what is it you'd say you do here?"  Apparently "play a lot of D-Gate and surf the web" wasn't good enough for them, and that was the end of that.
Which was too bad…if I was still working there just think what kind of logos I could design for them with my current photoshop skills:
Actually I might have to email this post to SETDA and see if they would like to hire me.  I see they are still using the same old star logo after all…