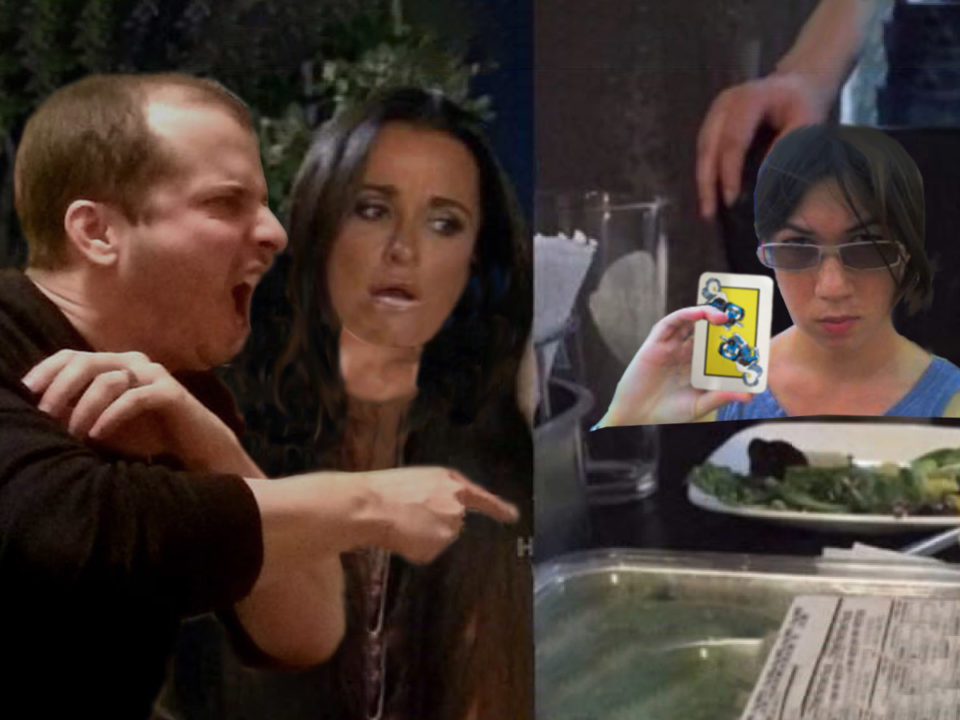 I went over the mechanics (in exhausting detail) of my favorite card game Tichu last time, but today, to drive home just how good the game is, I wanted to talk about some of my memories of actually playig Tichu.
Board games are about sharing the experience with friends. Sitting down and playing a board game will always create memories, and the best games create some of the best memories because they will draw everyone in to the shared experience that much easier. So join me today for a little trip down memory lane as I look back at some of my most memorable Tichu moments from years past.
5. The Time Tichu Ruined Natalie's Family Christmas
Natalie was part of our regular game group back in my Tichu heyday, which meant she, like the rest of us, introduced Tichu to everyone she knew. Her parents especially seemed to take to the game, so much so that she got it for them for Christmas.
No one is really sure (or willing to own up to) what happened next, but basically it was agreed that the competition, shit talking, gloating, accusations of "prison rules" and general "taking things too far" escalated to the point that the game then got quietly retired for the sake of all future family get-togethers.
4. The Eleven of Dicks
This story was from a game against Danny (who has cropped up on www.isleyunruh.com more than a few times in the past). He had gotten up to go to the bathroom for an unusually long time and then came back giggling. Fairly typical, so we didn't think too much of this one, except on the next singles ladder, after I played a queen, Danny slammed down a hastily drawn fake card with and 11 and a bunch of crude peni all over it.
"BOOM, 11 of dicks dude! It's unbeatable! I WIN!!"
Which, I guess he got me, but we pointed out that 11 was far from the highest number in the game (it wouldn't even beat my queen, let alone a Dragon). Still, I guess the dick suit had some kind of penetrating power, because Danny was sure that the 11 of dicks should win all hands.
3. Bill Gets Overconfident
If you know Bill, you know he has no shortage of "confidence." So it probably shouldn't have been a surprise how his first Tichu game went. I gave a quick rule explanation, and then talked about betting points to go out first "but don't do that till you've played a few hands and see how the game works."
We then dealt out the first 8 cards and Bill gives his a quick scan and says "I'm calling Grand Tichu." We tried to talk him out of it "um…that's really hard…maybe not on your first hand of the game ever?"/"you will lose 200 points for your team if you don't go out first!" but Bill insisted.
He proceeded to go out dead last (without having a card higher than a king in his hand). Apparently he called Grand Tichu due to having a "full house" (not a valid Tichu combination). And, if you think that was bad, he proceeded to call Grand Tichu/Tichu on the next three hands as well, with similar success rate.
Bill eventually ended up being a perfectly fine player, but you would never have guessed based on that start.
2. The God Hand
This story also involves Danny, only this time he was my partner. He got a phone call while we were dealing out the next hand of a game, and while he was out of the room I quickly stacked all the good cards every fourth one from the top of the deck.
When Danny returned, I dealt out the first 8 cards, giving him 2 aces, the Dragon, the Phoenix and four kings. As he was staring at his hand in disbelief, I said: "Guys, I think I'm going to call Grand Tichu."
You see, Grand Tichu is the riskiest bet in the game, 200 points that you will go out first, and without even seeing the rest of your cards. And if your partner calls it, you have to do everything you can not to win the subsequent hands and make sure they go out instead of you.
Danny was like "Um, but, d00d…wait…don't…"

Me: "Dude, I've got good cards."

Danny: "Duuuude!"

Me: "Yeah, no, we got this dude, I'm calling it!"
I eventually told him the trick, but that was probably the closest I've ever gotten to making a grown man shit his pants.
1. Shena's Greatest (of many) Betrayal
Shena and I have been friends since the 90s. She was the first person I met at college, and, if we have not always been the friends we need, we have always been the friends we DESERVE.
Someday I'll get together a list of Shena's greatest betrayals (leaving me to watch One for the Money in a theater BY MYSELF/doing that "why are you the way that you are" Michael/Toby speech at my wedding/scolding me for eating a perfectly reasonable amount of her mother's cookies), but high on any list of betrayals would be Shena's Tichu betrayal.
We were partners, we had played a long hard fought game, but were finally within 100 points of winning. I looked down at my cards, decided my hand was good enough, and called "Tichu" (the 100 point bet that I will "play out" first).
And, because I was feeling so confident, I engaged in a little bit of oversharing table-talk and said "Whew, as long as no one passes me the dog, I'm pretty sure we've got this Shena!" At that moment, I realized I'd said too much. It started as a low giggle, growing ever more loud, and vain, and endlessly repeated as the enormity of what she was about to do settled in.
She passed me her card, face down, but I knew what it was. The fucking dog. The other two players just looked kind of confused ("aren't you guys partners?") but they didn't know Shena like I did. Our friendship is kind of like that old story about the scorpion that dukes on the frog's back and then says "sorry, but that was fucking hilarious."
Maybe I should let this one go after all these years though. Considering our relationship, I am sure I probably deserved it.