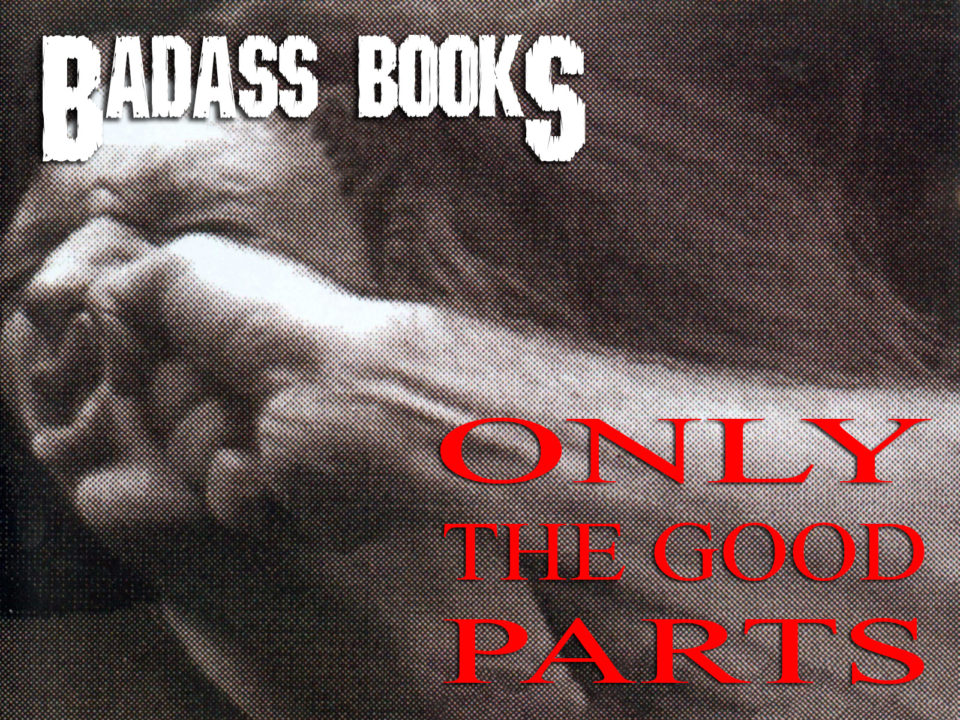 I read many different types of books, but what I most love to read is a truly badass book.  From the day I first opened up an Edgar Rice Burroughs novel as a child, I was hooked on the simple literary delights of a well-placed punch to the face.   However, it is an unfortunate truth that it is a rare badass book in which ALL the parts are "good" parts.  Often, the good parts are tempered with a large amount of boring parts.  In this feature, I will select, from among all the parts of each featured book, only the good parts.
In this initial installment, I will be taking a look at the character Jack Reacher.  6'5″. 250 lbs. Ex military policeman.  Firearm capabilities: phenomenal.  Hand to hand combat abilities: like having a running chainsaw thrown at you. Detective. Drifter. Lover.  He is the star of a long running series of books by author Lee Child, and today I'm going to look at the Jack Reacher book Second Son:
Today's Jack Reacher book, Second Son, is actually the very first Jack Reacher short story!  Of course, this isn't your usual short story, I'll let the introduction explain it:
Ever wondered what early experiences shaped Reacher's explosive career as butt-kicker supreme, the one-man guided-missile battler for justice? In this original new story, Lee Child looks back on an incident in his hero Jack Reacher's teenage years as the younger son of a tough career US Marine, on a faraway military base in the Pacific.
That's right, finally, we get to see what Jack Reacher was like at 13 years old!  And, shock of shocks, Jack Reacher at 13 is pretty much the same as Jack Reacher in his 40s.  This can clearly be seen in this section from the beginning of the story where Reacher and his older, taller and bigger brother Joe are accosted by some giant 16 year old kid and his gang of friends:
'This is a toll road.'

Joe said, 'What?'

'You heard. You have to pay the toll.'

'What's the toll?'

'I haven't decided yet,' the bruiser said. 'When I see what you've got, I'll know what to take.'

Joe didn't answer.

The guy said, 'Understand?'

Joe said, 'Not even a little bit.'

'That's because you're a retard. You two are the retard kids. We heard all about you. They're making you take the retard test, because you're retards.'

Reacher said, 'Joe, now that's an insult.'

The big guy said, 'So the little retard talks, does he?'

Joe said, 'You seen that new statue in the square in Luzon?'

'What about it?'

'The last kid who picked a fight with my brother is buried in the pedestal.'

The guy looked at Reacher and said, 'That doesn't sound very nice. Are you a psycho retard?'

Reacher said, 'What's that?'

'Like a psychopath.'

'You mean do I think I'm right to do what I do and feel no remorse afterward?'

'I guess.'

Reacher said, 'Then yes, I'm pretty much a psychopath.'
You see, 13 year old Jack Reacher had been moving from military base to military base his whole life as the son of a marine.  And apparently he had to fight for his gentler brother at every base the family ended up on.  Which, speaking of Reacher's father (Stan), let's see what he thinks of his "second son":
His second son was a whole different can of worms. The kid was going to be huge. He was going to be an eighth of a ton of muscle. Which was a frightening prospect. The kid had come home bruised and bloodied plenty of times, but as far as Stan knew he hadn't actually lost a fight since he was about five years old. Maybe he had never lost a fight. He had no trigger either, but not in the same way as his big brother. Joe was permanently set to safe, and Reacher was permanently jammed wide open on full auto. When he was grown, he was going to be unstoppable. A force of nature. A nightmare for somebody. Not that he ever started anything. His mother had trained him early and well. Josie was smart about things like that. She had seen the danger coming. So she had taught him never, ever, ever to start trouble, but that it was perfectly OK to react if someone else started it first. Which was a sight to see. The smart money brings a gun to a knife fight. Reacher brought a hydrogen bomb.
Honestly, the most badass parts of the book were the father son interactions (as you will see coming up).  Otherwise the book pretty much follows the Jack Reacher formula to a tee.  To quote from my Top Five Most Badass and/or Sweet Jack Reacher Moments post, "if a giant Russian dude is introduced in the first act, he will fight Jack Reacher by the third act" (also: "Reacher gets laid exactly 2/3rds of the way through the book").  Well, Second Son is no different.  A giant smelly kid is introduced in the first act (who Reacher will brutalize in the 3rd),  and Reacher gets awkwardly kissed exactly at page 40 out of 60:
The morning water was colder than it had been the afternoon before, so they got out after ten minutes or so. Helen let Reacher use her towel, and then they lay on it together in the sun, now just inches apart. She asked him, 'Have you ever kissed a girl?'

'Yes,' he said. 'Twice.'

'The same girl two times or two girls once each?'

'Two girls more than once each.'

'A lot?'

'Maybe four times each.'

'Where?'

'On the mouth.'

'No, where? In the movies, or what?'

'One in the movies, one in a park.'

'With tongues?'

'Yes.'

She asked, 'Are you good at it?'

He said, 'I don't know.'

'Will you show me how? I've never done it.'

So he leaned up on an elbow and kissed her on the mouth. Her lips were small and mobile, and her tongue was cool and wet. They kept it going for fifteen or twenty seconds, and then they broke apart.

He asked, 'Did you like it?'

She said, 'Kind of.'

'Was I good at it?'

'I don't know. I don't have anything to compare it with.'

'Well, you were better than the other two I kissed,' he said.

'Thank you,' she said, but he didn't know what she was thanking him for. The compliment or the trial run, he wasn't sure.
Badass Reacher, badass.  Of course, now that we have the tender love scene out of the way, let's get to the ass kicking!  Second Son does a bit of a tease and gives us a pre-asskicking asskicking when Reacher and the girl walk back from the beach.  It's the usual hardcore Reacher scene, with Reacher maxims like "Because rule five: there are no rules on the back streets of Okinawa."  No rules fighting for teenage Reacher means "hit the smelly giant in his oozing boil":
But by then it was far too late. By then Reacher's left hook was halfway through its travel. It was scything in, hard and fast, every sinew and ropy muscle in his greyhound's frame unspooling in perfect coordination, with just one aim in sight: to land that big left fist on the guy's neck.

Total success. The blow landed right on the boil, crushing it, crushing flesh, compressing bone, and the guy went down like he had run full speed into a clothesline. His legs came out from under him and he thumped more or less horizontally on the concrete, just sprawling, tangled and stunned like a pratfall stunt in a silent movie.

Next obvious move was for Reacher to start kicking him in the head, but he had an audience with feminine sensibilities, so he resisted the temptation. The big guy got his face off the floor and he looked nowhere in particular and said, 'That was a sucker punch.'

Reacher nodded. 'But you know what they say. Only suckers get sucker-punched.'

'We're going to finish this.'

Reacher looked down. 'Looks kind of finished already.'

'Dream on, you little punk.'

'Take an eight count,' Reacher said. 'I'll be back.'
We all know how feminine sensibilities react to curb stomping.  So Reacher lets the smelly kid "take an eight count,"  walks the girl home and then returns to his house and prepares to finish off the bully.  Which brings us to the most badass part of the book, Reacher's interaction with his father:
Reacher headed back to the hallway. He crouched over the spool of electric cable and unwound six feet of wire and snipped it off with the cutters.

His father asked, 'What are you doing?'

'You know what I'm doing, Dad,' Reacher said. 'I'm doing what you intended me to do. You didn't order boots. You ordered exactly what arrived. Last night, after the code book went missing. You thought the news would leak and Joe and I would get picked on as a result. You couldn't bring us knives or knuckledusters, so you thought of the next best thing.'

He started to wind the heavy wire around his fist, wrapping one turn after another, the way a boxer binds his hands. He pressed the malleable metal and plastic flat and snug.

His father asked, 'So has the news leaked?'

'No,' Reacher said. 'This is a previous engagement.'

His father ducked his head out the door and looked down the street. He said, 'Can you take that guy?'

'Does the Pope sleep in the woods?'

'He has a friend with him.'

'The more the merrier.'

'There are other kids watching.'

'There always are.'

Reacher started wrapping his other hand.

His father said, 'Stay calm, son. Don't do too much damage. I don't want this family to go three for three this week, as far as getting into trouble is concerned.'

'He won't rat me out.'

'I know that. I'm talking about a manslaughter charge.'

'Don't worry, Dad,' Reacher said. 'It won't go that far.'

'Make sure it doesn't.'

'But I'm afraid it will have to go a certain distance. A little further than normal.'

'What are you talking about, son?'

'I'm afraid this time I'm going to have to break some bones.'
How badass are you at 13 when parental advice consists of "please don't murder anyone today"?  Oh, and that code book thing?  His dad's TOP SECRET code book has gone missing!  And his brother is being framed for stealing the answers to a placement test the Reacher kids are supposed to take!  Don't worry about that though, Reacher is on it.  First though, he has some unfinished business to attend to:
THIRTY YARDS AWAY there was a horseshoe gaggle of maybe ten kids. The audience. They were shifting from foot to foot and vibrating with anticipation. About ten yards closer than that the smelly kid was waiting, with a sidekick in attendance. The smelly kid was on the right, and the sidekick was on the left. The sidekick was about Reacher's own height, but thick in the shoulders and chest, like a wrestler, and he had a face like a wanted poster, flat and hard and mean. Those shoulders and that face were about ninety per cent of the guy's armoury, Reacher figured. The guy was the type that got left alone solely because of his appearance. So probably he didn't get much practice, and maybe he even believed his own bullshit. So maybe he wasn't really much of a brawler.

Only one way to find out.

Reacher came in at a fast walk, his hands still in his pockets, on a wide curving trajectory, heading for the sidekick, not slowing at all, not even in the last few strides, the way a glad-handing politician approaches, the way a manic church minister walks up to a person, as if delivering an eager and effusive welcome was his only aim in life. The sidekick got caught up in the body language. He got confused by long social training. His hand even came halfway up, ready to shake.

Without breaking stride Reacher head-butted him full in the face. Left, right, bang. A perfect ten, for style and content, and power and precision. The guy went over backward and before he was a quarter of the way to the floor Reacher was turning toward the smelly kid and his wrapped hands were coming up out of his pockets.

In the movies they would have faced off, long and tense and static, like the OK Corral, with taunts and muttered threats, hands away from their sides, up on their toes, maybe circling, narrowed eyes on narrowed eyes, building the suspense. But Reacher didn't live in the movies. He lived in the real world. Without even a split second's pause he crashed his left fist into the smelly guy's side, a vicious low blow, the second beat in a fast rhythmic one-two shuffle, where the one had been the head butt. His fist must have weighed north of six pounds at that point, and he put everything he had into it, and the result was that whatever the smelly kid was going to do next, he was going to do it with three busted ribs, which put him at an instant disadvantage, because busted ribs hurt like hell, and any kind of violent physical activity makes them hurt worse. Some folks with busted ribs can't even bear to sneeze.

In the event the smelly kid didn't do much of anything with his busted ribs. He just doubled over like a wounded buffalo. So Reacher crowded in and launched a low clubbing right and bust some more ribs on the other side. Easy enough. The heavy cable wrap made his hands like wrecking balls. The only problem was that people don't always go to the hospital for busted ribs. Especially not in Marine families. They just tape them up and gut it out. And Reacher needed the guy in a hospital cot, with his whole concerned family all around him. At least for one evening. So he dragged the guy's left arm out from its midsection clutch, clamping the guy's wrist in his own left hand, clumsy because of the wire, and he twisted it through a 180-degree turn, so the palm was up and the soft side of the elbow was down, and then he smashed his own right fist clean through the joint and the guy howled and screamed and fell to his knees and Reacher put him out of his misery with an uppercut under the jaw.

Game over.

Reacher looked left to right around the silent semicircle of spectators and said, 'Next?'

No one moved.

Reacher said, 'Anyone?'

No one moved.

'OK,' Reacher said. 'Let's all get it straight. From now on, it is what it is.'

And then he turned and walked back to his house.
After that, Reacher pulls a Sherlock Holmes and solves the mystery of the missing test answers (which, putting the smelly kid in the hospital so he could have his house searched was part of his plan) AND his dad's missing code book in one feel swoop while the the MPs and his dad look on gratefully.
So there you have it, plenty of badassery in such a short book!  I really hope the next Jack Reacher short story will be about some of those famous brawls the 5 year old Jack Reacher got into!  And keep your eyes out, Jack Reacher 16: The Affair just came out, which means we should have a new JR-JtBP post soon!