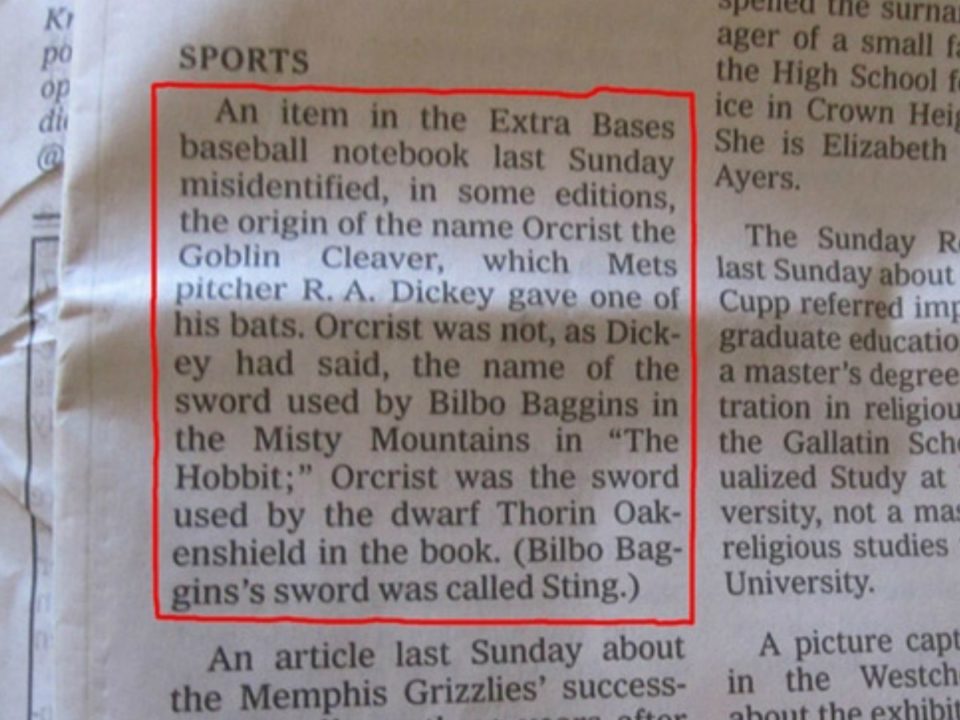 Hello New York Times, I have a skeletal dragon sized bone to pick with you, and I care not for any feelings that may be hurt along the way.  Who am I you ask?  Well, you may not have felt the sting (no, I am not referring to what, at this point, I can only assume you imagine was the name of Gimli's battleaxe) of my internet raeg before today, I'm afraid I must bring the full brunt of my not inconsiderable weight down upon your newspaper like a sack full of Warhammer dice.  That's right, you tried to spice up your poorly read sports page with a hot Tolkien injection and failed MISERABLY.  And then, in an ill advised attempt to correct your blunder, you only managed to compound your mistake.  Read on if you think you have to stones.
I'm not here to talk about the original article.  I gather your offices received my many irate voice mail messages (I assume my use of Sindarin was not an issue for your staff members in charge of Elvish translation) about your original error.  You are lucky I even caught the first article I might add.  It would have completely escaped me had I not happened upon the original article while using the sports section for the 1:10 scale papier-mâché AT-AT I am constructing in my mother's garage.
I am a reasonable humanoid.  Though I did not get the immediate apology I requested in my phone messages last week, your immediate correction seemed to be apology enough.  At least at first.  Then I read it and my head exploded like a bag of holding inside a portable hole.  How in the name of Crom do you print a retraction that is itself more full of factual inaccuracies than the original retracted article?
No, I'm not talking about the way you completely ignored the origin of Orcrist in the hidden elven city of Gondolin, I know the details of its escape from the ruin of Beleriand are hazy.  Let's just refer to the original text (which is apparently something you did not feel the need to do) to see the magnitude of the error you have reprinted in your "retraction."
There were lots of clothes, too, hanging on the walls-too small for trolls, I am afraid they belonged to victims-and among them were several swords of various makes, shapes, and sizes. Two caught their eyes particularly, because of their beautiful scabbards and jeweled hilts. Gandalf and Thorin each took one of these; and Bilbo took a knife in a leather sheath.
I am, obviously, the last person anyone would call a pedant, but to call Sting a "sword" is like calling Dragon Ball Z a masterpiece of Hentai (I am not, of course, referring to the much more mature "Dragon ballz" series that I have finally obtained the VHS bootlegs for in a hard won ebay auction).  I can't really define it, but I know tentacle sex when I see it, just as I know a knife when I see a knife.  To call Sting otherwise violates every code of journalistic ethics that I can think of.
Therefore, I must demand a correction to your correction (and this time I must also insist on an apology).  I can tell you that, though the fiery fate of the Shuvs and Zuuls during the third reconciliation of the last of the McKetrick supplicants makes Arrakis seem like Hoth by comparison, it is merely a prestidigitated candle flame when set against the Balefire of vengeance that I shall bring down on your questions and complaints inbox if you do not immediately conduct a Pluto sized revocation of Sting's sword status.
Consider this your last warning.