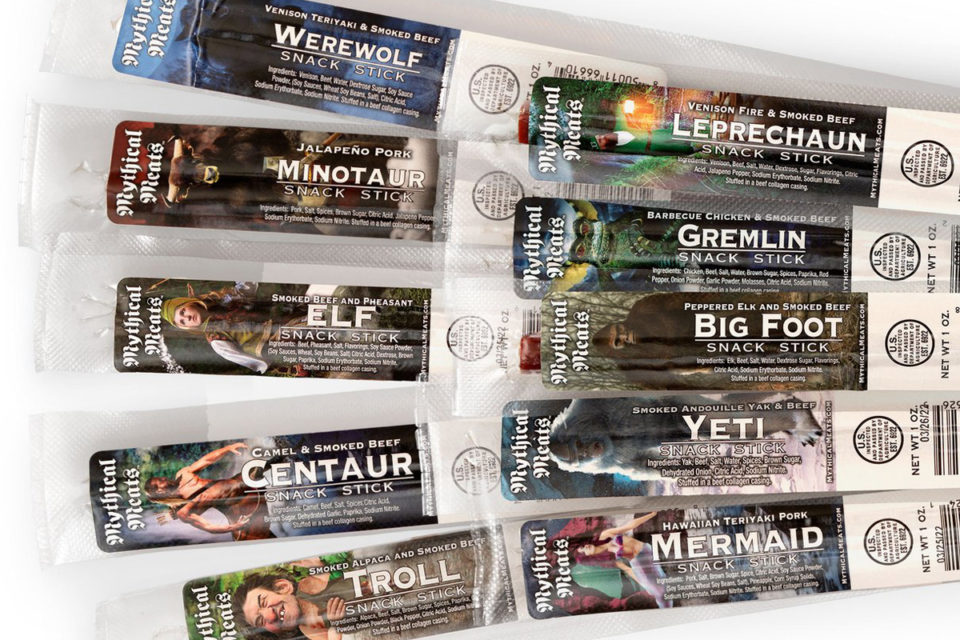 Hello Mythic Meats, Eugene Pendergrass here, you might know me from such pedantic protestations as AN OPEN LETTER TO WWW.ISLEYUNRUH.COM RE: YOUR COMICALLY INEPT ATTEMPTS AT FICTIONAL CARTOGRAPHY, AN OPEN LETTER TO PETER JACKSON RE: RESTRICTING THE HOBBIT TO THREE MOVIES, and AN OPEN LETTER TO THE NEW YORK TIMES RE: YOUR WOEFUL LACK OF FICTIONAL FACT CHECKING to name a few. Imagine my surprise when I checked my mail yesterday to find, not my bootleg Chinese 1:4 scale Megumin, Arch Wizard of the Crimson Magic Clan silicone figurine, but rather a package of your intriguing meat products, sent from my on again, off again friend Stinky Dave. I could only imagine this was his peace offering after having the audacity to claim that Amazon's new Wheel of Time Series, with the attention span of berserker toddler on a sugar rampage, was an improvement on the pacing of the unassailable books. Meat, in stick form, my second favorite food of all time (after meat, in whimsical dinosaur shaped nugget form), combined with a well-researched hard-fantasy presentation? Win-win-win (Stinky Dave will also win due to regaining my friendship, once more–just as Lancelot and Arthur rejoined for one final arm clasping in the final battle against Mordred's incestuous legions). Or so I would have forgiven him…had everything from the cryptozoological research to the mouthfeel not been SEVERLY LACKING.
First off, a general word on expectations. I am fully aware that many of these creatures do not (or, at least, no longer) exist. So, let's not start casting aspersions that I was in any way finally expecting to have my long dreamed-of "mouthful of elf." If such were the case, I wouldn't have even tried the Troll (toxic to all forms of life), Werewolf (my shower drain and I have enough issues, and I prefer to remain non-lycanthropic thank you very much) or Mermaid (I don't eat fish) meats at all. What follows is a meat by meat list of what has amounted to my second biggest meat-based disappointment of the year (after Stinky Dave's A-1 Gate incident at my mom's Fourth of July party).
Yeti – I appreciated them finding actual Yak meat–an inspired choice, but pairing it with the entirely non-thematic Cajun andouille seasoning (how many Yetis do YOU know of that roam the swamps of Louisiana?) completely ruined the immersive experience.
Bigfoot – "Bigfoot" is such a vulgar name for sasquatch, it is essentially a slur for all folicly blessed humanoid cyrptids. There are so many other names you could have chosen (Sasquatch, White Ape, Rock baboon, hell, I'd even accept Bugbear) that have actual monster manual entries, that I'm calling foul. It was also too sour, but that, at least, was evocative of the creature.
Minotaur – Excellent balance of sweet and spice, this should have been a home run. Unfortunately this ended up being one of the ONLY meat sticks without a bit of beef in it, which, for a half bull creature, felt especially lazy.
Troll – Making this an alpaca snack was, I assume, a nod to Troll's love of goats. However, not only is goat meat readily available, but alpacas are not even in the Bovidae family! The larger issue, of course, is that by making a Troll meat snack out of their incorrectly assumed prey, is like marketing Boba Fett's armor as authentic Sarlacc meat. Also, this was less overly sour than the bigfoot, though, I'm not sure where Sasquatch and Trolls would fall on a scale of canonical sourness, so I suppose I will let that slide.
Elf – Bringing the thyme flavor to the forefront for this meat stick was a clever play on the timeless nature of the elven race. Making the snack entirely out of pheasant, the second least regal of all birds, was instead the opposite of a clever play.
Gremlin – Using chicken, the least regal of all birds, works, hell, even the Caribbean jerk seasoning I suppose is something of a nod to the water/Gremlin link from the movies. However, not only would a gremlin in an island setting be a ridiculous preposition, but those movies are by NO means related to anything remotely believable. Look it up yourself, I don't see a single line about water susceptibility for Fremlins, Galltrits, Jermlaines, Mites, Plainsjans, or Snyads.
Leprechaun – FAR too spicy for my sensitive palate, and also there is not a hint of marshmallow bit flavor to be found. Which, while not strictly canon, I would have given a pass to considering my love for those delicious bits of marshmallow ambrosia.
Mermaid – The unbalanced sweetness of your mermaid meat (along with a distinct lack of seafood) suggests that you are basing your flavoring upon the more common lower fish torso mermaid. I, on the other hand, prefer my meat sticks like I prefer my mermaids, with functioning reproductive organs, and a better balance between the pork and brown sugar flavors.
Werewolf – Ostensibly this has the same problem the Troll meat does, by using venison, you are eating what a werewolf eats, rather than an actual werewolf. However, a larger issue here is that upon death a werewolf returns to its human form. Thus, really they should have used some kind of primate meat in order to adequately mimic the taste of human meat.
Centaur – By using camel meat, Mythic Meats have essentially taking a squishy camel sized dump (coincidentally what this meat tastes like) on all notions of proper taxonomic classification. Even-toed ungulates like camels are not even in the same order as horses, and thus, you may as well have made a centaur meat stick out of overprocessed mouse-mush as "camel". Even taking all ungulates as a whole, there is not a single mythological reference, monster manual or otherwise, of a human/camel centauroid taur-hybrid. Thus, this meat stick, much like your entire business, is a Tarrasque-sized fraud.
Obviously this must have been your first foray into mixing the fantastical arts with, well, meat, so I suppose I should cut you some slack. On the other hand, if you are going to journey into MY kingdom, you best journey correct. Or, at the very least, journey with a better understanding of the subtle distinctions between various human ungulate hybrids and their proper real world meat analogs.