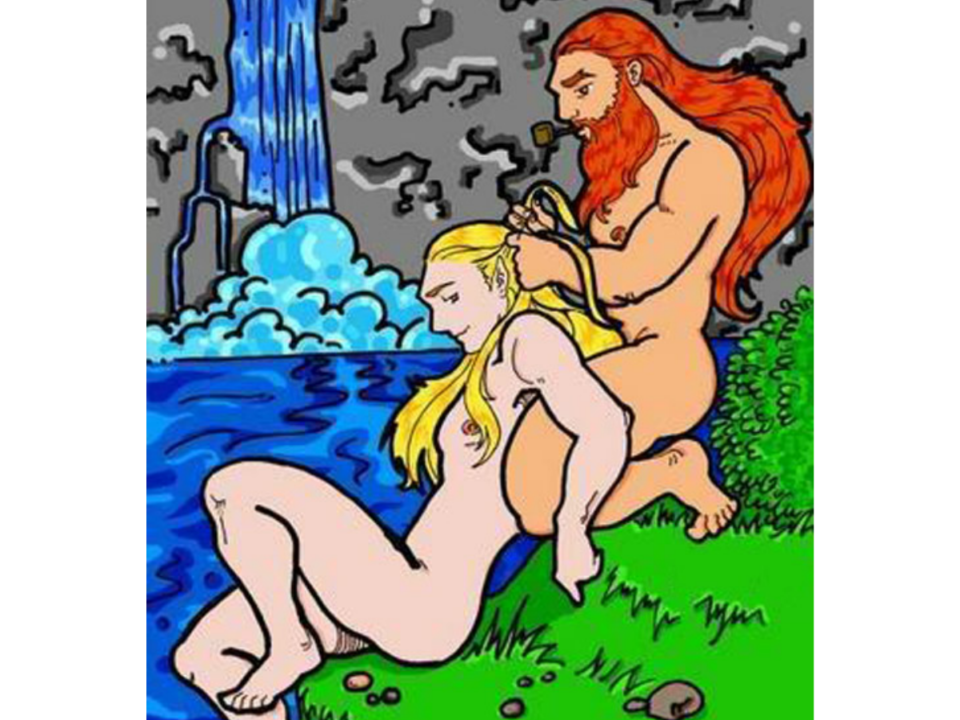 Well, well, well.  Hello "Isley Unruh."  We meet again, and not for the last time, I suspect.  You might remember me from such venomously worded tirades as, "An open letter to www.isleyunruh.com RE: The "Make it Rain" parody video," "An open letter to Wizards of the Coast RE: D&D 4.0 rules changes" and "An open letter to Wizards of the Coast RE: Magic 2010 rules changes."  I had hoped you would still be nursing your wounds after my last diatribe, but no, I find myself once again forced to throw down my sausage finger sized gauntlet of pure internet rage at your feet.
While I have come to barely tolerate your Middle Earth Monday feature (despite its factual inaccuracies, inadequate understanding of the nuances of the Sindarin language and frequent typos) your most recent assault on all that is holy (namely, the works of J.R.R. Tolkien) is an abomination worse than the untimely death without the possibility of resurrection of Gary Gygax.  What's that? Too soon? Well, I care not.  That's right, this time you've gone too far.
You seemed to spend most of your post discussing Tolkien's tree fascination and moaning like Chewbacca getting a Brazilian.  Well, I'll tell you right here and now, if you don't love trees you may as well quit reading fantasy.  Name me one fantasy book without a forest and I'll eat my sorting hat.  You know this, I know this, and you are Illuvatar-damned sure Tolkien knew it.  You think he would be content to rest on his laurels after creating Mirkwood, the one forest to rule them all, in The Hobbit.  But no, what does he do next but write a book with not one, not two but THREE complete forests in it (which isn't even counting the Trollshaws, Ithilien, The Firien Wood and the Druadan Forest to name just a few more forests to be found in The Lord of the Rings!)  Hell, one of his forests even has motherfucking talking trees!  I believe you must concede my 3 dimensional chess checkmate on this one.
As for the supposed grey and oppressive mood, you seemed to treat all the moments of levity that lightened the dark mood as though they were a cloaked fleet of Romulan Birds of Prey.  To name just one example, how about the wonderful poem (yes, someone DOES read all of the poems, *I* do!) that you do flippantly described as the "homoerotic bathtub sequence."  Since you don't actually read the poems, I've reprinted it for you here:
Sing hey! For the bath at close of day
that washes the weary mud away
A loon is he that will not sing
O! Water Hot is a noble thing!

O! Sweet is the sound of falling rain,
and the brook that leaps from hill to plain;
but better then rain or rippling streams
is Water Hot that smokes and steams.

O! Water cold we may pour at need
down a thirsty throat and be glad indeed
but better is beer if drink we lack,
and Water Hot poured down the back.

O! Water is fair that leaps on high
in a fountain white beneath the sky;
but never did fountain sound so sweet
as splashing Hot Water with my feet!
If it's homoerotic for a group of friends to sing and take a bath together, then call me Northstar.  Though I have never had the fortune to go on a quest with three of my closest friends, I did take many a bath with that neighbor kid my mom homeschooled with me (at least until my "hair" came in at the tender age of 16 of course).  In fact, to this day I sing the complete bathtub song every Sunday night when I take my own weekly bath–I've found a bit of my own ripeness is the only thing that overpowers the smell at the Saturday night Warhammer gatherings at Dirty Melvin's place!  Though, when I sing it I, of course, replace the "water cold" section in the third stanza with, 'Mountain Dew cold," but I'm sure Tolkien would have forgiven the creative license had he been privy to the delights of that particular nectar.
I won't rise to your bait with your laughable characterizations of the Fellowship.  I stopped reading when I saw the words "Aragorn" and "dick" put together.  Aragorn is many things: descendant of kings, swordmaster, thorough yet tender lover and tunic model. but a dick he is not.  Still, I did briefly come up with my own characterization, let's see if you guess who I'm describing:
I***y U***h: Narcisistic self absorbed attention whore who should stick to romantic comedies and leave the gritty fantasy to those who have the stones to handle it.
Did you figure it out?  I'll give you a hint, he loves hearing his name so much that he named his website after himself.
The longspear and shortbow of it is that you have your head so far up your own ass Mr. Fantastic is impressed with your flexibility.  You call Gandalf a deus ex machina, I call him bad motherfucker.  You say they talk like douchebags, I say you are a douchebag.  You say Tom Bombadil is ridiculous, I say…well, anyway, I don't think I need to go on any more, I've made my point.  I believe I will leave it at that.  It is late (not to mention a bath-day Sunday–and the Tauntaunesque musk wafting up from my nether regions is threatening to overwhelm even a constitution as doughty as my own) and I've wasted enough time lecturing my inferiors.
I'll simply leave it thusly.  If you do not immediately delete your "reevaluation," and post a public apology I shall be forced to email the Tolkien estate and inform them of the gross copyright infringement of your so called "Lord of the Rings: The Lost Chapters" series.  I've long followed the maxim "snitches get stitches," but you have left me no choice but to tattle on you after what you have pulled. And I will do this regardless of the fact that Christopher Tolkien has made the conditions of his restraining order against me quite clear on the matter of any further attempts to contact him by email.  Still, I have a feeling this time he will want to hear what I have to say.