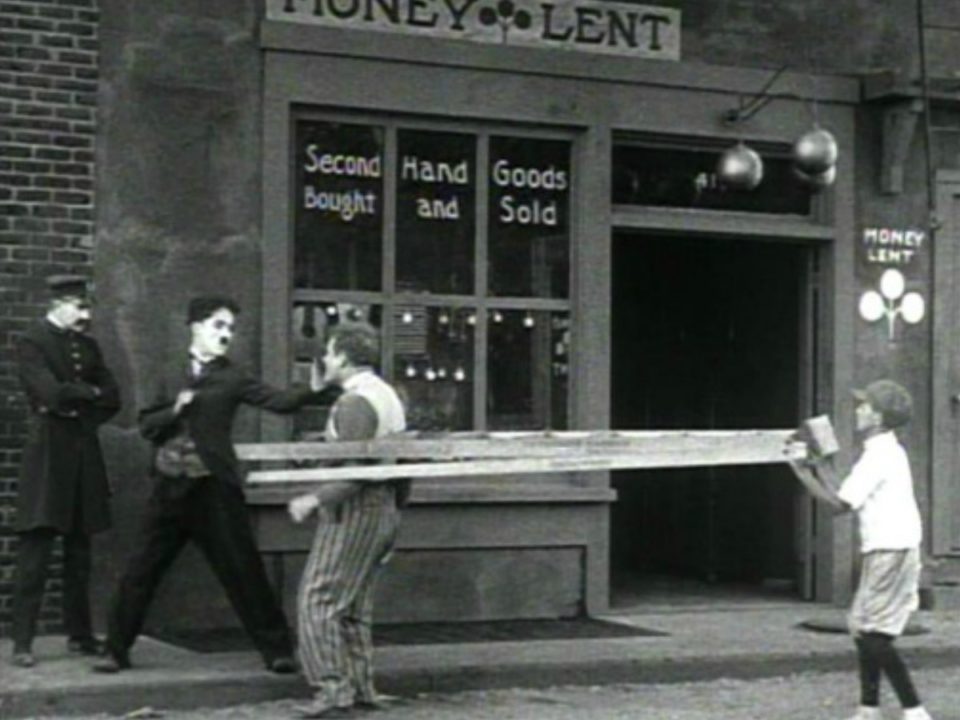 Among the inner circles of my film graduate school, I am known for a few things:
A almost fanatical devotion to Howard Hawks.
An incomprehensible love of romantic comedies.
The assertion that Chaplin's much vaunted pathos is the worst part of his films.
Thus, in the spirit of #3, I'd like to take a moment today to discuss why Charlie Chaplin's creative and comedic peak came in 1916.
One of my favorite things about early Chaplin shorts (aside from the gags feeling fresher in their original forms–a drawback of his impressive feat of not using a team of writers was that his later films recycled many of his earlier gags) is how much of an asshole the old Charlie Chaplin was.  The viewer isn't subjected to trite scenes of Chaplin batting his eyes at poor blind girls in the early shorts.  Rather, you get Chaplin the magnificent bastard.  Today's film, The Pawn Shop, is an example of this.
Chaplin's short film career went though 3 phases before he began to focus on feature films.  First he made (mostly single reel) films for the Keystone Film Company, then he moved to Essanay Studios to make predominantly 2 reel films. Today's film comes from his final period under studio contract for the Mutual Film Corporation (beginning in 1916).  By this time Chaplin had honed his art to near perfection.  All his standard gags had reached their most polished forms and he had not yet (aside from a few exceptions) veered into the saccharine and simplistic melodrama that would mar his later work.
The Pawn Shop is really closer to Chaplin's anarchic Keystone work structure wise.  Chaplin works at a pawn shop, fights with his coworker, hits on the girl in the kitchen and is a dick to customers.  At some point a small robbery subplot gets brought into the film, but for the most part The Pawn Shop is just a series of brilliant gags.
You know you are in clever territory with the very first gag when Chaplin's boss berates him for being late and Chaplin studies the calendar instead of the clock.  After that the gags come one after the other, each a marvel of comic timing and improvised ingenuity (including some great ladder routines).  However, as I said above, my favorite thing about Chaplin's short film work is how much of a dick he was in his early films.
At first it seems that there are elements of pathos in The Pawn Shop.  However, when Charlie cries at the sad story a pawn shop patron tells him, it is just an excuse to set up the supremely dickish move of blowing a mouthful of chewed up crackers in the dude's face.  Or when Charlie cutely pretends to play the ukulele for Edna Purveyance it's just because he wants to get laid rather than any more noble romantic notions.
Otherwise, Chaplin's behavior in this film verges on the sociopathic.  After the hilarious destruction of a customer's clock Chaplin responds to the angry customer's justified complaints by hitting him in the face with a hammer.  And when a lady brings in a pet fish he tries to dump acid in the bowl, as near as I can tell, just to be an ass.  In between it's the usual onslaught of ass kicking (literally of course) and face punching pre-pathos era awesomeness.
Comedies don't need to have an airtight plot to be masterpieces.  The Pawn Shop is an example of a film that is entirely successful in being what it wants to be.  In The Pawn Shop's case, that is to be a non stop stream of brilliant gags and unparalleled assholery…right up to the final shot of Chaplin getting the girl and kicking his coworker in the throat.