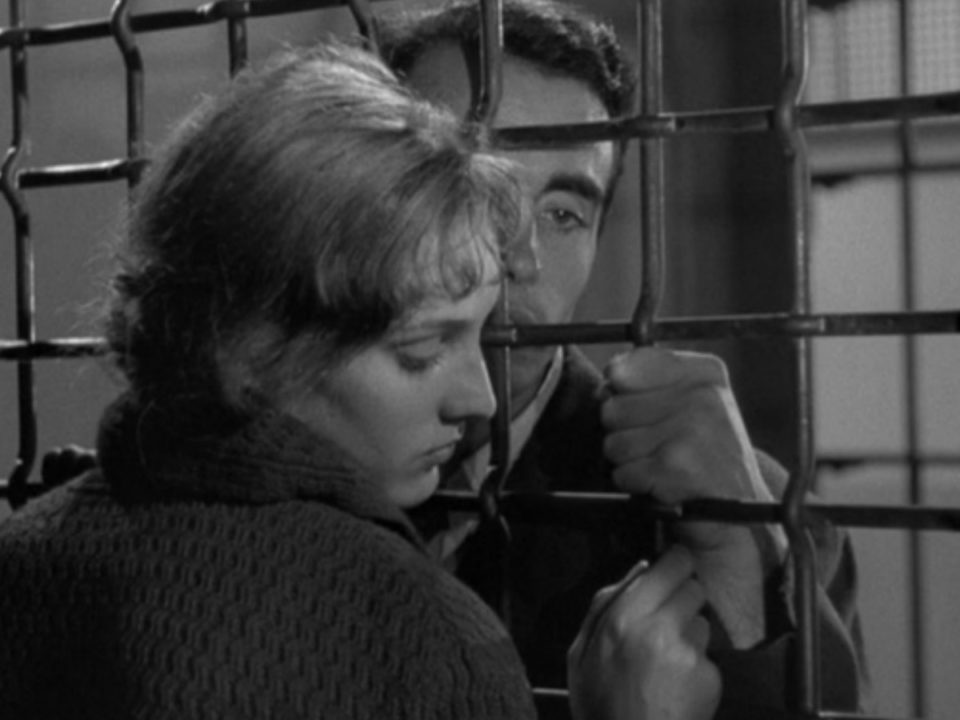 Warning, minor spoilers ahoy in today's review.  Of course, if you have looked at the header image you're already halfway there, so you may as well keep reading.
If claiming to love one director  marks one's true ascension to film snobdom (moving beyond being someone who is merely "really into Kubrick") that director would be Robert Bresson.  Famous for committing all manner of pretentious indignities to a medium supposedly rooted in entertainment, I'd wager to say that it might even be easier to get a non-cinefile to enjoy a Rohmer film than anything from Bresson's oeuvre.  Nonetheless, like all self-proclaimed cinefiles, I'm here today to tell you all how much I love Bresson.
Considering I have been known to correct people who call me an "atheist" by pointing out that I am technically an "anti-theist," my love of the overwhelmingly Christian director Robert Bresson might seem a bit baffling at first.  Still, his talent is undeniable.  There are scenes of such bravura film-making prowess in Pickpocket that they literally take my breath away (the pickpocketings on the train to name just one) every time I view them.  Each robbery has the realistic white knuckle adrenaline thrill that comes with any action where one's freedom is the consequence of failure.  That being said, I have never been one to let excellent film-making trump ideological concerns (I'm looking at you Kazan).  So once again we return to the question "why Bresson?"  Simply put, Bresson, like Dreyer and Rohmer, is no mere Christian.
Morality, as a philosophical concept, goes far beyond simple right and wrong.  Like Rohmer's Chloe in the Afternoon, Bresson's most successful "moral tales" are not so much about what is right and wrong, but rather about what it means to be true to oneself.  Pickpocket is the story of a man (Michel) who thinks that he is better than all others.  Of course, when he attempts to use that attitude as justification for preying on the unwitting strangers he pickpockets (each robbery giving him the thrill of power over lesser humans), the police chief wisely asks "do you know any man who doesn't think he is exceptional?"
At first, Michel's Nietzschean philosophy seems like a simple (and annoyingly obvious) excuse for him to see the error of his ways by the end of the movie.  And yet, not once does he have a change of heart that causes him to be consumed by guilt over what he has done.  In fact, I'm not entirely convinced that he feels that anything that he has done was morally wrong by the end of the film.  I mean, maybe, like that line from 500 Days of Summer about the main guy's "total mis-reading of the movie The Graduate," I have just wildly missed the point.  But a simple "stealing is wrong" message would be beneath a filmmaker of Bresson's caliber.
The real flaw with the Michel is that his actions have set him outside society.  He has created a prison of his own mind, walled off from the world through his (possibly justified) mindset.  Most of my reviews for this feature end up returning to the concept of the alienated character with no place in society, and Michel in Pickpocket is no different.  As convinced as he is that there is nothing wrong with what he is doing, he suspects he has sentenced himself to a life of continued isolation.  He longs for the warmth of society and human companionship on the other side of the fence, but is unable to cross over because of the path he has chosen.  Thus, by the end of the film, he returns to a city teeming with police who are looking for him and commits one last robbery that in his heart he knows will lead to his arrest.
And in a masterstroke of bizarre logic, once in prison he becomes, to borrow from Drive, "a real human being." A pickpocket in prison is a parasite who has been resorbed into society and thus, in some sense, Michel's isolation is ended through his incarceration.  In prison, when the woman who loves him visits, he finally has the connection to another human being that he has been longing for.  In a real prison (rather than the metaphorical one in his head) he is finally able to break through and connect with another human, if only by barely touching cheek to cheek through a small hole in the bars of his cell.
Has Michel given up?  Has he betrayed himself and his "ideals" by allowing himself to be caught  and becoming "one of us" because of his human weakness and desire for companionship?  It is a fascinating question.  Bresson explicitly shows the nightmare Michel's life becomes when he carries his philosophy to its logical conclusion (which is, of course, the problem with adopting any overarching life philosophies, the logical conclusion is often in conflict with what it is to be human).  Does the worrisome specter of Christian truth-denial appear in Michel's choice to join a society he feels he has no place in? I don't think so, I think it is something beyond what is "true."
Michel's salvation lies not in realizing the error of his ways, but rather in realizing that no human can deny the power of and need for love.  Call it redemption if you must, but I don't see Michel as needing to be redeemed.  Instead he merely needed to find someone out there he loved as much as himself.