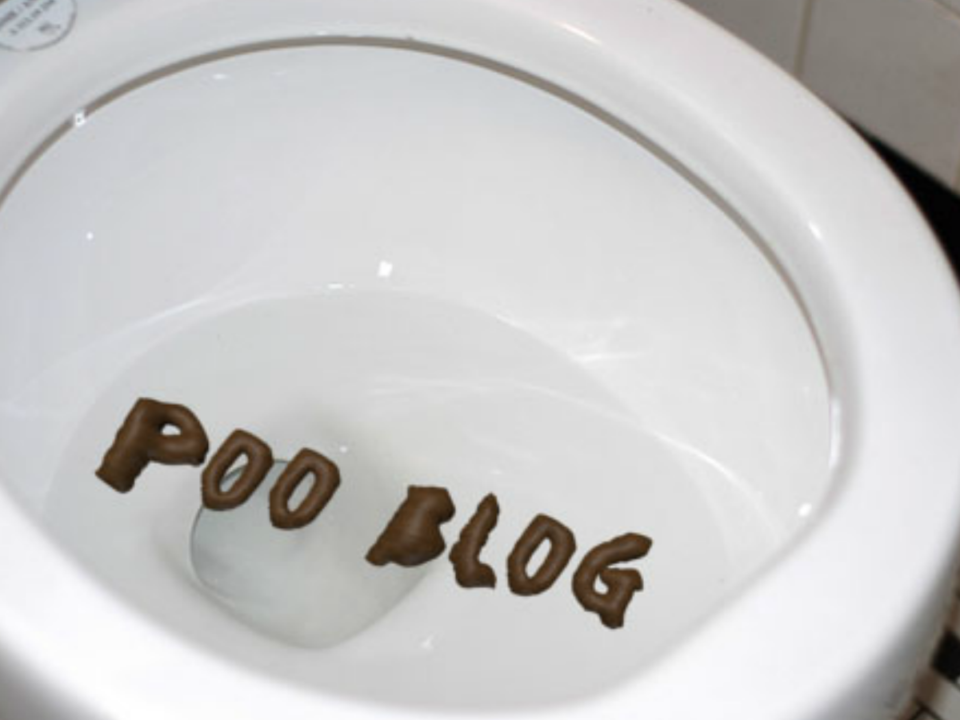 To those who stuck around for the whole Choir Class Spinoff Crossover Special, this is the post you've been waiting for.  What, you didn't think I'd do a crossover special without a jock blog did  you?  Well this isn't just any Jock Blog, this is Jock Blog as told by Chet's fecal-centric friend Chris.  As Chet tells it: "even though he can be a little wierd [sic] about shiting [sic], Chris can also be pretty awesome about shiting [sic]."  But enough about Chet, let's let Chris tell the story about just where all those wadded up balls of wet tissue paper came from, and how they ended up on top of Khaine's cape in its ceiling tile hiding place!
Friday, November 17th
its been a good week for shitting.  and not just because i founded the top box theater.  see finding out we could get in the ceiling tiles over the bathrooms got me thinking of other shitpranks to do.  see i already never flush when i brick at school but ive been looking for a new idea to make that prank better.  at home i flush of course.  my mom is kind of a clean freak and shut that shit down when I was a kid.  anyway I got my new shitprank idea from my nephew.  see a while ago my 3 year old nephew deuced in our toilet.  everyone was all upset cause he forgot to flush and they noticed there was no toilet paper in the toilet.  he said he was in a hurry and didnt need to wipe.  then he got a lecture about shitting from my mom and sister.  but it got me thinking.
i realized my genius nephew had just given me the missing piece to my normal not flushing prank.  see no one wants to see a turdshot shotgun blast in a public toilet.  but i dont need to tell you that.  but what if you also saw that there was no toilet paper in the bowl.  a lot of people would lose their shit once they had stopped to think about it.  because that means that the nasty fucker who left a bowl full of chocolate butt nuts is also walking around with mud ass.
so all week ive been leaving mystery shits in the toilets.  at first i wasnt sure what to do with the shit wipings.  i was going to keep them in my backpack.  but my mom got pissed last time i brought home a shitpack. the ceiling tiles solved that problem.  I just saved all my wipings in a pile on the floor and then stood on the back of my toilet and threw them over onto the ceiling tiles of the next room.
i watched some spy show once about how spies corral their targets to where they want them.  so I broke the doors off all the stalls but one.  no one wants to drop an ass nugget with their dongelberries hanging out.  so everyone is going to have to use my defile-cated stall. then ive just been doing nothing but eating fig newtons swallowing corn whole and leaving mystery shits in the main toilet all week.
ive been using the bathroom by the auditorium not the lunch room of course.  you dont shit where you topbox.  its going pretty well so far.  i havent seen anyone see one of my mystery shits but im sure half the school is in a panic over who the phantom shitter is.  ive even thought about breaking into my emergency shipocalypse shitbox i keep under my bed.  but i havent yet.  when the time is right to use that shitbox ill know it.
that ceiling tile ive been throwing all my wipings on already had a black sheet laying on it when I started.  they are starting to pile up but I figure that sheet will keep the smell out of whatever class is below it.  but im running out of room on the sheet.  i figure i got a few more weeks of this before i need to find somewhere else to keep my wipings.
its a lot of work but its worth it.  i always thought my pranks needed more subtlety.  and this is like wham corn snake when the open the stall door.  which is funny but not subtle.  but then it hits you. wham no toilet paper in the bowl. which is funny and also subtle.  and that. as they say. is where i get ya.
anyway i have to go now.  no not a turd alert.  i need to get to the top box theater for the lunchtime rush before the guys eat all the nutty bars.  should be a nice way to end a week of good shitting.  it also looks like this might be the first week in a long time where no one ended up getting a face full of shit.  which I'm not sure if I'm glad or disappointed about that. its always funny when that happens but its also always kind of gross.  especially if it happens to you.
11:35 AM
That's it for my 200th blog post Choir Class Spinoff Crossover special!  Hope you enjoyed it, and I promise, the next Jock Blog will be slightly less "poo-centric"!