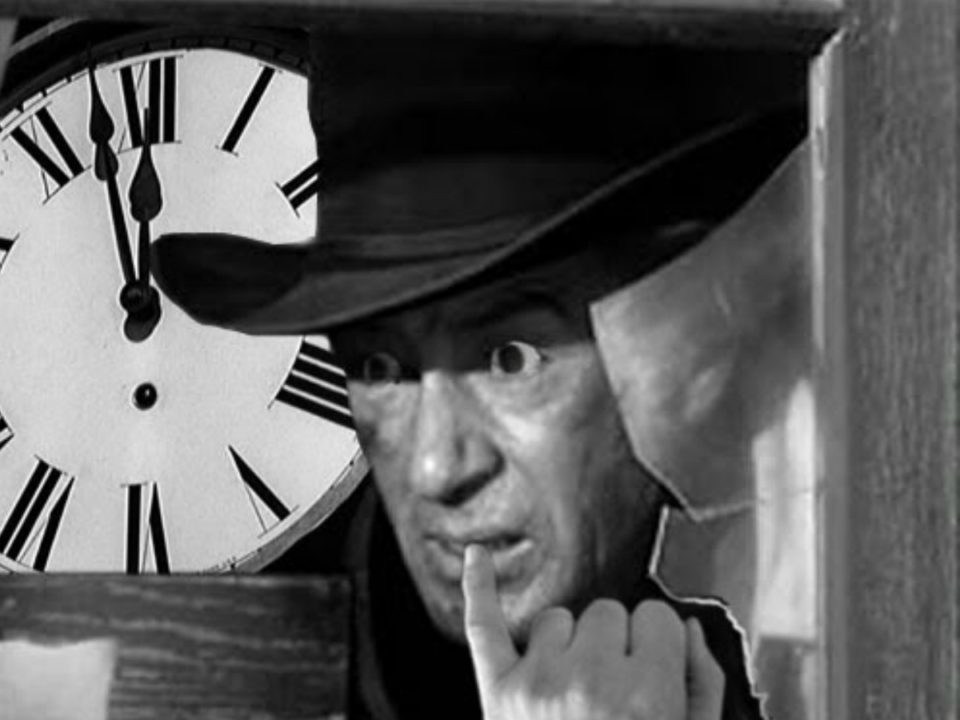 I've talked about the idea of the Western as a unique American mythology before, and the concept is important in understanding my issues with High Noon.  The American Western is first and foremost about a hero.  The hero of an American Western isn't a whiny reluctant pussy like Frodo Baggins, but rather an assured, immensely capable professional (that is, someone whose skill depends on experience as opposed to the "expert" whose supposed skill depends on "booklearning").  The townsfolk of an American Western are not evil people but rather good folk who have fallen under the tyranny of bad men whose job it is for the hero to "clean up".  As a professional, the hero is never motivated by anything other than the fact that it is simply his role in the dichotomy of the old West to face down the bad men as a guardian of the good townsfolk.
Is this a restrictive, simplistic formula?  Yes, of course it is, but it also connects with something deeply human and culturally American in the viewer.  America is a young country and yet, as I've said before, already has a mythos as developed as anything in the "old world".  Thus it always leaves me with a sour taste in my mouth to see attempts to subvert and change this cultural backbone of our society into something it never was–which is exactly what 1952's High Noon ends up doing.
In High Noon, Gary Cooper is the Marshall of a "cleaned up" town, who, on the day of his marriage and retirement finds out a "bad man" he had sent to jail is now free and coming back with his friends (at "high" noon) to kill him.  Gary Cooper then proceeds to spend the rest of the movie begging the entire town (even the "bad" bar full of the "bad man's" friends!) to help him fight what is coming for him.  This, however, is one of those "Westerns" where the town itself is corrupt and weak; not because it is held in thrall by the bad men, but because that is just the way it is.  No one offers to help, and after even thinking about running away himself, Gary Cooper blows away the bad guys anyway, throws his badge down in disgust and rides off into the sunset with Grace Kelly.
A hero and a professional doesn't ask for help, the very idea should be foreign to them.  By turning the guardian of the town into a groveling beggar without the confidence to handle a job himself like a professional, the film has destroyed everything good and true about American mythology.  The hero can not be human, at least not when it comes to bravery.  Every Western hero at some point gives the "you're scared?  Well I'm scared too, but we're going to do this!" speech. But they are never really scared, fear to the hero of the American Western is a concept that doesn't mean the same thing as it does to us normal folk.  So for Gary Cooper to even think of saddling that horse and riding away before facing his foes is a crippling blow to the foundation of the Western myth.
The idea of the "bad town" is just as infuriating.  The townsfolk represent the common American people, so to turn them into cowards, weaklings and corrupt backstabbers is saying that the whole concept of the Western guardian/hero is flawed.  And of course, in reality it is flawed and they would be justified in throwing down their badge, but the American Western works in the realm of mythology where such things should never be represented.
And yes, High Noon was written by a blacklisted writer who felt just as abandoned as Gary Cooper's character.  And yes, the film was a reflection upon the times, like most films are.  But I've always thought that art should stand upon its own feet and be able to be enjoyed without its historical context.  And by making Gary Cooper blow away all the bad guys in the end anyway, by turning him into a hero again, High Noon seems to be trying to have it both ways.  Most people remember it as a movie about a man doing what he must like all Westerns and thus it has wormed its way into its status as an "all time classic Western".  High Noon is not that, it is a finely crafted film, but a failure as a Western.
Luckily there were people like Howard Hawks out there to show us how to do it right!