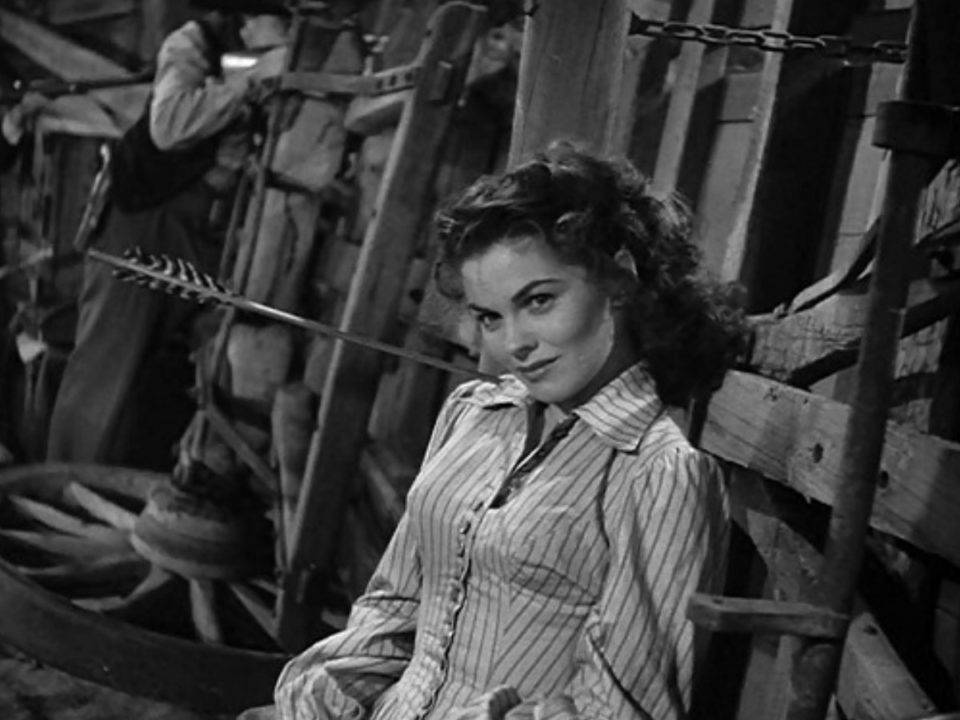 All the classic Westerns strike a different chord with me.  My Darling Clementine is pure poetry, Stagecoach is like witnessing the birth of something new into the world, Rio Bravo is like a laid back summer memory, and Red River like the pure distilled essence of storytelling, the kind of film they would make outside the walls of Plato's cave.  It is the kind of storytelling that leaves a lump in one's throat at the perfection of its script–and that's even taking into account a perhaps, slightly, maybe problematic ending.  It is a film that is so good that I'm not afraid to break my often broken "one film per director" rule in this monthly feature.
Red River is a cattle drive western.  Maybe not the first, but easily the greatest.  Like the wagon train western, the cattle drive western uses the central journey to construct a linear plot with which to assault its protagonists from every side with Homeric obstacles as they progress from point A to point B.  Into this simple framework, Red River molds the story of a power mad father figure (John Wayne in one of his career best performances) and the son who must cast off his tyrannical yoke to become his own man (Montgomery Clift, his own performance playing brilliantly off John Wayne's very different acting style).  It's simple, archetypical stuff, and the skill with which the film is made is more than up to the task of matching the mythic potential of the material.
Nothing is forced, the stampede isn't telegraphed so much as it is inevitable, the passing band of gamblers and prostitutes, the river crossing, the mutiny, every section of the film flows together as if the unexplained forces of the universe set this plot into motion at the moment of creation.  It is the story of a time when getting good beef to hungry people took blood, sweat, and every last ounce of willpower one had.  It is the story of a time when being fast with a gun was a thing worth something rather than sign of mental infortitude.  And it is the story of a time when a man must, at the end of the day, prove his worth with his fists if only because he has to.
By setting up the conflict between father and son with such high stakes, Red River seems to paint itself into a blind alley, with no way out to the required happy ending without undercutting the story to that point.  However, in a land of violence and brutality everyone who wishes to hang on to even a shred of humanity must have a code.  And part of that code is that you must not kill a man who refuses to shoot back at you.  Thus, by using pacifism, Montgomery Clift's character, pulls John Wayne's character out of his stagecoach on a collision course with death and into the more familiar (and, in the strange logic of his world, pacifist in its own right) realm of frontier style, two-fisted problem solving.  It might not be the way things work today, but such stories are not for our time anyway.  And Red River, one of the greatest of all Westerns, doesn't belong to any time but its own.