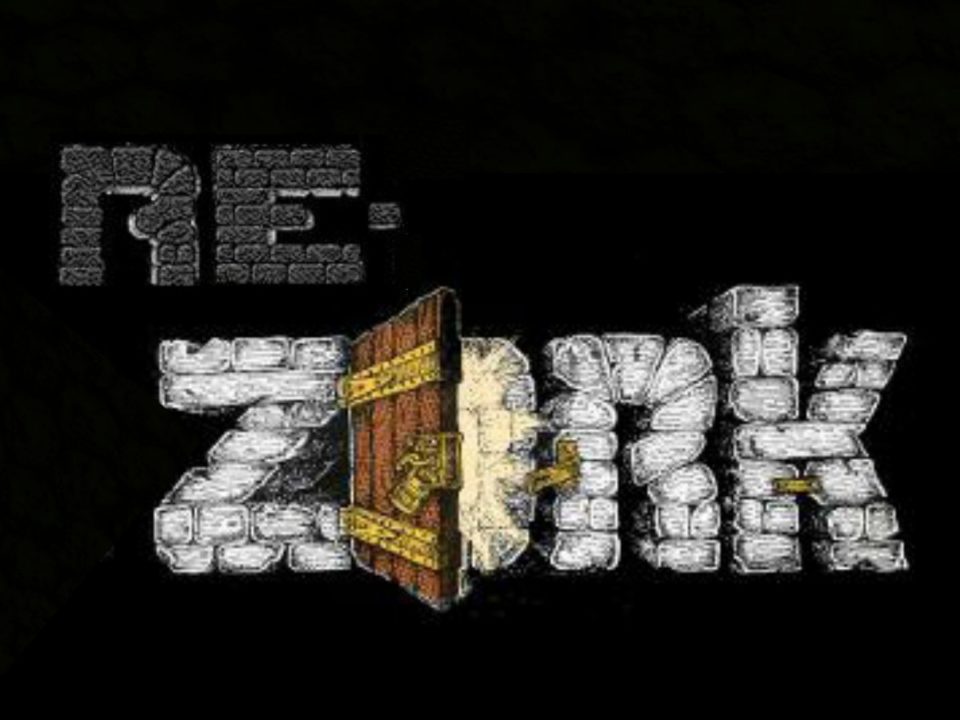 In the early days of computing, before Graphical User Interfaces were commonplace, nerds still needed games to play on their primitive computers.  Thus the text based interactive fiction game was born.  While the Zork series wasn't the very first instance of such a game, it was unquestionably the first success in interactive fiction, and phrases like "It is pitch black. You are likely to be eaten by a grue." remain popular throughout the internet to this day.  If you are curious, you can play the original game here:
PLAY ZORK I: The Great Underground Empire
Anyway, in the nostalgic spirit of such games, I've started a brand new www.isleyunruh.com feature: RE-ZORK!  In this series I will pit my friends, via G-chat, against an interactive fiction AI played by, none other than, myself. For our fifth installment, I have a slight modification to the formula.  This time, instead of one person, 3 people (Shena, Carol, and Duncan, all of whom play with me in a semi-bi-weekly Lord of the Rings role playing game) decided to try their luck!
It all started during a group chat where we were trying to find out when we would have our next game night.  After realizing that, once again, no one could make it this weekend, and after Duncan went AFK, the following exchange, which led to today's impromptu Re-Zork adventure, happened:
Isley: heh, wow, self cleaning toilet seats: http://i.imgur.com/USTbZRl.gif

Shena: This is clearly a good use of group chat.

Isley: hehe, yeah, this is why I can't have nice things

Carol: Thanks for that Isley.

Shena: it's like we are playing a game right now.

Carol: I'm not sure how you win this game.

Shena: No one wins this game. We all lose.

Isley: Carol, Shena, you awaken to find yourselves in a dark room. The pungent stench of mildew emanates from the wet dungeon walls. What do you do?
Well, things went about as you would guess they did after that, except with the twist that I ended up getting reverse trolled as the adventurers actually TRIED to get eaten by grues.  Also, Duncan showed back up halfway through.  Anyway, enough of me telling you about it, how about we see how long they can try to get eaten by a Grue before I either force them out of the dungeon to safety or get frustrated and give up!
RE-ZORK V: The Reluctant Adventurers
Copyright (c) 1981 WiBiL, Inc. All rights reserved.
Re-Zork is a registered trademark of WiBiL, Inc.
Revision 885 / Serial number 840726
Dank Dungeon of Darkness
Carol, Shena, you awaken to find yourselves in a dark room. The pungent stench of mildew emanates from the wet dungeon walls. What do you do?
Shena> NOPE
Yes.
Carol> CAN THE GRUE JUST COME OUT AND KILL ME FROM THE START?
True, it is dark, thus you realize (with a feeling of creeping horror) that there could very well be a grue in here.
Shena> I GO TO FIND THE GRUE. MUTTERING ABOUT HOW I HATE EVERYTHING ISLEY CHOOSES TO BE.
You walk 3 feet into the darkness and run straight into a solid dungeon wall. Shena, you now have a bloody nose
Shena> I USE THIS NOSE BLOOD TO ATTRACT A VAMPIRE.
Luckily this appears to be a dungeon full of grues, and, possibly, like most dungeons, full of dragons as well.  But, thankfully, it does not appear to be full of vampires.
Carol> IF I STAND IN THE MIDDLE OF THE ROOM DANCING AND SINGING WILL THAT MAKE THE GRUE COME ANY FASTER?
You begin to wonder how you ever got this far in your adventuring career with an attitude like that.
Shena> DO WE HAVE A LIGHT SOURCE?
You search your pockets and find your trusty tinderbox, though the wet dungeon wall that you just walked into seems to suggest you may have little hope of finding a dry fuel source.
Shena> I DESTROY THE TINDERBOX AND SHOUT "WHERE IS  YOUR GOD NOW?"
You pray to the god of dry tinder sources and smash your tinderbox to the ground, the impact of which cause your flint to spark and light the pieces of tinderbox on fire.  Well done, that was an interesting choice using the box itself as fuel! You see the shadow of a looming grue turn and flee from the light. That was a close one!
Shena> GODDAMMIT.
It seems a bit ungrateful to take in vain the name of the god to whom you just prayed for salvation.
Shena> I SIGH THEATRICALLY AND SING A FEW VERSES OF "SAURON HAD SOME GOOD IDEAS, AND AT LEAST THE SUPPLY TRAINS RAN ON TIME."
Any Grues that remain lurking in the darkness are undoubtedly confused into inaction due to your reference to steam powered technology in a society that had not progressed past rabbit power.
Carol>DO WE HAVE ANY ALCOHOL? IF WE HAD ALCOHOL, WE COULD GET DRUNK WHILE WE WAITED FOR THE GRUE TO COME GET US.
After rummaging around in your handy haversack you find a bottle marked "Orcish Offal-wine: DO NOT DRINK!"  The bottle is hot to the touch.
Shena>I SAY WE DRINK IT.
As you reach out to grab a drink from the Orcish Offal-wine you suddenly realize that there is an Orc in front of you. He is wearing a brown tunic, and he has grey hair, and blue eyes.  His name is Duncan and you assume it was originally his wine that you are about to drink.
Duncan> CAN WE ROLL THE DICE TO SEE IF WE GET DRUNK?
You don't see how rolling dice will help you get drunk.  Though, as an orc, you know that getting drunk will be the least of the effects of drinking Orcish Offal-wine that is clearly marked "DO NOT DRINK!"
Shena> ARE THERE ANY GIRLS THERE? BECAUSE IF THERE ARE, I WANT TO DO THEM.
You turn to the only girl present, Carol, and make your proposition.
Carol> CAN'T THINK OF ANYTHING BETTER TO DO WHILE WAITING FOR A GRUE TO COME EAT US…MIGHT AS WELL GO OUT WITH A BANG!
Shena, Carol seems to have both deciphered and accepted your subtly coded attempt to come on to her.
Shena> I ASK DUNCAN IF HE HAS ANY IDEAS ABOUT HOW WE CAN GET EATEN BY GRUES. AND I TELL CAROL THAT SHE LOOKS VERY PRETTY.
Carol is already removing her skimpy armor, so it appears there is no need for further flattery.  Though, as she shimmies out of her chainmail "chorts," it quickly becomes obvious that the chastity belt that the old gypsy lady cursed her with is going to be a problem.
Duncan> IS THIS A LOW MAGIC GAME OR A HIGH MAGIC GAME? BECAUSE IF MAGIC MISSILE DOES MORE THAN 1 PT OF DAMAGE, I'M GOING TO SPAM IT ON EVERY GRUE ENCOUNTER.
Because you are such a seasoned adventurer that tromping through a grue infested dungeon is nothing more than a game to you, it suddenly strikes you as odd that you don't know how your own magic works.
Shena> I WISH EVERY DAY COULD BE LIKE THIS
You give a brief prayer of thanks to your god for once again sending you a potential solution to a problem, in this case, how to get Carol out of her chastity belt. Duncan's small level of orcish magical prowess is sure to be the key to removing the belt!  If only every day could go this smoothly!
Duncan> IF I'M AN ORC, I GUESS THAT MEANS I'M AT BEST A CLERIC/ASSASSIN. STUPID RACIAL CLASS RESTRICTIONS. OH SAURON, FREE US FROM THIS RACIAL-BASED GAMIST MECHANIC!
You seem to still be having trouble remembering your own abilities, perhaps you drank too much Orcish Offal-wine earlier?  Either way, you decide to test your ambiguous magical powers by launching a mighty magic missile at Carol's chastity belt!  …turns out you were right about your racial based class restrictions, it came out as a healing spell, the chastity belt now gleams with a renewed strength.
Shena>I WOULD PLAY A SAD SONG BUT THEN I REMEMBER THAT ORCS DON'T APPRECIATE MUSIC BECAUSE THEY ARE BRUTISH CREATURES WHO DON'T HAVE A WRITTEN LANGUAGE.  I ALSO SUGGEST TO EVERYONE BUT THE ORC THAT THEY READ "THE SUNDERING" DUOLOGY. AND THEN I FEEL BAD FOR THE ORC BECAUSE HE HAS A FAMILY AND A BACKSTORY AND THE ELVES JUST DON'T CARE.
Thankfully, due to your quick thinking with the tinderbox, there is actually enough light for everyone to read the book you suggested.  Which they might actually do were they not so upset about the lack of success with Carol's chastity belt.
Duncan> WE ORCS APPRECIATE PUNK AND DUBSTEP. WOULD YOU LIKE A COPY OF MY 'ZINE? IT IS CALLED "ORC-GRESSION."
Duncan hands you the zine.  It appears to be written in excrement on a moldy slice of cheese, thus calling into question the impulse to "feel bad for the orcs."   Or maybe it just means his 'zine is super KVLT.
Shena> I TAKE THE 'ZINE
You decide to take the 'zine just to be nice.  You make a mental note to wash your hands as soon as you get out of this dungeon.  Though, I guess washing ones hands is good practice for post-adventure dungeoneers regardless of the amount of orc 'zines they come across.
Duncan> IT IS ALL PICTURES THOUGH.  AGAIN, NO WRITTEN LANGUAGE.
Shena, as you look at the feces smeared slice of cheese, you realize that orcs must be big Jackson Pollack fans.
Shena> I ADD IT TO MY RUCKSACK, WHICH ALREADY HAS "GNOMES, GNOMES, GNOMES!" AND "DWARF QUARTERLY."  ALSO, "CAT FANCY."
You stuff it into your periodical filled rucksack, briefly wondering if you shouldn't have also taken that leaflet you found in your mailbox this morning.  Oh well, hopefully it won't be needed later.
Duncan> I BEGIN STUDYING THE CHASTITY BELT FOR A BACKSTAB ATTEMPT, BUT THEN STOP AT THE MENTION OF DWARVES. STUPID DWARVES.
Dwarves are mostly into new country and seem to have no appreciation for your punk-step band.  Stupid dwarves.
Carol> GOOD THING THOSE MAGAZINES DIDN'T CATCH ON FIRE WHEN SHENA SMASHED THE TINDERBOX.
You also wonder why Shena didn't at least think to use a few of the advertisement pages to get the fire going.
Shena> LUCKY!
Maybe it's a good thing you didn't. How does the old saying go? Give a man a tinderbox and he can light a fire with the tinderbox wood.  Give a man three magazines and he can light three fires, but then he won't have anything to read.
Shena> I OFFER DUNCAN THE ORC THE CAT FANCY MAGAZINE.
You figure you can part with Cat Fancy, you already have like 10 extra copies of this issue on account of how you heart cats so much.
Duncan> CATS OK.
You gladly take the magazine on account of how you heart cats so much.  …FOR DINNER!
Shena> I TAKE A NAP.
Are you sure? Dungeons are dangerous places to take naps.
Shena> OH YEAH. DEFINITELY TAKING A NAP.
Carol seems miffed that you have given up on her chastity belt problem so quickly.
Duncan> HAHAHAHAHAHAHAHA. CAT HAS MELON ON HEAD!
Of course, Duncan seems far too absorbed in his kitteh lulz to pay help Carl with her chastity belt problem.
Carol> MEH, I'LL TAKE A NAP TOO. I CAN ALWAYS NAP. NAPPING IS A GOOD WAY TO GET OVER BEING PISSED I DIDN'T GET SEX.
You brought this on yourself when you stole the old gypsy lady's false teeth.
Shena> HTTP://I.IMGUR.COM/WOSCCMD.JPG
You have a dream about finally getting the money to pay for professional pictures of your cat "Mr. Grumpypants."  However, because you and Carol are now both sound asleep, neither of you seems to realize that the sound of Duncan's laughter has awoken some manner of ferocious roaring creature deep withing the hidden recesses of the dungeon.
Shena> TOTALLY FINE WITH IT! I LIVE IN THE CITY!
True, you have heard worse ferocious roaring from that eunuch that lives in the hovel above you as he takes his morning constitutional out of his window.
Carol> FEROCIOUS ROARING EH? JUST HOW I LIKE IT!
If that is the case then you have no idea how upset you will be to find out you missed out on ferocious dungeon sex because of your nap.
Carol> PSH, I DO WHAT I WANT IN MY DREAMS.
True, not like things were working out for you in that department while you were awake. Also, Shena's fire seems to be dying down.
Shena> THAT'S WHAT SHE SAID.
Yes, in fact, "Shena's fire seems to be dying down" was exactly what Carol said before taking her passive aggressive "no sex" nap
Duncan> I WANDER OFF TO FIND SOME BBQ, RELYING ON MY ORCISH DARK VISION.
Your keen orcish sense of smell detects a faint scent of BBQ to the south.  You follow your nose in that direction only to find that it was not BBQ, but rather the remains of a dragon-fire charred knight that was recently burnt to a crisp by that dragon that you woke with your excessive LOLing.  The last thing you think before you are engulfed in flame is that drinking Orcish Offal-wine NEVER turns out well for you.
Shena and Carol, you guys don't seem to notice that the BBQ smell is MUCH stronger now.  This is partly because of your puny human noses, and partly because you are now dead due to having been eaten by Grues after deciding to take a nap in a dark Grue-infested dungeon.
**you have all died**