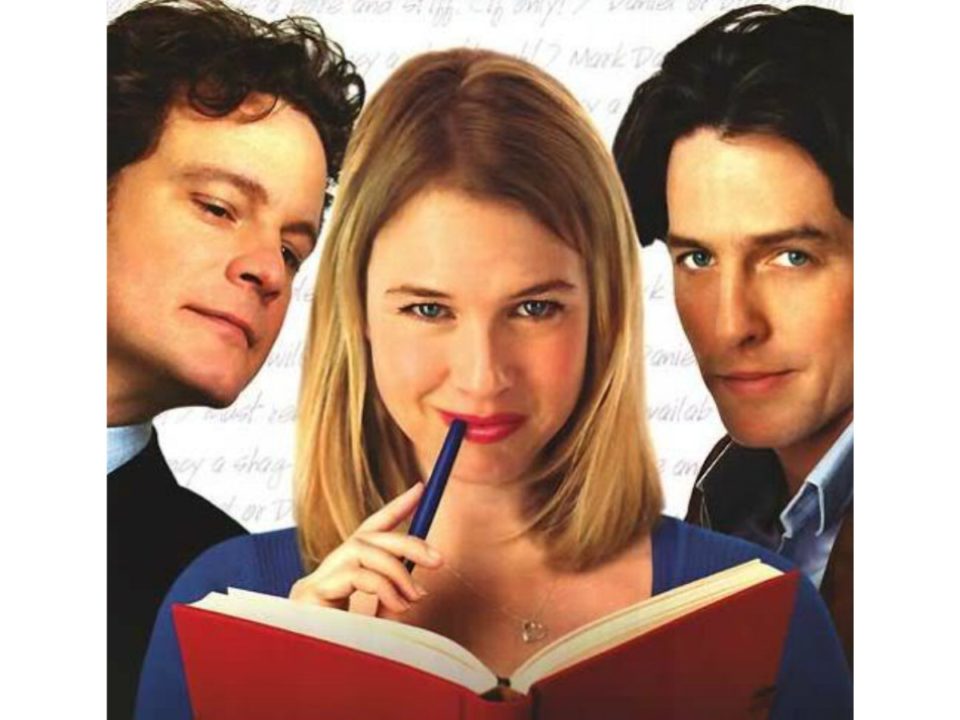 While watching It Happened One Night for the umpteenth time the other night I was reminded just how old the romantic comedy "formula" is.  Guy meets girl, guy gets girl, guy loses girl, guy gets girl back, the end (with assorted whacky situations in between)(also, spoiler alert).  That formula has probably been used more than "hero gets his ass kicked before coming back and winning in the end" in action movie fight scenes.  But, is "cliche and formulaic" a legitimate criticism of romantic comedies?  After all, I wholeheartedly support "The Western" as legitimate cinematic art, and you won't hear me complaining that the good guy won yet another shootout at the end.  Thus I'd like to take a closer look at just why critics are so scornful of modern romantic comedies and yet a "pretentious film cock" like me has found many of them to be so embarrassingly tolerable.
It all started with Bridget Jones Diary for me.  Before that I'd pretty much only seen the old classic romantic comedies and wasn't really familiar with the glut of post Sleepless in Seattle Hollywood romantic comedies.  Anyway, as it turned out, Bridget Jones Diary was actually pretty funny, cute, entertaining, fun, etc.  For some reason I never really followed up with many other romantic comedies, I mean these were still "chick flicks" after all and I just assumed Bridget Jones Diary was an exception.
Fast forward 8 years and I decide to watch 27 Dresses on a whim (yes, I just typed that for all the internet to see).  Though I don't know many people who share my opinion, I actually thought it was pretty good and decided to do a bit more research for this blog post.  Of course, by a bit more research, I mean I watched more romantic comedies than any man, woman or dramatic teenager should ever watch in such a short period of time.  And, now, at the end of my dark journey, I actually still think it's an enjoyable genre (though it was touch and go there for a while with stuff like New in Town).
So what is the appeal?  First of all, I think the "guy getting girl"/"girl getting guy" story is as fundamentally enjoyable as the "one man army kicks a lot of ass" story.  On some level we as humans like seeing romance work out like it does "in the movies".  And then of course, we as humans also like funny things.  But, you know, duh on both of those!
Yet, despite being so appealing on paper, the critics hate them.  Scanning the Rotten Tomatoes reviews for 27 Dresses you will see such things as: "stupendous lack of originality", "A paint by the numbers chick flick", "the sort of thing you've seen at least 27 times before", "amazingly derivative"…you get the idea.
They weren't alwasy so hated though.  Back in the 30's and 40's movies like the afore mentioned It Happened One Night were not just audience favorites but also critical favorites…and for good reason, the old romantic and screwball comedies were brilliant cinema and still are.  Even in the 60's, the Doris Day vehicles, while definitely formulaic (they were "vehicles" after all) were still generally done pretty well and with a genuine passion for the formula.
It wasn't until the last 10 or 20 years that romantic comedies really went the way of the big budget action movies and became committee-made soulless films meant to have as broad appeal (read "bland") as possible.  So, first I say people like romance and funny things, then I say "they don't make em like they used to", another big "duh".
But honestly, even manufactured trash can be endearing at times.  Of course, this is coming from a guy who kind of enjoyed Bad Boys 2 and xXx (though I'm not entirely sure either of those would survive a repeat viewing).  Sure, 27 Dresses doesn't have half the charm that Doris Day's weakest picture does, but it was still cute and funny.  I didn't go into it expecting the next Philadelphia Story, I just wanted to watch a hijinx filled romantic comedy romp created with a moderate degree of competence.  Films can obviously be great works of art, but they are also entertainment, and sometimes something that is just entertaining fluff can be fun to watch too as long as it doesn't offend me with pretensions of being meaningful when the film is not up to the task (I'm looking at you 28 Days).
So that's it, I just "create a hierarchy" Roger Ebert style.  I don't hold 27 Dresses to the same standard I judge "real movies" on.  I mean there still has to be a standard even for these kinds of films: New in Town, for instance, really was pretty lazy…formula is fine but you have to do a bit more than just go through the motions (though I suppose I even enjoyed parts of that one too).  But you also have to reevaluate what you want to get out of the movie.  If "romance and hijinx" are what you are looking for, it seems kind of silly to trash a movie for being predictable.  I mean, after all, even with It Happened One Night, if you have any doubts in your mind that Ellie might actually marry King Westley and not Peter…well, then you probably need to watch more romantic comedies.  Also, spoiler alert.