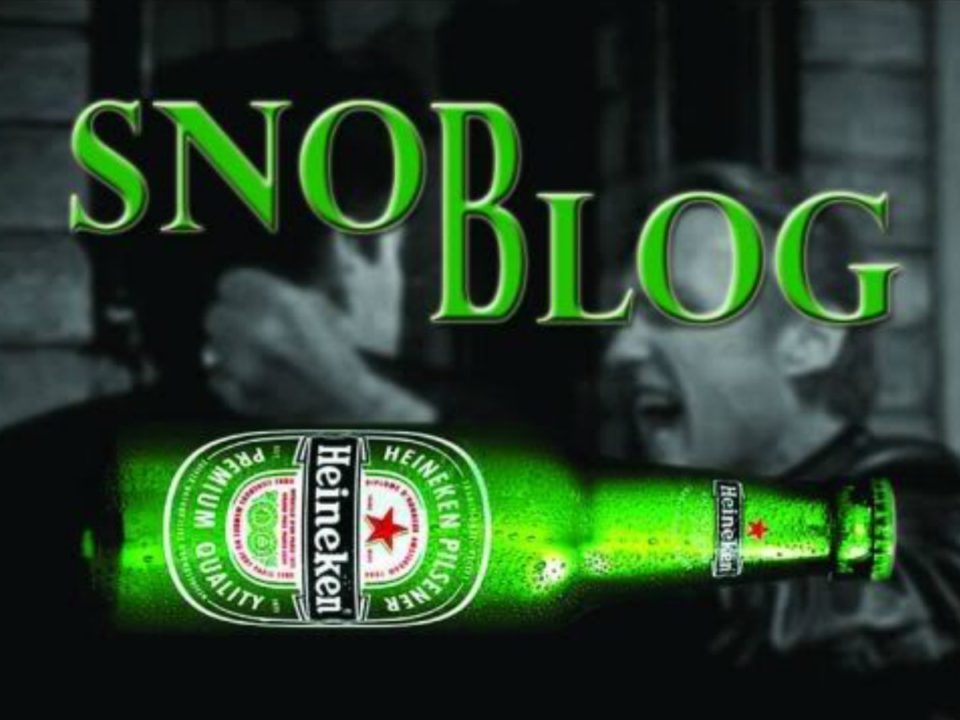 Once again, from the pages of Goth Blog comes the fourth part of everyone's second favorite spin-off: SNOB Blog! Has that wacky high school English teacher who just wants the finer things in life…and for people to know he wants the finer things in life finally found love? Read on to find out!
(Disclaimer: this is a work of fiction; any resemblance to real persons is purely coincidental)
Previously in Snob Blog:
Snob Blog 1 – Our hero meets what he assumes is a fellow film elitist and potential soul mate at a movie store.  But upon going to her film party he is horrified to find that her friends' taste in cinema is not as refined as he had hoped.
Snob Blog 2 – Overcoming the despair brought on by things not working out with the video store girl, our hero sets his sights on the school choir teacher that he has mistakenly assumed is a fellow music snob.  But when they decide to start carpooling to work together and his cd player refuses to work it is Ms. Kockenlocker and her ipod that teach our hero a thing or two about music.
Snob Blog 3 – Our hero, with his sights still set on the choir teacher Ms. Kockenlocker, volunteers to plan the high school's fall formal.  However, his hoped for romantic spark with Ms. Kockenlocker turns out to be a bit more than he had planned for as the school gymnasium accidentally gets burnt down on the night of the formal.
Monday, November 13th
I'm sure everyone has been on pins and needles all day to hear about the fallout from the less that successful fall formal this weekend.  Well, I'm happy to report that aside from accidentally burning the gymnasium down and being forced to streak  through the students with a bucket of raw sewage on my head…things turned out pretty well.
Granted, I doubt any of the students are any closer to dancing a passable tango than Guy Maddin is to directing a passable full length film.  And true, coach Robinson was successful in his efforts to play that abominable "Jock Rock" cd at the dance.  But aside from those horrors, no one involved was able to identify myself or Ms. Kockenlocker as the streakers, and more importantly, I now have a girlfriend!
Well, I haven't actually brought up nomenclature at this juncture, but I did at least make a first date with Anita!
I happened to pass her in the hallway after lunch today, where I ever so subtly (and, I might add, boldly) jested that we "see each other again but this time leave the bucket of feces at home".  Her quizzical face told me that she thought that sounded like a great idea, at which point the passing period bell rang ending the possibility of any further bon mots on my part (which was unfortunate since I had a good many more prepared!)
However, I did find a note in my mailbox in the staff lounge on the way out with a phone number and a simple message "Anita's cell phone" written under it.  I assume she had given that to me for emergency purposes and not for me to actually call.  Such is the affinity that we share, that surely she too feels that the sound quality on a cellphone is intolerable for anything beyond simian grunting.  Trying to have a conversation on a cell phone is like attempting to watch a pre 1940 Hitchcock film without captions…only to be attempted in emergencies!
I guess I can only assume that she was able to find my number in the staff directory and plans to call it from her landline tonight!
5:02 PM
Tuesday, November 14th
It appears that things are not to be with Anita and myself.  Not only did I get no phone call last night, I didn't even see her at school today, and here it is, a half hour past my bedtime, and I have still received no phone call.  I could not have been more clear about asking her out.  I hope, at least, that I can still maintain a working professional relationship with her at school.
9:31 PM
Wednesday, November 15th
Oh how wrong I was!  Anita was merely at anall day choir clinic at the elementary school yesterday!  As for her lack of a phone call, she had apparently been waiting for me to call her cell phone!  Before I could explain my issues with the inferior reception of cell phones, in both volume and overall sound quality, she had invited me to go ice skating with her on Friday night.  Well, I've never been ice skating, but I wasn't about to let her think that I was so uncultured that I had never tried Canada's national pastime so I told her I loved ice skating and that I hoped she would be able to keep up!  She seemed duly impressed, so I believe that did the trick.
Now I just have until Friday at 7 to learn how to ice skate.  Which shouldn't be a problem since I've always been a bit of an autodidact.  I did teach myself how to play the Phillipenian pitung ilong over the course of one summer after all,  so I think I can handle learning to ice skate in 36 hours!
3:55 PM
Thursday, November 16th
Though I don't actually have any ice skates, I figured my authentic Japanese wooden platform "Geta" sandals would be a suitable substitute for practice purposes.  I spent most of the night standing on my futon practicing jumps in my Getas while attempting to mimic ice skating videos on youtube.  One skater in particular, Johnny Weir, really caught my eye, I must ask Anita if she is familiar with the "Pokerface" song he likes to skate to since she knows a great deal more about underground pop than I do.
Though I wasted a fair amount of time researching the arcane Olympic scoring system and the difference between a triple axle and a triple lutz (of which I still have only a hazy understanding), I think I managed to learn the rudiments of the sport.  I might not fly through the air like the Olympians, but I'm sure I'll be able to impress Anita with a few simple jumps and spins.
I would have kept practicing but I broke one of the platforms off my Getas and I found it impossible to remain standing while supported by only one of the "teeth" on my right foot.  Now I'm off to find an outfit similar to the ones this Johnny Weir fellow likes to wear so that Anita will not be embarrassed to be seen skating with someone in their street clothes!   Until tomorrow dear readers!
8:05 PM
Friday, November 17th
In retrospect, perhaps I was a bit overconfident going in to my date tonight.  Luckily I think I managed to salvage the night through sheer force of will and bit of innocent guile.
It all started after I signed off last night and went to the local sporting goods store to find a skating outfit.  None of the guys at the sporting goods store seemed to be able to find an outfit like the picture I had printed off for them of Johnny Weir.  I was not to be deterred, I merely quietly said to myself "fasten your seatbelts, it's going to be a bumpy night!" and set to finding a suitable outfit by myself without the snickering help of the apes at the service desk.  While not perfect, I finally settled on a one piece singlet from the wrestling section.  It was rather bland by itself, but a few hours at home with a bag of sequins, some tassels and a hot glue gun really seemed to do the trick.
I had explained to Anita that it made more sense to just meet at the Ice Skating rink since it was a bit out of the way for me to go to her place first.  I showed up fashionably late at 7:15 and found Anita waiting out front looking lovely though a bit more frazzled than usual.  Smoothly avoiding bringing up whatever had upset her about her day (and wanting to surprise her with both my outfit and my moves), I immediately excused myself to the locker room to change.  I must admit I had a fair amount of titillation at the prospect of seeing what kind of outfit Anita would wear!
Unfortunately, my decision to buy the extra small singlet meant that by the time I had wiggled in to it, it was stretched to the point that not only did it leave a good deal less to the imagination than I was prepared for, but it was also a good deal more transparent than it should have been.  To my horror, I realized that you could clearly see my leopard print "date underwear" through the material!  I tried it without the underwear, but the less said about that the better.  In the end I had to explain my situation to the kids who kept asking me if I wasn't a bit old to go ice skating.  Luckily one of them was willing to take $40 for his jogging pants (after first suggesting "just don't wear the leotard dude") which I was able to wear over the bottom of the singlet.
Anita appeared less than thrilled to see my hastily fashioned outfit as I exited the locker room, though I don't think she had any room to complain since she was wearing the same slacks and turtleneck that she had arrived in, thus crushing my dreams of a bikini style ice dancing outfit.  I decided not to try explaining why I was wearing what appeared to be Capri jogging pants over the bottom half of my gloriously sequined singlet and suggested putting our skates on and hitting the ice.
I'd say this was about the exact moment that I realized my Geta practice on my futon had not prepared me at all for actual ice skating.  The instant I stepped on the ice I only narrowly avoided falling by grabbing onto the railing at the edge of the rink.  Anita asked if it had been a while since I'd skated, but I explained that I was merely "doing my ice stretches" and that if she wanted to take a few practice laps I would join her soon.
As she hesitantly skated away I slipped and slid back and forth while grasping the side wall to my chest like it was a 10 hour version of Greed.  Anita had passed me three times by this point, each time beckoning me to join her.  Finally I asked myself what Gary Cooper did when confronted with an obstacle seemingly beyond his means.  He went around begging for help like a big sissy and I wasn't going to do that!  Thus, resolving to be more Rio Bravo than High Noon, on her fourth pass I mentally shouted "once more into the breach!" and pushed myself away from my lifeline of a wall as hard as I could, hoping the speed would stabilize me.
And for a few brief seconds it worked–I was actually skating!  Unfortunately I did not see the large man, his wife and their three grade school daughters that had drifted in front of me until I had careened into them sending them all sprawling like the proletariat on the Odessa Steps.  Anita stared in horror as I sped toward her, futilely trying to stop myself.  Instinctively I reached out and grabbed the only thing within reach that I could hold on to: Anita's subtly understated curves.  Sadly, her claims of knowing how to skate were apparently as wildly exaggerated as my own, for she proved unable to support me as we both went down with a crash.
Well, the night kind of went downhill from there.  The father of the girls that I had knocked down was rather incensed, and his mood was not alleviated by my insistence that his daughters had "cut me off".  It got bad enough that the ice rink staff none too politely asked me to stay off the ice for the remainder of the night, which I guess I would have had to have done anyway since it was then that I noticed Anita had sprained her ankle when she had knocked us down and was in no condition to skate any more herself.  I at least decided to take the moral high ground and let her know I held no ill will for her role in our fall as she limped off of the ice.
When Anita suggested that we call it a night,  I realized my error in suggesting we take two cars.  Now, with no way to offer her a ride home, my plan to ask her to ask me in for coffee as we pulled up to her place was revealing itself to not be entirely feasible, which, judging by her demeanor (and the swelling around her ankle), might not have been in the cards for me anyway.
Thus, we parted ways in the parking lot.  I think that despite the setbacks things went as well as could be expected and that I managed to cover up my lack of skating expertise fairly well.  It was a shame to wear my "date underwear" for nothing, but I figure they are clean enough that I can wear them again next time if I don't get a chance to do laundry until then.  I might even give her a call tomorrow just to make sure she knows I am not mad about her knocking me down one last time, seems like that would be a good move.  And yes, I suppose I'll even call her cell phone, but only because I didn't get a chance to ask for her landline number!
8:55 PM