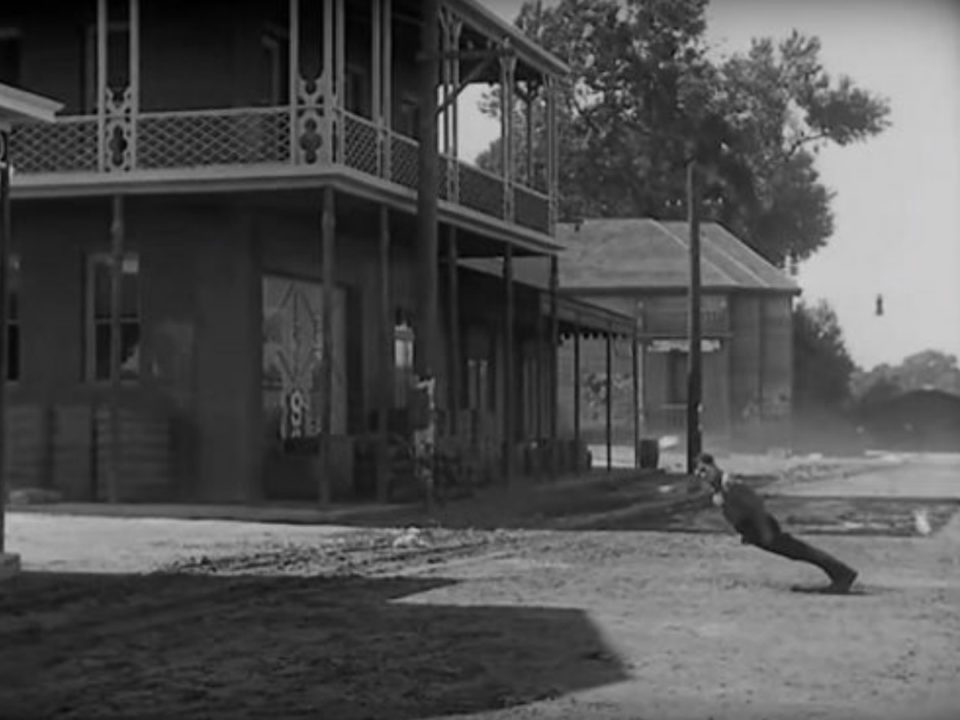 There is a reason that Buster Keaton's films have aged better than any of his contemporaries.  I'm not saying that there is anything remotely at fault with the work of Chaplin or Lloyd–it is just that there is something uniquely modern about Keaton's body of work.  Maybe it's the way he took such care to make an actual movie within which to insert his gags, maybe it's his almost mythically tragic screen persona that still never succumbs to rote pathos, or maybe it's just that face.  Today's film, Steamboat Bill, Jr., is just one of a long string of masterpieces made by Keaton throughout the 20s, and, like all of his best work, it is almost breathtaking in its timelessness.
Keaton never made a feature film that was not painstakingly detailed right down to the gauge of the train tracks, and this attention to detail really pays off in Steamboat Bill, Jr.  The town just feels real, solid, a living, breathing backdrop that provides a deeper level of immersion than most gag-centric comedies are usually able to offer.  The wonderful thing about a Buster Keaton film is that you could take out every gag and they would still be masterpieces.
So, the fact that the gags in this film are some of the all time best in the silent era tells you just how amazing this film is.  From the low key brilliance of sequences like the scene in the hat store, to the staggering pyrotechnics of the final cyclone segment, there is a lot to marvel at in this Steamboat Bill, Jr.  While someone like Chaplin relied solely on his own genius and refused to hire writers (and impressive display of talent), Buster did not let hubris keep him from hiring the best gag writers in the business–and it shows in every expertly timed sight gag.
And through every Buster Keaton film walks Buster himself, like a force of nature.  His famous "stone face" is perfectly matched to his persona, an expressionless slate for the world to bounce off of.  In the hands of any other actor, his effete art student character who just wants to play his ukulele and wear his beret would probably be a broad, insufferable annoyance.  And yet, Buster both makes you feel his sorrow when his tough guy father stomps his treasured ukulele to pieces while at the same time impressing you with his resilience as his face remains stoically impassive.  Maybe that is the real secret of Buster's enduring legacy.  He doesn't settle for cheap pathos like Chaplin, he doesn't go mainstream like Lloyd, he goes deep into the darkest depths of the human psyche, into our fears and tragic hangups, and emerges unscathed, and all the more inspiring for it.