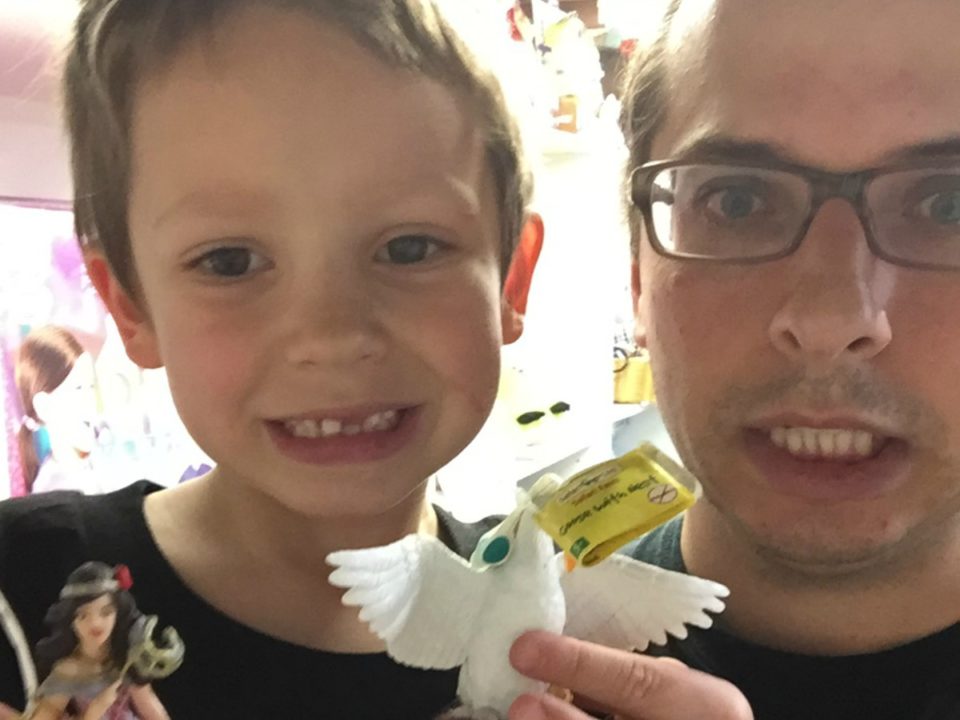 As any parent will tell you, most kids have too much stuff.  However, they always want more, so I've started having Benny take pictures of the things he wants when we go to the store instead of opening the window for him to beg me to buy him more stuff.  Ostensibly I'm taking pictures for Christmas or his birthday, whichever is next, but really I'm just trying to get out of the store without whining.  And, it has been working like a charm!
However, as you can see from this very first picture we ever took of a "thing Benny wanted," he was a little unsure how to smile (or even the general direction of the camera) for these pictures:
That wasn't even me taking the picture at the wrong moment, that was just the face he made for that picture.  And, it's not that Benny doesn't know how to smile for a picture, his mother is a photographer, the boy is a hell of a lot better at smiling for picture than I am:
No, for some reason, Benny loses all control of his face muscles when he is overcome with desire for a new toy.  Today, I thought we'd look at some of the best awkward faces Benny has made while posing with toys that he wants.
Star Wars: The Force Awakens – Rey's Electronic Lightsaber:
Honestly, this one turned out fairly well…he actually rather nails the doe-eyed expression of "please can I have this thing"–though I don't know where the slight undercurrent of fear and trepidation is coming from.
Star Wars – Good Night Darth Vader book:
Ok, whatever was scaring him in the last picture has apparently become a much bigger issue…even though, I'm pretty sure, he was still just trying to smile.
I-Spy – Year Round Challenger book:
When in a pinch, just kind of open your lips up to show some teeth.  Totally counts as a smile.
Ugly, but warm, puffy coat that mamma really wanted him to at least TRY on:
Ok, not all of these are things that Benny wanted.  However, it's fairly easy to tell which ones are the ones he didn't want.
Lego Marvel Superheroes – Ravager Attack set
Losing a tooth has done nothing for his ability to smile without projecting an aura of extreme existential despair.
Lego Scooby Doo – Mystery Mansion Set:
He often looks way off to the side for these.  Either he thinks these pictures need to feel candid, or there is something lurking just over my shoulder for most of these (which would explain some of the terror-stricken looks).
Star Wars: The Clone Wars – Don't Wake the Zillo Beast! book:
The book is pushing up on his chin, but he still manages to show enough teeth to count as a smile.
Unicorn Riding Princess and Dragon action figures:
Again, these aren't just snapped at a bad time.  I think he was trying to smile so hard here that it made his eyes go wonky.
Adventure Planet – Aquatic Discovery Expedition action figure set:
The smile is better, and the facial expression very accurately projects that crazed "kid in a gift shop" menality, so, overall, this one was a success.
Growing Pet Snake Egg:
Yeah, he's definitely not so sure about this one.
Myoni fluffy bunny:
I keep saying this, but I ONLY see this smile when he poses for these toy pictures.  Which, though this might fail as a smile, it does at least convey how much he wanted that bunny.
Lego City Sets 60159 and 60153
This actually might have been a decent smile…but then he kind of ended up squishing his face up between those boxes, so I guess we'll never know.
Monster High: Garden Ghouls – Treesa Thornwillow doll:
If ever an expression captured that painful moment of awakening between an uncontrollable desire for more mass-produced junk and the crushing weight of the realization that no amount of toys can fill the void of need created by our consumer-culture..this is it.  Basically being a kid is hard…especially when, after a year of taking these pictures, you just end up just getting made fun of on the internet instead of actually getting any of these things.
I might need to get on Amazon and order him something from these pictures to make it up to him.  It won't help the underlying problem in our "gotta collect em all" society, but it might help ease the pain until he is old enough to buy stupid shit with his own money: