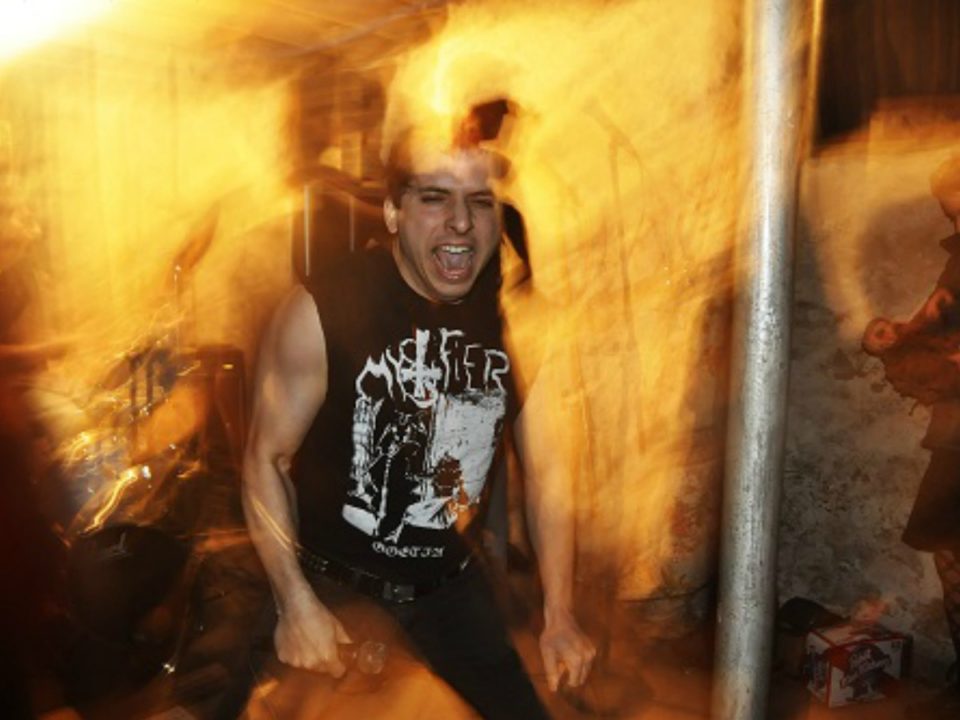 Being a rambunctious sort, my past is full of tales of derring-do and mischievous insubordination. In this series I will examine specific instances of orneriness from my past so that you, the reader, might understand Isley's special relationship with authority just a little bit better.
In today's rousing tale I discuss my very first experience as a member of a hardcore punk band.  Sure, it only happened less than a year ago, but that still counts as a part of my spirited past right?
So a couple of years ago this new dude, John, started working at the reference desk with me at the public library.  He seemed cool, but since I tend to follow reality show rules when it comes to coworker fraternization, I just kept to myself as usual.  Kept to myself that is, until the day where he came up to me and was like "hey, I saw your blog on the office computer…soo…you are into ASL?"  After my chest thumping reply of "ASL 4 Lyfe!" we quickly bonded over a mutual love of World War II and the board games that simulate it.
During our sporadic boardgaming sessions we would often talk music, and it was through him I started to learn about hardcore punk.  Turns out, all that old punk from the early 80s is totally badass, it's pretty much everything I love about black metal, just with a less relentlessly sorrowful and evil aesthetic (I guess it can't have everything).  Anyway, I'm still a total n00b when it comes to hardcore punk, but John turned me on to a lot of great stuff, from Negative Approach to The Fartz.
Cut to January 4th, 2013, John hasn't worked at the library for a few years, and I get the following message from him on facebook:
Hey Isley, do you think you'd want to sing for a hardcore band that hopefully plays a couple shows and then breaks up when I move in March? You'd pretty much just have to yell. I tried it but I have a hard time singing and playing guitar at the same time.
If you'd be interested or know anyone that might be, let me know. It's nothing too serious or anything, we only have 6 songs so far.
Why not right?
I show up for the first practice, where I meet the drummer Stevo and the bass player Powers and they both seemed like cool dudes.  I think they'd only had one practice without me, and John had to teach everyone half the songs for the first time that same night.  I had warned John that all I knew how to do was black metal vocals, but I think I managed to tone down my delivery into a more subdued version of my normal black metal shrieking.  Also, because most of the songs didn't have lyrics, I just had to make up words/sounds for that first practice…which I'm sure sounded GREAT.
Halfway through practice, some of John's friends from a local punk house stopped by to check us out.  Maybe we actually did sound GREAT (that, or punk fans aren't the most discerning bunch), because John's buddies from the Bad Haus said it sounded "fuckin' SICK" and said we could open for Vomit Assault's tour kickoff show in their basement on January 24th!  Well, Vomit Assault is fuckin' SICK, so we were pretty pumped.  Unfortunately, there had also been only one practice and the show was less than 2 weeks away…
Revitalized by the news, we recorded a quick demo of the seven songs we wanted to play at the show on that same night on John's 4 track Cassette player (because John came up in the 80s punk scene and is totally old school like that).  Thus, just like that we had a demo (I recorded my vocals later after we had lyrics for all the songs)!  You can check it out here (Stevo was very gracious in not saying "I told you so" after we got it recorded about John's questionable microphone placement that ended up not picking up any of the cymbals):
We actually didn't have a chance to practice before the show because Stevo wasn't able to make it in to Lawrence, so I spent most of the next week trying to learn the lyrics.  See, the problem with being the vocalist for a hardcore band is that all of John's songs were around 50 seconds long, but he had somehow managed to cram an album's worth of lyrics into each song.  I was not having much fun trying to memorize a bunch of under a minute songs crammed full of this much verbiage:
THE REAL ANSWER 

The Left tells me this and the right tells me that. 
How do they know that their way is correct? 
Contradictory messages from school and my TV. 
Everybody thinks they are but no one's really free. 

Which way should I go and where do I fit in? 
If no one ever breaks the mold then no one ever wins. 
Frustrated, alienated I don't know what to do. 
Who's got the real answer, is it me or is it you? 

To them it's always black and white with nothing in between. 
Talk of a grey area, they don't know what it means. 
Never think for themselves they tow the party line. 
They twist an ideology to whitewash their side's crimes. 

Which way should I go and where do I fit in? 
If no one ever breaks the mold then no one ever wins. 
Frustrated, alienated I don't know what to do. 
Who's got the real answer, is it me or is it you?
Consequently, when I wrote my own lyrics for the songs that still needed lyrics, I relied on a lot more repetition (not like anyone could tell what I was saying anyway):
WELCOME TO THE THEOCRACY 

Welcome to the theocracy, 
Built on blind hypocrisy, 
Everyone calls it democracy, 
Just gotta follow christian decree. 

Jesus is coming you better learn to swallow 
Livin on your knees is the only way to follow, 
Swallow, 
Follow, 
Swallow!

(Repeat, 3x)
As a card carrying nihilist (despite people constantly claiming that I am the WORST NIHILIST OF ALL TIME), I'm not down with writing political lyrics, even the "both sides are fucked" political lyrics that John liked to write.  But I am down with shitting on religion, so, as you can see, I just channeled my energy in that direction in order to try to keep a bit of the punk vibe for the song lyrics I wrote.  John also said I could change the lyrics to his pro death penalty song "Criminal," but, as a wanna-be nihilist, I was just fine singing about stuff that I didn't support, so we left those lyrics the same.
Fast forward to the night of the show and, I'm happy to say, we weathered a storm of minor disasters in order to put in a performance that was, honestly, as good as could be expected considering all the practicing we did before the show.  Included on the list of things that went wrong:
Drummer Stevo didn't realize we had the show that night (he thought it was the next month), so he had to learn the drum lines for the songs in his car via the demo tape we recorded on his way to the show at the last minute.
The bass amp that Powers borrowed produced nothing but ear splitting feedback when my microphone was turned on.  We decided to play through it anyway.
John broke a string halfway through our first song.  Luckily John breaks a string halfway through the first song of every concert/practice he's ever played, so he had it changed in no time.
Due to an oppressive haze of hot-boxed pot smoke in the tiny basement we played in, John found himself unable to remember how any of the songs started.  Luckily they came back to him after I hummed a few bars of the main riff of each song to him before we played it.
Due to my hard work at memorizing all of the lyrics, I managed to remember an impressive 85% of the words to our songs.
The primary offender for me forgetting the words was actually a song whose lyrics I wrote, the eponymous "Hostage Crisis."  The problem was that two days before the show I got the following message from John:
Also I know it's last minute but maybe one of those songs should be called Hostage Crisis? Maybe that Oligarchy song since Bad Religion has a song called Oligarchy and they suck bad. Even before there was mall-punk Bad Religion basically fit the definition.
So, because my initial lyrics weren't KVLT enough for John, so I came up with new lyrics, the chorus of which:
Break out the tear gas it's a HOSTAGE CRISIS!
Societal impasse, it's a HOSTAGE CRISIS!
Underhanded guarantees, it's a HOSTAGE CRISIS!
Acceptable casualties, it's a HOSTAGE CRISIS!
…I completely forget the next day at our show and ended up just repeating:
Break out the tear gas it's a HOSTAGE CRISIS!
Which was probably fine, I had a hard time pronouncing all the rest of the stuff in the time allotted by the riff anyway.
Also, thanks to my buddy Louis (of the Kansas City black metal madmen NEFIRUM), I have video documentation of the show.  So, for better or worse, here's what went down at my one and only show as the vocalist for a hardcore punk band:
Finally, there was some dude there taking pictures, and after pestering him via email in the months after the show he finally posted our photos on his flickr page.  Here are some of the highlights:
I like this last one, you can really tell how totally into us the crowd was!
Sadly we didn't have any more shows after that (John, after all, is a man of principles and refused to play any shows that were not all ages…DIY or DIE motherfucker!  Also, he refused to play any shows with that one cop punk band, because, you know, that's so not punk), and with John moving away at the end of the next month we quietly broke up.  So, I guess that's all for now…at least until the reunion tour!