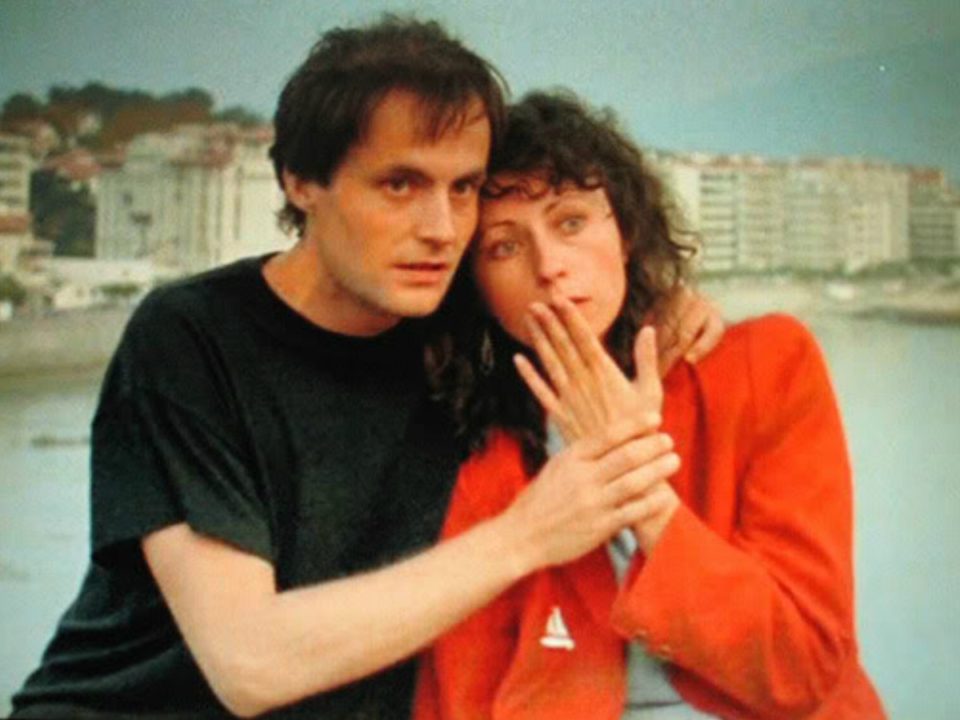 While talking with my dad about "10 best" lists we realized that for film we were having a lot of trouble coming up with an obvious list for the 1980s.  Now, every decade is full of great films (and despite having said in the past that I give short shrift to any film made post Star Wars, I was mostly joking), but the 1980's did not seem to contain the wealth of choices that decades like the 1920s, 1930s, 1940s and 1970s did.
Thus, I decided to go back and scour lists of films made in the 1980s to see if the pickings were actually that slim, or if I was just showing my bias against "post Star Wars/post global new wave" cinema.  Though it still proved tricky to find a list of unqualified masterpieces (and a few qualified ones still snuck onto my list), it turned out that the 1980s nevertheless was a decade full of enough great cinema to keep any movie lover busy for quite a while.
It is true that American film (and international film too) in a post Star Wars world became much more "box office" centered while the artsy fartsy art films of the American New Wave became more and more infrequent.  However, many of these "blockbusters", from Raiders of the Lost Ark to Die Hard were actually quite strong works of cinema (if a bit thematically simplistic).  Populist comedies from Ghostbusters to Caddyshack were equally appealing themselves as they proved what Chaplin always knew: a fart joke could be as funny as any high brow comedy.  Also, while the old art house masters were in their twilight, fresh new faces from David Lynch to the Coen brothers were making their rise.
Like the early 1930s, the 1980s were  transitional time: film was changing and many directors were still finding their footing.  Also, while the blockbuster can be fine art, it is hard to put a pure action film or comedy from the 1980s up against the best art house fare of the decade.  I know that I am quick to call movies like Rio Bravo or Our Hospitality unqualified masterpieces, so either they really don't make em like they used to, or I'm still holding on to my biases.  My biases tell me it is the former.
It is also important to note that there are many great films from the 1980s that I might not have seen for almost a decade.  Who is to say whether or not the greater familiarity I have with the films I ended up choosing tipped the advantage in their favor.  Add to this list the films I've never seen and this post could very well change in the future as I catch up one 1980s classics.
Finally, there is the obvious fact that my top 10 list, like any top 10 list, is a subjective thing.  I don't enjoy watching films dealing with the holocaust, so Au Revoir Les Enfants is not quite on my list and I haven't even seen Shoah.  Biopics are a flawed genre for me (a subject for a future blog post), so Amadeus and The Right Stuff got knocked down a few pegs in my eyes.  Humanism is a turn off for me (along with smoking and low self-confidence) so Wings of Desire and Fitzcaraldo didn't quite make the cut.  That said, there is a biopic, holocaust film and a couple humanist movies on my list, but hey, it's my list!
So, with the explanation out of the way, here are my picks for the ten best films of the 1980s:
Rohmer's films rarely make ten best lists, and with good reason: he is an acquired taste to put it politely.  However, the six films in his "comedies and proverbs" series contain more insight into human interaction than every other film on this list. When you couple that with the fact that they all happen to be pure cinema, I can think of no better candidates for the number one spot (6 movies at #1? Sure, it's cheating, but I put 10 movies at #2…it's my list after all!)  Many will watch a Rohmer film and be underwhelmed or even bored (both of which are perfectly acceptable reactions to his films), but for those of you who Rohmer resonates with, there is no more magical cinematic experience than to let the certain je ne se quois of his utterly unique talent draw you in to his world.  You will always leave a Rohmer film wiser than you were when you came to it no matter how many times you have seen it.
One of the amazing things about Kieslowski's Decalogue is that in less than two years, he was able to create 10 seperate hour-long masterworks that could each rival the best full length film from any director of his day.  Loosely based on the ten commandments (though it will rarely be obvious which commandment each film represents), the films range from overwhelming intensity to introspection to comedy, but never once does Kieslowski put a foot wrong.  To have constructed one film on the level of Thou Shalt not Kill or Thou Shalt not Commit Adultery would have been enough to have been included on this list, but Kieslowski made 10 such masterpieces.
When Blue Velvet was unleashed in 1986 no one had ever seen anything like it; and to this day the ferociously cinematic film that took the idea of our society's seedy underbelly to its surreal extreme has yet to be equaled.  It is one of those movies that will stand out in a crowd no matter how illustrious the company you compare it to.  No one but David Lynch has the talent to make a film of such bizarre audacity and not just make it work, but make it an utterly unique decade-defining masterpiece as well.
Fassbinder's films of the 1970s have always appealed to me more than his late period stuff, but Berlin Alexanderplatz is an exception.  An exhausting 15 and a half hour film, it represents the culmination of the most fruitful and brilliant decade of any director in the history of cinema.  Like Jake LaMotta, Franz Biberkopf is a beast of a man, and like Jake LaMotta, he is the instrument of his own destruction.  Yet Berlin Alexanderplatz does not just comment on what it is to be a man, but rather on what it is to be a human.  As I discussed in the blog post I wrote about it last year, there is nothing more heartbreaking than to watch someone destroyed by their desire to love and be loved.
Fully deserving of its "all time best reputation", Raging Bull is one of the few biopics I truly enjoy.  However, it is no more the story of Jake LaMotta's life than it is a boxing movie.  The dark depths of the male psyche have never been so fully plumbed than here as De Niro gives one of the "all time best" performances of a man who has gone too far to the side of the beast.  Meanwhile, the brief moments of actual boxing are so viscerally intense that they linger in the mind long after the story has returned to watching LaMotta slowly destroy himself.
6. Ran (1985)
Kurosawa was always an absolutely great director, but out of all his films Ran is by far my favorite.  Epic in scope with brilliant soundless battles and magnificent cinematography, his trademark humanism is replaced by a nihilistic outlook that finally managed to seduce me into singing his praises without qualification.  From the quarreling of brothers to the wars of nations, Ran is the dark mirror that all who inhabit our world must gaze into at some point.  Our struggle is merely to keep the void that the blind man has fallen into in the final scene at bay.
Wings of Desire might arguably be just as good, but Paris, Texas is the Wenders film from the 80s that sticks in my mind when I look back on the two (and it also helps that it isn't about angels).  Like Wong Kar-Wai's Happy Together, Paris, Texas presents the heartbreaking truth that "you can't go back" with harrowing honesty and intelligence.  The final confrontation is one of the most riveting pieces of cinema I have ever seen, ensuring that the film will stay with you long after it is over.
Though remarkably warm and dramatic for a Bergman film, Fanny and Alexander is nonetheless one of Bergman's greatest films.  Effortlessly capturing childhood with all its ups and downs, this is a great joyous movie from a director in the twilight of his career.  Though I prefer the Christmas party of the first 2 hours, the second half is just as brilliant as you see the strength and frailty that all children have inside them when confronted with the horrors that await beyond their innocence.
Sure the final act devolves into a somewhat routine (at least when compared to the rest of the film) action chase scene, but Bladerunner is that rare film that creates a world so real, mesmerizing and legitimately futuristic, that upon its release it immediately entered into humanity's collective unconscious as if it were always there.  There might have been cyberpunk before Bladerunner, but the decaying world of neon twilight visualized in this film forever defined what it was to be the "near-far" future.
The dialog might seem interminable, and the central example of Tarkovsky's idea of the power of symbolic gestures might seem preposterous, but it is a testament to the special level of dreamlike brilliance that Tarkovsky inhabits that he is able to pull it off anyway.  Aside from Dreyer and Bresson, only Tarkovsky can cause a wannabe nihilist like myself to appreciate the power of faith and spirituality.
Honorable Mentions
My Dinner with Andre, sex lies and videotape, Raising Arizona, Lola, Wings of Desire, Das Boot, Once Upon a Time in America, Down by Law, the films of Aki Kaurismaki, Woody Allen's Hannah and her Sisters/Crimes and Misdemeanors, The Elephant Man, L'Argent, Fitzcaraldo/Burden of Dreams, The Big Red One, Excalibur, Gates of Heaven, The Vanishing, and all the other potentially great 80's movies I have yet to see.