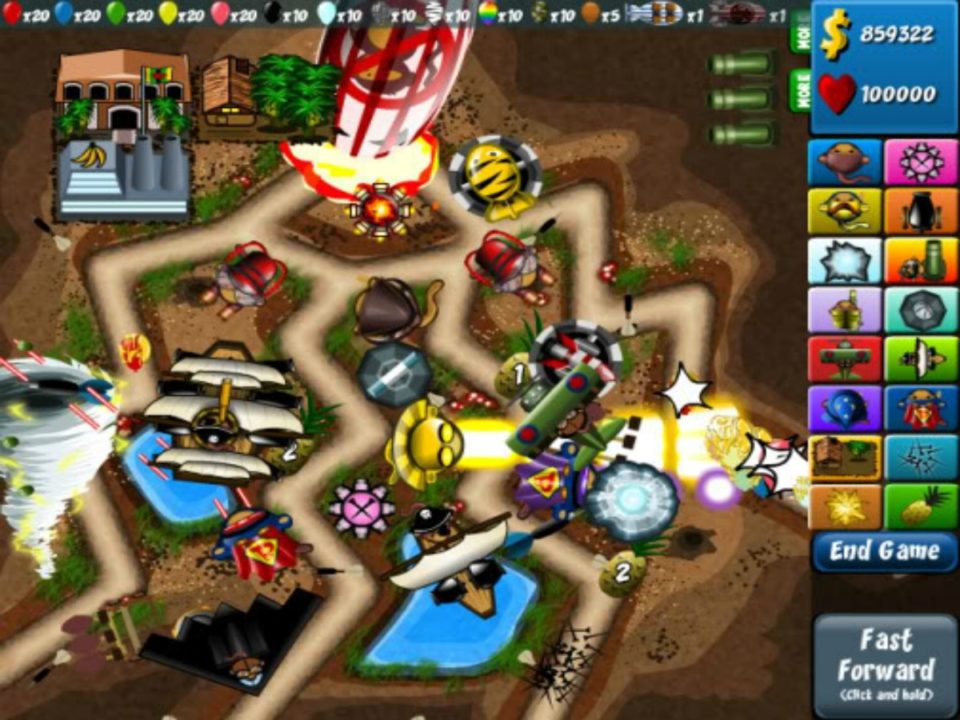 When I wrote my last flash games post I was still of the mindset that "Tower Defense" games were lame.  For those who have never heard of them, playing a Tower Defense game is similar to playing a real time strategy game (like Command and Conquer, Warcraft, Starcraft, Age of Empires, etc) where you only build towers to defend your home base against an ever growing horde of enemy attacks.  The typical Tower Defense game will have an overhead perspective and confine "attacks" to a road (usually leading to the heart of your "base" or off screen) along which you will place various towers to shoot at the "wave" of enemies ("creeps" in Tower Defense lingo).  As you kill enemies you are rewarded with money to buy more towers to help combat the next wave of tougher enemies.
Now, I initially had no interest in playing these kind of games.  It seemed like the only decision you made was where to put a tower and then you sat back and watched the game play itself as the towers automatically shot the enemies for you.  And to be fair, there are tons of these kind of games out there, and the vast majority do just that.  But I have also found the rare few that not only managed to get the difficulty curve mostly balanced (Tower Defense games are all about building enough towers to stay ahead of the toughness of the creeps–and this game balance is surprisingly hard to maintain), included interesting towers that upgraded in fun ways (the Tower Defense genre is all about slowly improving your defenses–this is a lot more fun when your defenses do progressively cooler things than just "shoot more"), and best of all, required a bit of strategy in your tower choices and placement (ie, something more than "close to the road").
So here is my list of my favorite Tower Defense Games.  The top 3 are highly recommended, 4-8 are pretty good and the last 2 are at least worth checking out if you really need more Tower Defense games.  Anyway, for those that would like to waste dozens of hours of their life, read on!
1. Bloons Tower Defense 4
Bloons Tower Defense 3 was good enough to get the top spot by itself, and Bloons Tower Defense 4 is even better!  In the Bloons Tower Defense series you place armed monkeys along a fixed track to throw sharp things at balloons.  Red balloons take one hit, but blue balloons are faster and pop to reveal a red, yellows are faster still and pop to reveal a blue which pops to reveal a red, etc.
This is a tower defense game that does everything right.  The towers are plentiful and interesting, the difficulty stays difficult (but not impossible…well except for the last track maybe) throughout instead of switching to a cakewalk as soon as you manage to get ahead of the curve, the graphics are great, and finally, there is just something satisfying about popping balloons with sharp things.
I especially like how varied the strategy can be in this game.  As you play the game you will unlock better towers, and the "level 5" upgrades are for the most part all very cool and useful.  Sometimes in Bloons 3 it felt like "save money, buy a super monkey, rest easy", but in Bloons 4 there are any number of routes to victory.  The addition of investing in money generating banana plantations is great too and adds a lot of tough "pay now, reap rewards later" decisions to the game.
Out of all the games on this list, this is actually the only one I really feel comfortable recommending without qualification.
2. Gemcraft Zero
The first gemcraft was a lot of fun, but was a bit overlong and got trivially easy in the later stages.  Gemcraft 0 (a prequel) makes the game a lot tougher and adds a ton of improvements to the original to make a much more diverse game.  In Gemcraft you spend Mana to create gems to put into towers to shoot at "creeps" that give you more mana to make better gems, etc.  Each color of gem has a different special ability (the usual: poison, splash damage, slow, etc) and gem traps, extra towers and gem bombs can be purchased. Gemcraft also has an experience gain element where you get experience for finishing stages.  This experience can then be used to buy skills that increase every in game ability.  Thankfully "grinding" (playing stages over and over just to get the experience) is at a minimum, overall the experience system is quite well designed.
Not only does Gemcraft Zero handle the difficulty curve much better than the first version, the levels are cleverly designed and the game rarely feels like the same thing over and over again (like the first one did by the end).  Next to Bloons 4, this is about as good as Tower Defense gaming will get.
3. The Space Game: Missions
The Space Game: Missions probably feels the most like a real time strategy game out of all the games on this list.  Originally released as The Space Game, The Space Game: Missions doesn't add anything new to the gameplay, you still create power stations to run your mineral miners and defensive weapons while being attacked with waves of enemy ships from all sides.
Instead of improving on the already brilliant gameplay of the first version, "Missions" merely gives you a whole new set of missions, this time much more interesting (and harder) than the missions the original game came with.  The missions are hard, but they were just what the [space] game needed to kick it into the top tier of Tower defense games.  Cool "space" music too.
4. Protector 2
Protector 2 was a lot of fun and offered a lot of new twists on the tower defense genre.  There are only two types of "towers" in Protector 2, short range knights and long range mages, but each unit can be upgraded in many complex ways.  As monsters are killed they not only give gold but a portion of their experience to the units that hit them, when a unit has enough experience they level up with increased power and added special abilities.  Also, each map you beat will give you a skill point which you can put into a "skill tree" to give you overall bonuses to the game between levels.  Manipulating these is often key to beating certain maps.
Protector 2 might be a bit hard to catch on to, and is perhaps a bit overlong as well, but there are some nice strategic decisions (everything from which upgrades/skills to use to the choice between spamming lots of units or upgrading just a few to higher levels–both of which are needed depending on the map) as you become comfortable with the game.  It's not extremely accessible, but once you get comfortable with the game there is a lot to like in Protector.
Which is why I was pretty disappointed with Protector 3.  It's basically the same game, but they made the skill tree mostly useless and based on "achievements", and added a significant "grinding" element.  Now you need gold and experience points, both of which are given in very small amounts for each stage, to get the cool stuff in the game.  They did add "heroes" (special units that you can used from map to map) which look cool, but the lack of the skill tree and stupid grinding element really hurt Protector 3 over the second version, so I'd have to recommend Protector 2 instead.
5. Desktop TD Pro
Desktop Tower Defense was one of the earliest "TD" games and has inspired a legion of imitators.  I've never been super impressed with the legion of imitators however, they seem to be exactly the same game as Desktop TD (except usually not as good). Basically you construct the maze the units walk through with your tower placement.  It's a great idea, but so many tower defense games think that is all there is to it (not to mention the fact that it opens up all the games that use it to a very lame tactic that you have to force yourself not to use to avoid making the game a cakewalk).  But really, once you've made one zig zag maze, you've made them all–it isn't really all that awesome of a strategic dilemma, and a good Tower Defense game needs more than just that.
However, with the newest version of Desktop TD (pro), I must admit it has finally risen above the clones (most notably because of the inclusion of a nice scenario system).  There is a good variety of towers and they are utilized well in the various scenarios that actually make you think beyond "make a zig zag maze, upgrade my towers".  The many different creature types also help a lot to keep you on your toes.  Desktop TD Pro is a good game that got a lot better with the new version.
6. Mushroom Revolution
I had my problems with Mushroom Revolution (can't see the whole map at once, suspicion that a very basic strategy is all you need to win) but I can't deny it was a polished game with a lot of fun special powers in the upgraded towers.  Your towers are mushrooms, and like gemcraft you add various colored gems to give them special abilities.  The cool thing about Mushroom Revolution is that when you combine the gems you get new abilities, everything from machine gun speed to teleport mushrooms (dozens of special powers in all).
Anyway, Mushroom Revolution might not be the best the genre has to offer (again, the stages take a long time to clear, and I suspect the strategic depth might not be as great as it seems), but it is a polished game that towers above most of the countless other Tower Defense games out there.
7. Viking Defense
Viking Defense is a great looking game with a lot of cool tower options.  Unfortunately it suffers from the fatal flaw of becoming trivially easy once you get ahead of the power curve.  But the game looks and plays so well that you want to forgive it anyway.  Each new tower type can be unlocked by meeting some in game prerequisite for each level, and each tower can be enchanted by runes as well.  The new towers are very cool and everything works much better than the prior Canyon Defense from the same company.
And the difficulty is almost there–there are many parts in the later levels that are quite challenging, but once you finally unlock the best towers for a stage, you will rapidly outpace the enemies.  It's still fun to get to that point, but it is a flaw that takes Viking Defense down a few notches in my book.  That gripe aside, it is still one of the "good ones", so check it out and decide for yourself!
8. Vector TD 2
Vector TD 2 doesn't offer any real gameplay innovation, but it is a solid, well designed Tower Defense game with a unique look and a decent amount of strategy.  There are four colors of towers that are strong and weak against certain colors of enemies, a good amount of tower options and an interest mechanism that actually works (instead of becoming an out of control upward spiral like in so many imitators).
I really don't have many complaints about Vector TD, even the techno soundtrack is cute.  But there also isn't a lot that really stands out to me about it either, just a good solid Tower Defense game.
9. Wizard Defense
Easily the best graphics I've ever seen in a flash tower defense game.  That said, the strategy is fairly simplistic, each "tower" can only be upgraded once (though you at least get three choices) so you won't be worrying about whether or not to upgrade more or build new towers.
Still, the game looks so good (and the extra towers in later levels help mix things up some) that it might be worth checking out anyway.
10. Onslaught 2
Onslaught 2 is an old game, and for that it was ahead of its time.  And the towers are cool, with a very interesting "combo" mechanism that makes two towers that are upgraded all the way and next to each other create a combo attack (of which there are dozens of possibilities) that is pretty cool.  The problem is that there are no stages, you just survive as long as possible.  And the fixed percentage progression of monster toughness means it will be very hard until you get your first combo and then super easy until the game catches back up and you eventually die.  Not to mention Hard mode is literally impossible without making a "laser chain".  One strategy for a mode?  Boring.
I am being a little hard on Onslaught, there are some good ideas present and the combos are very cool.  But without actual scenarios or levels, the whole thing feels pretty pointless since it is just a race to get your first combo going and then hold out with combos as long as possible.
Non-free Honorable Mention: Plants VS Zombies
I hate paying for software, but Plants VS Zombies might almost be worth it.  There are almost 50 different types of "towers" (plants), and the map and zombies come in many varieties to keep you changing up your strategy.  Sunflowers generate "suns" that you use to buy more plants to cover the various lanes that the zombies will shamble down.  If I have a complaint, it is that the game is rather easy, it was rare that I was worried about not finishing one of the 50 initial levels.
Still, there are so many types of plants, and so many extra minigames and puzzle modes after you beat the game that you will always find something of interest or challenge in the game.  I don't know that it's worth $10, but it might be!